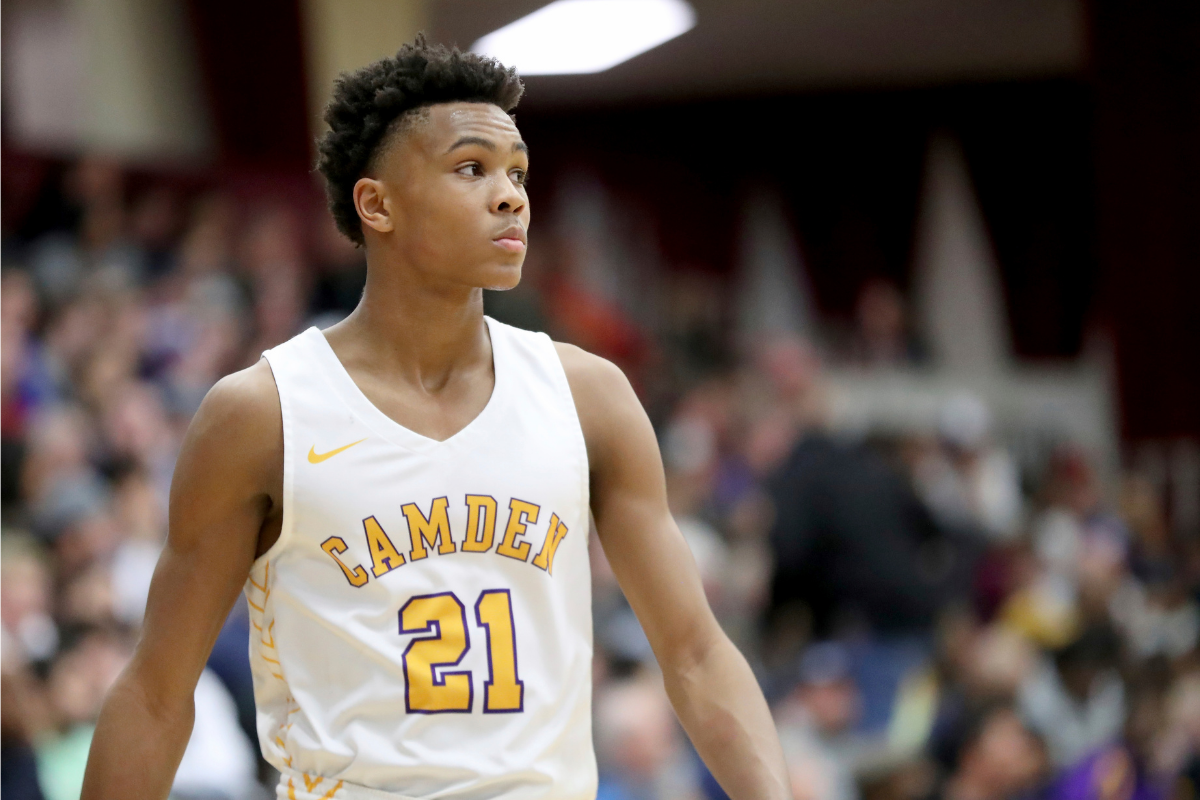 AP Photo/Gregory Payan
High-level basketball is in the Wagner family DNA.
Milt Wagner led the Louisville Cardinals to the 1986 national championship. He played in the NBA for three years with the Los Angeles Lakers and Miami Heat. As a member of the Lakers, he won an NBA championship in 1988.
Wagner's son, Dajuan Wagner, was a McDonald's All-American who played under John Calipari at Memphis. Coach Cal revoked his scholarship after his freshman year to force him to enter the 2002 NBA Draft, where he was selected sixth-overall by the Cleveland Cavaliers.
Wagner's NBA career was short lived thanks to injuries and health problems, namely ulcerative colitis. He retired from professional basketball in 2007.
The latest in line, Dajuan Wagner Jr., is a point guard who attends Camden High School in New Jersey like his father and grandfather once did.
He's the top prospect in the class of 2023.
Dajuan Wagner Jr. Highlights
RELATED: The Bronny James Hype Train is Building Steam
D.J. Wagner is at his best driving downhill. He's an adept scorer, possessing the ability to finish with either hand equally. The point guard has a nifty Euro step at his disposal. He drives to the bucket with strength and carries a reliable floater.
The Camden, New Jersey native's ball handling steers his game. He has an arsenal of moves that are complemented by explosive athleticism. A 6-foot-10 wingspan allows him to quickly cover space and clog passing lanes on the defensive end.
The sophomore superstar plays with a quiet confidence. He lets his game do the talking, but doesn't shy away from a subtle flex after scoring. As for his shot, he has a nice outside stroke off the dribble and catch. However, he defers to drives.
Wagner has natural instinct in transition. He makes the smart basketball play, whether that is finding an open teammate or taking it to the rim himself.
In his first game at Camden, Wagner scored 15 points. He helped lead the Panther basketball team to 25 consecutive victories before last season was called off in the middle of the state playoffs due to the COVID-19 outbreak.
D.J. Wagner Basketball Recruiting
As the top recruit in 247Sports and ESPN's initial 2023 recruiting rankings, the boys basketball player will have the pick of the litter when it comes to colleges. Right on his tail is combo guard and social media phenom Mikey Williams; and Sierra Canyon guard Bronny James, the son of LeBron James, sits at No. 19.
So far, his father's old coach and current Kentucky head man John Calipari is courting him. The Wildcats are the early favorite, according to 247Sports recruiting analyst Brian Snow. Penn State has also expressed interest.
Expect everyone to go after this kid, from blue bloods Duke, North Carolina, Kansas, and Michigan State to Alabama, Minnesota, and Houston.
At 6-foot-3 and potentially still growing, Wagner has good size for a lead ball handler. His upside is off the charts, and as his skills further develop, he'll be a problem.