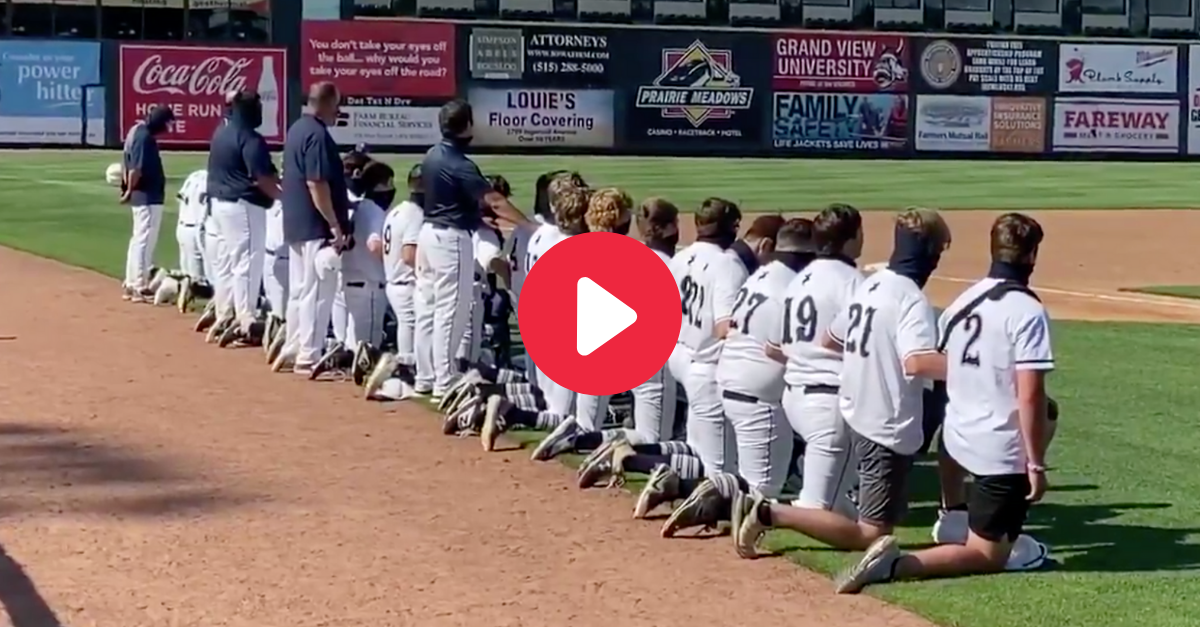 Screenshot from Twitter
Sports are slowly but surely returning after the coronavirus pandemic and COVID-19 outbreak. It?s an exciting time, no doubt, and everyone can start taking another step toward normalcy. Given the times, however, there?s a lot more to discuss than just the scoreboard.
Iowa became the first state to bring back high school sports, according to The Des Moines Register, and Monday night, June 15, marked the first game. But when Des Moines Roosevelt hosted their season-opener against Ankeny Centennial at Principal Park, the whole team took a knee during the national anthem.
?We wanted to represent (all Des Moines Public Schools),? Roosevelt senior Jayden Singleton said. ?We have a lot of diversity, and a lot of people of color. We wanted to show our appreciation for social justice.?
There have been numerous Black Lives Matters demonstrations over the last few weeks since the death of George Floyd in Minneapolis, and several Roosevelt Roughriders baseball players participated in the peaceful protests. They wanted to take their stance against police brutality and racial injustice to the field before the doubleheader.
Roosevelt High School Baseball Team Kneels During Anthem
RELATED: Roger Goodell: ?We Were Wrong,? Vows to Protest With NFL Players
As The Star-Spangled Banner began before the season-opening game, the entire Des Moines Roosevelt baseball team took a knee and locked arms as the Roughriders coaching staff stood behind them.
In the first high school game since the pandemic and death of Floyd, the entire team knelt for the national anthem. It?s unclear whether they will kneel during the rest of the season, according to The Des Moines Register.
?I feel like that?s a big deal,? Roosevelt senior Alex Pendergast said. ?If we had some standing and some kneeling, it wouldn?t have been as big as a deal. But that the whole team came together and everybody kneeled, I think it makes a big difference.

?That?s a big part of why we did it. There?s so much diversity at Roosevelt and on our team. It?s our responsibility to stand up for our community.?
Roosevelt lost the opening game, but their actions before the first pitch spoke volumes over the final score.