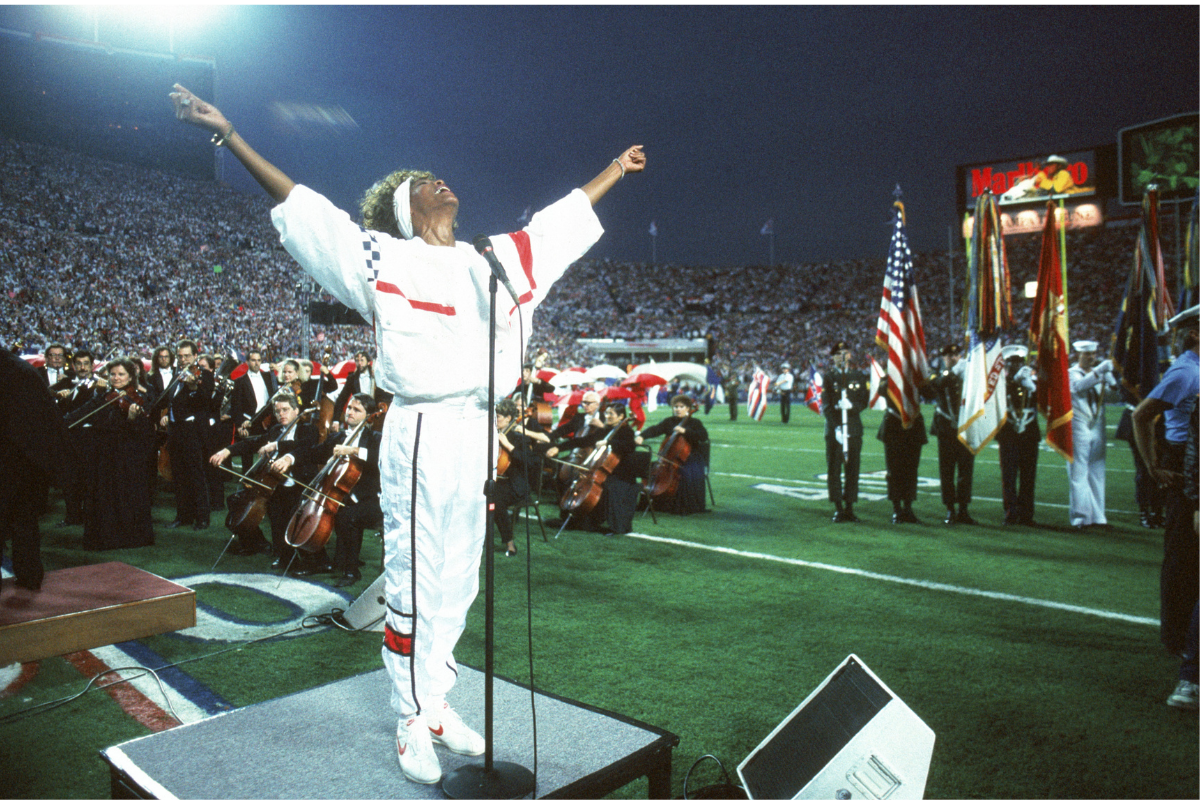 Photo by Michael Zagaris/Getty Images
Listening to Whitney Houston was a treat. It still is today, even years after her tragic death. The power and grace of her voice might never be topped and made her one of the best-selling music artists of all time. Nothing showcased that more than her rendition of "The Star-Spangled Banner" at Super Bowl XXV.
It was January 27, 1991. The United States was in the middle of the Persian Gulf War and Operation Desert Storm had just started. Things were tense and security at the Super Bowl was at an all-time high. The Goodyear blimp was replaced by Black Hawk helicopters, according to ESPN. NFL commissioner Paul Tagliabue canceled the annual Super Bowl gala. Concreted bunkers rounded the Tampa Stadium parking lot. SWAT team officers were on the roof with machine guns.
Then, even if was just for a couple of minutes before kickoff, the world's problems stood still as Houston delivered a national anthem performance for the ages.
"And now, to honor America, especially the brave men and women serving our nation in the Persian Gulf and throughout the world, please join in the singing of our national anthem. The anthem will be followed by a flyover of F-16 jets from the 56th Tactical Training Wing at MacDill Air Force Base and will be performed by the Florida Orchestra under the direction of Maestro Jahja Ling and sung by Grammy Award winner Whitney Houston."
The crowd erupted and the sound of Houston's voice rang in the Florida night like never before.
Whitney Houston's 1991 Super Bowl National Anthem
RELATED: Janet Jackson's Nipplegate: The Super Bowl Wardrobe Malfunction That Ruined Her Career
Whitney Houston was 27 years old at the time and just before the peak of her career. "The Bodyguard" and "I Will Always Love You" would come out a year later, and her career took off in a big-time way. There was no escaping her talent before that night, though, and especially after Houston's version and performance of the national anthem.
Wearing a white tracksuit, the American singer and Billboard music sensation stood in front of a packed stadium and found a way to bring the entire nation together at a time of unease and uncertainty before the Buffalo Bills and New York Giants played on football's biggest stage.
The Performance Technically Wasn't Live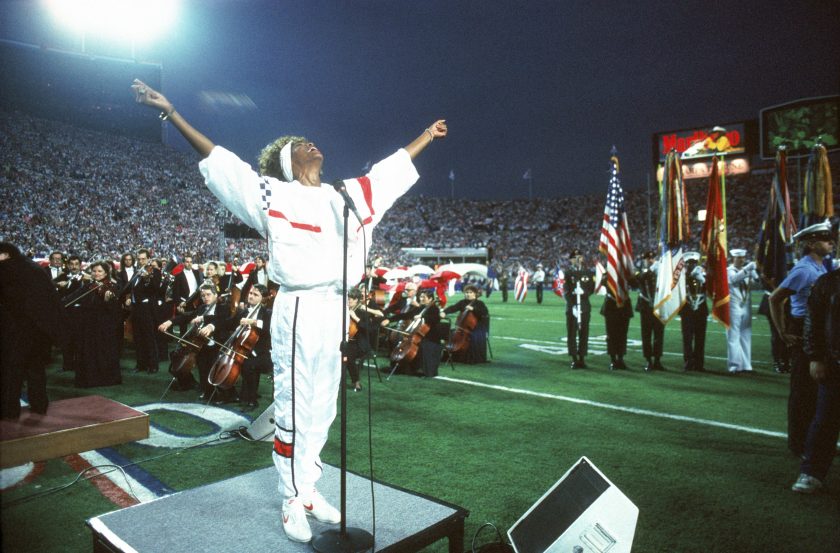 Later, everyone learned Houston's rendition of the national anthem, with the help of music arranger and conductor John Clayton, had been pre-recorded and was not a live performance. She was singing, but she was singing into a dead mic. However, it was her voice everyone heard.
"Truth is always the right answer," Rickey Minor, Houston's longtime musical director, told USA Today. "I never shy away from someone questioning anything that was done, or how it was done. I mean, the truth is the right thing. Could I have said that it was live-live? Yes, but then when do you stop trying to gloss something over? It is what it is. And there's no doubt that Whitney sang it. So my answer to that, my response to that immediately was, 'Yes, she sang live. But we used the track for the audio.'"
Honestly, it didn't matter. Houston's performance was legendary, every high note was flawless, and it received rave reviews. Rolling Stone still calls it the gold standard to this day.
"There's no way to rehearse the sound of the crowd … coming at you," Minor told ESPN. "You don't know where the first note begins."
Houston followed that performance with a "Welcome Home Heroes" concert, which aired on HBO.
The national anthem at Super Bowl XXV, which took a page off the iconic performance by Marvin Gaye at the 1983 NBA All-Star Game, paved the way for other powerful singers such as Mariah Carey, Beyonce, Jennifer Hudson, Lady Gaga, Christina Aguilera, Diana Ross, Carrie Underwood and Cher to perform The Star-Spangled Banner at the NFL championship game.
A decade later, following the September 11 attacks, The Whitney Houston Foundation for Children, Inc. and Arista Records released Whitney Houston's "The Star-Spangled Banner" and "America the Beautiful." All royalties and proceeds were donated to the New York Fraternal Order of Police and The New York Firefighters 9/11 Disaster Relief Fund.
At a time when America needed an extra boost, Houston delivered. Given the circumstances, and her amazing voice, it was truly incredible and will always be considered as one of the best national anthem performances ever.
From Los Angeles to New Jersey, and everywhere in between, this rendition of the anthem still gives fans goosebumps like they are hearing it for the first time.
Related Videos