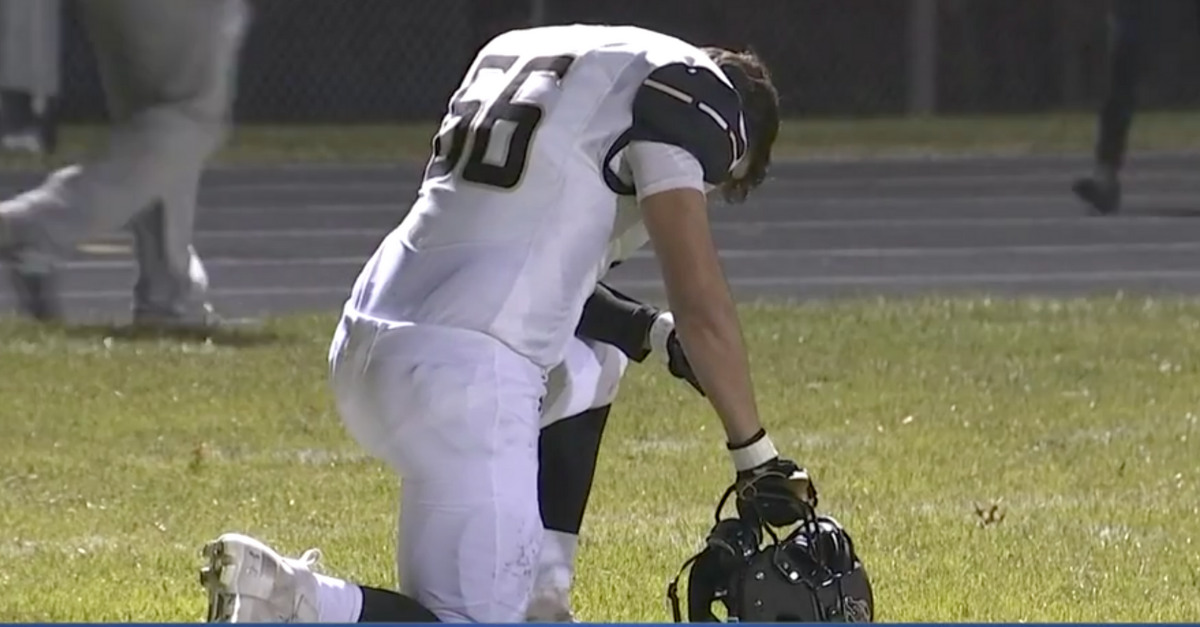 Screenshot from KCTV5
When Cameron High School took the field against Savannah High School, all of the football team's focus needed to be on getting ready to play. After all, it was a Missouri state playoff game and a loss meant the season was over. However, there was a pretty big distraction.
Just days before kickoff of the big game, the Freedom From Religion Foundation (FFRF) urged Cameron to "cease school-sponsored religious worship following complaints of coaches leading players in prayer."
As the FFRD notes in a lengthy news release, Cameron head coach Jeff Wallace and assistant coach David Stucky had reportedly been "holding religious 'chapel' services before and after football games where coaches pray with players and read and discuss bible verses."
Cameron, a public school, also reportedly had postgame prayers on the 50-yard line, where many opposing high school football teams joined in throughout the season. The FFRF pointed out that all of it is illegal and wants it stopped.
RELATED: Chaplain Told to Stop Praying With Football Players Before, After Games
The FFRF cites that a public school is not allowed to hold religious prayer, and it violates the Establishment Clause of the First Amendment. However, and although there is constitutional separation between church and state, many people in the community see no problem with what's been going on.
Jeff Speer, a father of two players on the Cameron Dragons, told KCTV5 in Kansas City that the gathering at mid-field after games hasn't been an issue.
"They just say, 'Okay, everybody bow your heads,' and they have a moment of silence and everyone does their own individual prayer. Other teams join. We've had almost every team we play this year come out, join on their own."
Still, that hasn't stopped the FFRF Staff Attorney Chris Line from requesting the school district to "take immediate action to investigate these complaints"
Cameron lost the game 56-14 so the varsity season is over, but only time will tell what will come from this situation.