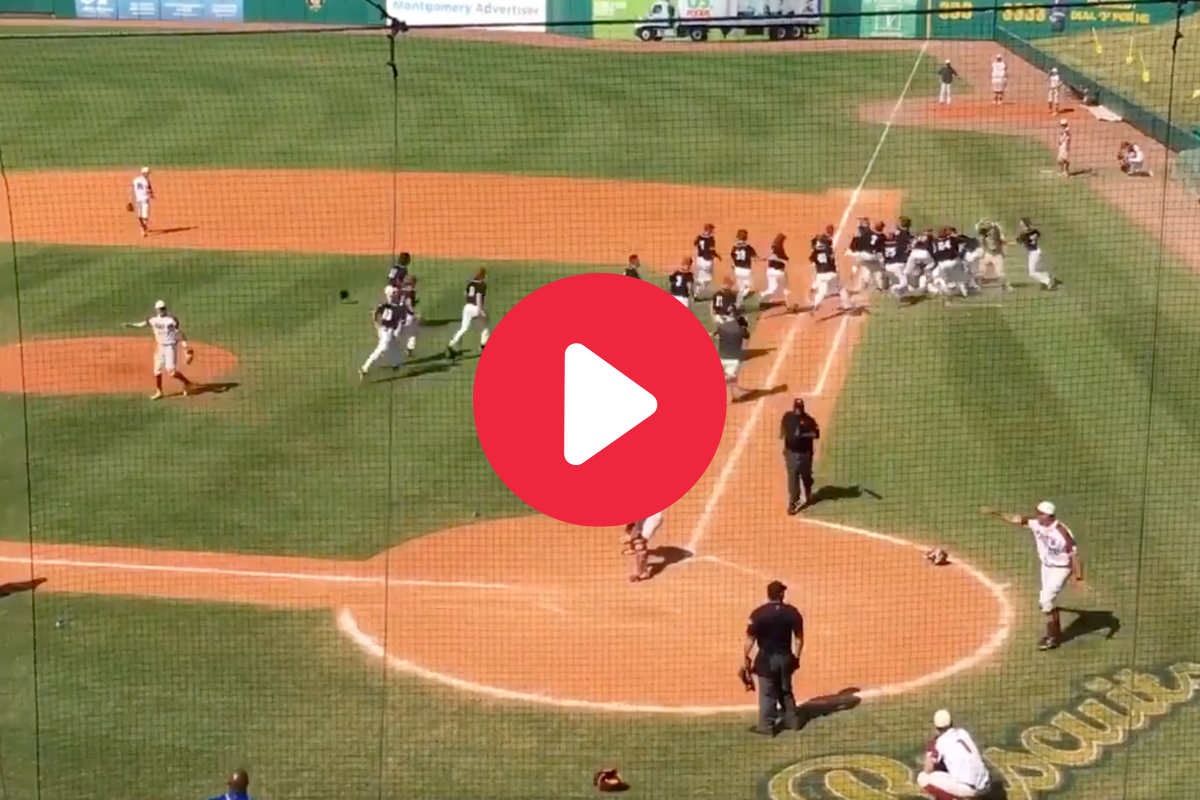 Screenshot from Twitter
The Hartselle High School baseball team rushed the field and dogpiled near first base as if they had won the state championship. It was a dream come true for the team from Hartselle, Alabama.
A controversial call by an umpire (that looked more like a blown call) on a walk-off sacrifice fly ball negated all of their celebrating and robbed the team of the Class 6A state title.
The only question is: did the runner actually leave early?
Blown Call Robs HS Baseball Team of State Title
RELATED: Controversial ?Dead Ball? Call Ruins HS Softball Team?s Season
The Hartselle Tigers were tied 7-7 in the bottom of the seventh inning against Faith Academy in Game 3 — the final game of the championship series.
Hartselle's JoJo Williamson lifted a sacrifice fly to centerfield that appeared to score the game-winning run. However, after a wild dogpile at first base, Faith Academy attempted a last-ditch effort to appeal the play at third base.
?The field umpire ruled him out. He left early, he said.
The only problem? He didn't. At least not according to synced footage of the outfielder catching the ball and the running leaving the base.
Faith Academy players celebrated. The momentum shifted. The Rams scored seven runs in the top of the eighth inning and won the game in extras, 14-8, at Montgomery's Riverwalk Stadium.
Hartselle players, coaches and fans knew they were robbed.
"This is going to make us work that much harder to get back here next year," Hartselle player Brodie Morrow told the Decatur Daily. "Everybody knows we were the state champions. We should be the ones taking the blue map home. It's not right, but we'll be back next year and win it again."
Faith Academy coach Matt Seymour thought it was the correct call:
?It was a big play obviously to keep the game going,? Seymour told AL.com. ?He left early, and it was the right call. We are glad he made the call. He could have folded in that situation, but Will saw it the whole way and told me and that is when I went out and appealed the call to the umpire. Kudos to my coach for keeping his eye on the play.?
According to AL.com, Hartselle fans booed after the game when AHSAA executive director Steve Savarese was introduced. Some fans requested that umpires look at recorded video to correct the call, but the NFHS rules state that isn't allowed.
The story is worse for Hartselle considering its 77-year-old coach, William Booth, is battling stomach, liver and intestine cancer.
The damage is done after the blown call. Hartselle was robbed of a state title. Faith Academy went home victorious. But there's no question the title will always be marred in controversy.