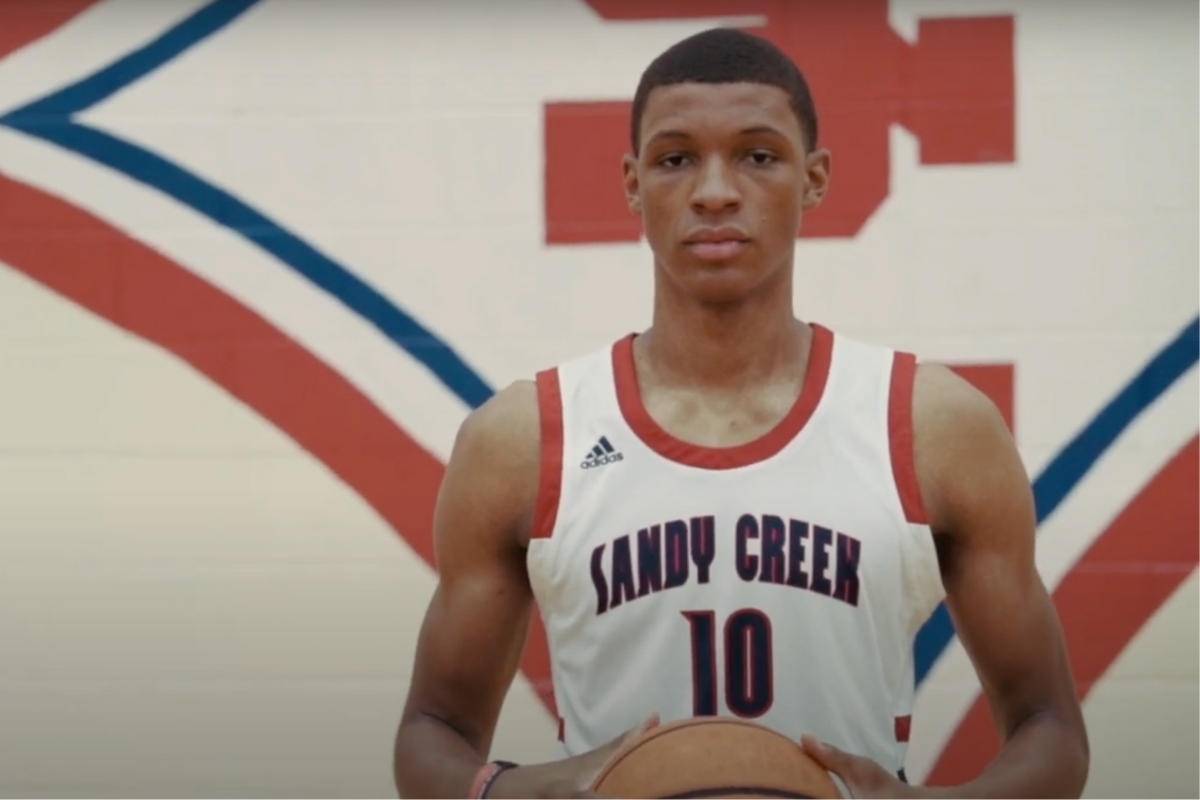 Screenshot from YouTube
Jabari Smith has all the tools to make an impact at the next level. The junior has size, an outside shot, length, athleticism, and a bloodline of NBA experience, considering his father played at a powerhouse SEC school.
The 6-foot-10, 210-pound power forward from Sandy Creek High School in Tyrone, Georgia — just outside Atlanta — has ascended to one of the best players in the 2021 recruiting class and projects to improve.
Jabari Smith Jr. Highlights
Smith best operates facing up to the basket. He can take big guys off the dribble — using a pump fake to get his defender off balance — and pull up for a jumper or attack the rim. He'll draw his defender out which opens up cutting lanes for teammates. Smith shows a keen ability to find them. Put a smaller guy on him and he'll move down to the post. On the block, he's not as comfortable, but he has a knack for drawing fouls.
From the outside, Smith has a reliable jumper and spatial awareness. He's best shooting off the catch from outside but has the ability to shoot off the dribble from mid-range. From the triple-threat position, the five-star uses jabs and fakes to size up defenders before rising up. His shot has great touch.
On the defensive end, Smith protects the rim and rebounds well. He has a good nose for the ball. Leadership and developing a better motor are at the top of Smith's priority list along with building strength.
Jabari Smith Jr. Recruiting
RELATED: 5-Star Emoni Bates Positioned to Be an All-Time NBA Great
Smith is the fifth-ranked overall prospect of the 2021 class according to 247Sports and ESPN. Rivals ranks him fourth. He has scholarship offers from Alabama, Auburn, Florida State, Georgia, Georgia Tech, North Carolina Ole Miss, Tennessee, and LSU. NCAA Blue bloods like Duke and Kentucky have shown interest but haven't extended offers.
LSU might always have a place in his heart, because his father played basketball there. Jabari Smith Sr. played 61 games for the Tigers from 1998-2000, averaging 12.6 points and 8.2 rebounds per game. The Sacramento Kings selected him in the second round of the 2000 NBA Draft and he played for five seasons in the NBA with the Kings, Philadelphia 76ers and New Jersey Nets. He then played professionally overseas in Spain, Turkey, Iran and Puerto Rico.
"Huge impact, huge impact," he told 247Sports about his father. "He grew up without a dad so he tells me stuff that he couldn't learn as a kid. He grew up off of pure talent not of learning how to work and so he's just been telling me how to go about it and everything."
Smith hadn't given any indication of where he'll play college basketball. I'd predict he'll stay in SEC country (Editors note: prediction from March 2020). He took an official visit to Tennessee in early March and likes the coaching staff. UT coach Rick Barnes, who coached Kevin Durant at Texas, said Smith had a similar game to the two-time NBA champion.
The power forward has experience on the international stage. Last summer, he played on the USA Basketball U16 team and won a gold medal at the 2019 FIBA Americas U16 Championship. He averaged a team second-best 13.8 points per game.
Smith is expected to go high in the 2022 NBA Draft. NBADraftRoom.com ranks him as the eighth-best prospect. Until then, the top-five recruit was weighing his college options and continue to refine his game.
He currently ranks fifth-overall in the 2021 basketball recruiting class behind Patrick Baldwin Jr., Chet Holmgren, Paolo Banchero, and Jaden Hardy, according to 247Sports Composite.
Jabari Smith Commits to Auburn
Five-star prospect Jabari Smith certainly had his pick of top schools to play his college basketball. He could have gone the G-League route like several over top basketball prospects or picked the hometown Georgia Bulldogs or his dad's alma mater of LSU.
At the end of the day, however, Smith is headed to play for head coach Bruce Pearl and the Auburn Tigers. He announced his decision during the coronavirus pandemic and COVID-19 outbreak.
After reaching the Final Four and landing superstars like point guard Sharife Cooper, this is yet another big win for the Auburn basketball program.
This post was originally post on March 30, 2020 before updating.