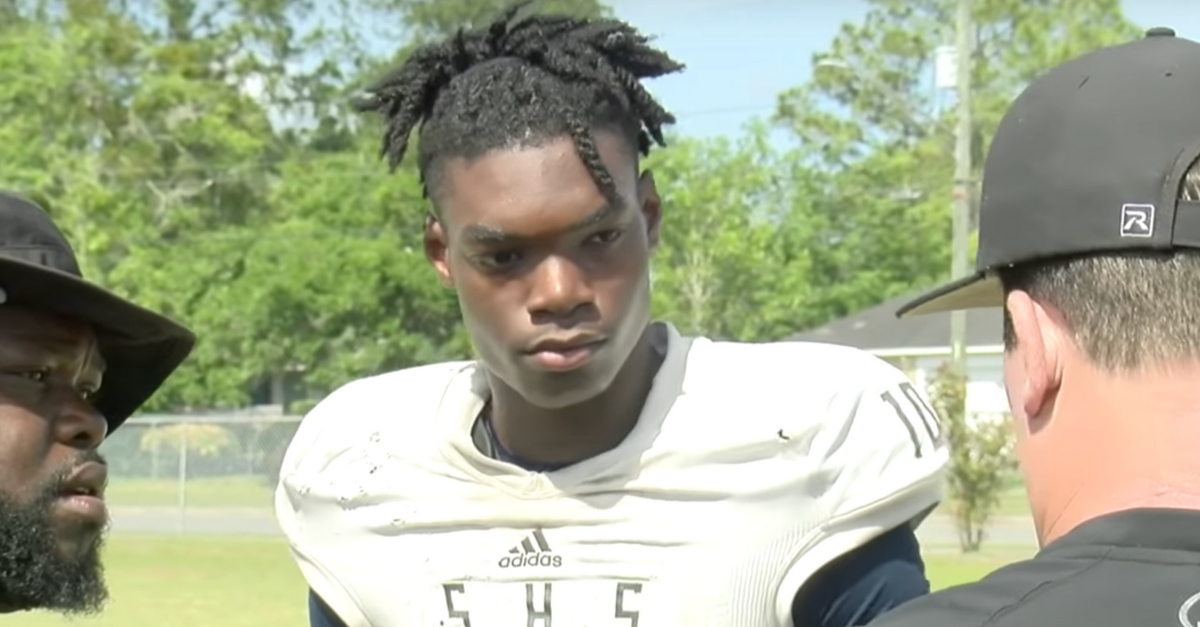 Screenshot from YouTube
From the moment he received an offer, Sandalwood High School dual-threat quarterback Jeff Sims was all about the Florida State Seminoles. The four-star prospect committed just days after and found himself in Tallahassee several times. A lot of things have changed, though, and the signal caller wants to make sure he?s making the best decision ahead of the early signing period.
If you look at his timeline, via 247Sports, the 6-foot-3 Sims was a frequent visitor to Florida State football. After his commitment in February, Sims attended three Junior Day events, went to FSU?s summer camp, took three more unofficial visits, and even had a visit from assistant Kendal Briles. The love has always been there, but it might be fading.
There?s still a chance FSU football lands the Jacksonville, Florida star for the 2020 recruiting class, but the coaching change of Memphis' Mike Norvell replacing Willie Taggart has made his recruitment much more complicated. Sims has chosen to decommit just one week before he signs his National Letter of Intent.
QB Jeff Sims Recruiting
For a team in desperate need of a game-changing quarterback, FSU was fortunate to land Jeff Sims early in the process. All of those unofficial visits don?t mean anything until the later is signed, though.
Since Taggart?s departure, Sims has taken an official visit to Maryland and has an official visit to Florida State this weekend, according to 247Sports. He apparently isn?t ready to commit fully until he goes there again and meets the new head coach.
?First of all, I think God for all the doors he has opened up for me and for blessing me with the talent to play the sport I love. After much prayer and thought? at this time I feel that it is in my best interest to de-commit from FSU. FSU will still be an option for me, but I am reopening my recruitment for this final week.

?I am not doing any interviews until after I sign at 9 AM next Wednesday in the auditorium at Sandalwood HS.?
Perhaps the good news for FSU is Sims will still sign early and not have to compete with too many other schools. But the Noles could also lose a prized recruit at the last minute.
According to 247Sports, Georgia Tech seems to be in good position to land Sims. The four-star quarterback also fielded college football offers from NCAA schools such as Boston College, Georgia, Louisville, LSU, Penn State, Tennessee, UFC, and Virginia Tech, among others, during the recruiting process.
---
UPDATE (Dec. 18, 2019): As December's Early Signing Period kicked off, Sims announced that he'd be committing to the Georgia Tech Yellow Jackets. To date, Sims is the highest-rated recruit for second year head coach Geoff Collins program in the ACC.