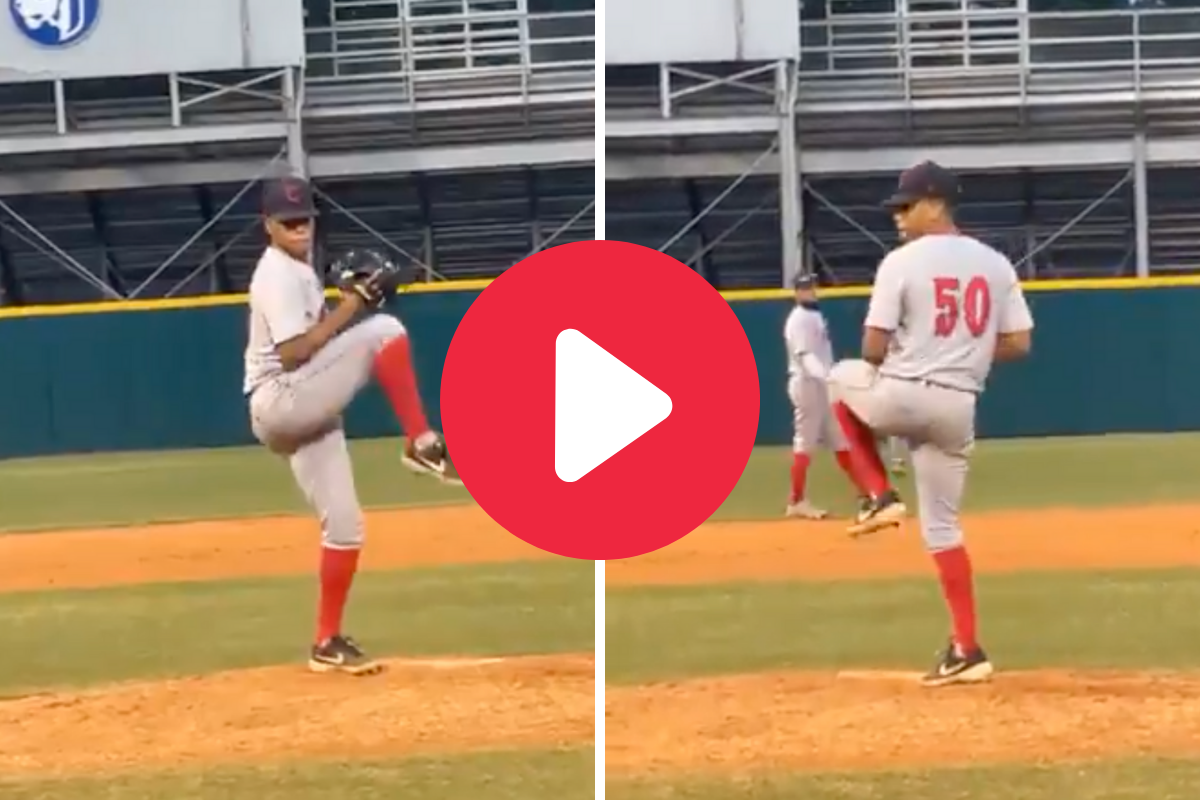 Screenshot from Twitter
Ambidextrous is a big word that rarely gets used in Major League Baseball. Switch hitting is still a common occurrence, but it's incredibly rare to find a switch pitcher.
MLB pitcher Pat Venditte became one of the more famous of these elusive unicorns and even prompted a rule that limits how often a pitcher can switch from hand to hand in an at-bat after a wacky and hilarious at-bat against a switch hitter.
Venditte wasn't the first switch pitcher to fire fastballs from either hand, and he won't be the last. That's because there's a high school pitcher named Jurrangelo Cijntje in Hialeah, Florida, who's taken social media by storm for his ability to do the same.
Jurrangelo Cijntje: The Viral Switch Pitcher
RELATED: 6-Year-Old Girl?s Baseball Swing is Taking The Internet By Storm
Jurrangelo Cijntje has made social media drop its collective jaw.
The pitcher for South Florida's Champagnat High School was captured warming up during a game against Jesuit in Tampa on April 23 by photographer Mike Gallagher. When another user posted the video to Twitter, it began making its rounds on the website.
It was picked up by SportsCenter, Bleacher Report and MaxPreps, because it's not every day you see a teenager pitch with both arms so casually.
"You're not gonna believe this," Gallagher begins in the video.

"Watch this, folks. This is unbelievable. I've heard of this, but I've never seen it."
Cijntje begins his warm-up with few right-handed pitches. He then switches the specially made Wilson glove onto his right hand so he can fire in a few left-handed strikes. Even weirder is that his motion looks the same from both sides.
"I am so blown away by this," Gallagher says.
Cijntje isn't a scrub, either. He can throw as hard as 92 MPH, according to his Perfect Game profile. The Class of 2022 player is committed to Stetson University.
Remember the guy we were talking about earlier, Pat Venditte? Yeah, his fastball lived in the high-80s range. Cijntje could be well on his way to an MLB career considering how valuable his versatility is.
This isn't the first time Cijntje has gained fame for his ambidextrous body.
Jurrangelo Cijntje pitched for the Caribbean team in the 2016 Little League World Series. He started out as a southpaw before switching to his right hand and wowing a confused crowd in Williamsport, Pennsylvania.
Hopefully we see this talented kid in the bigs one day.