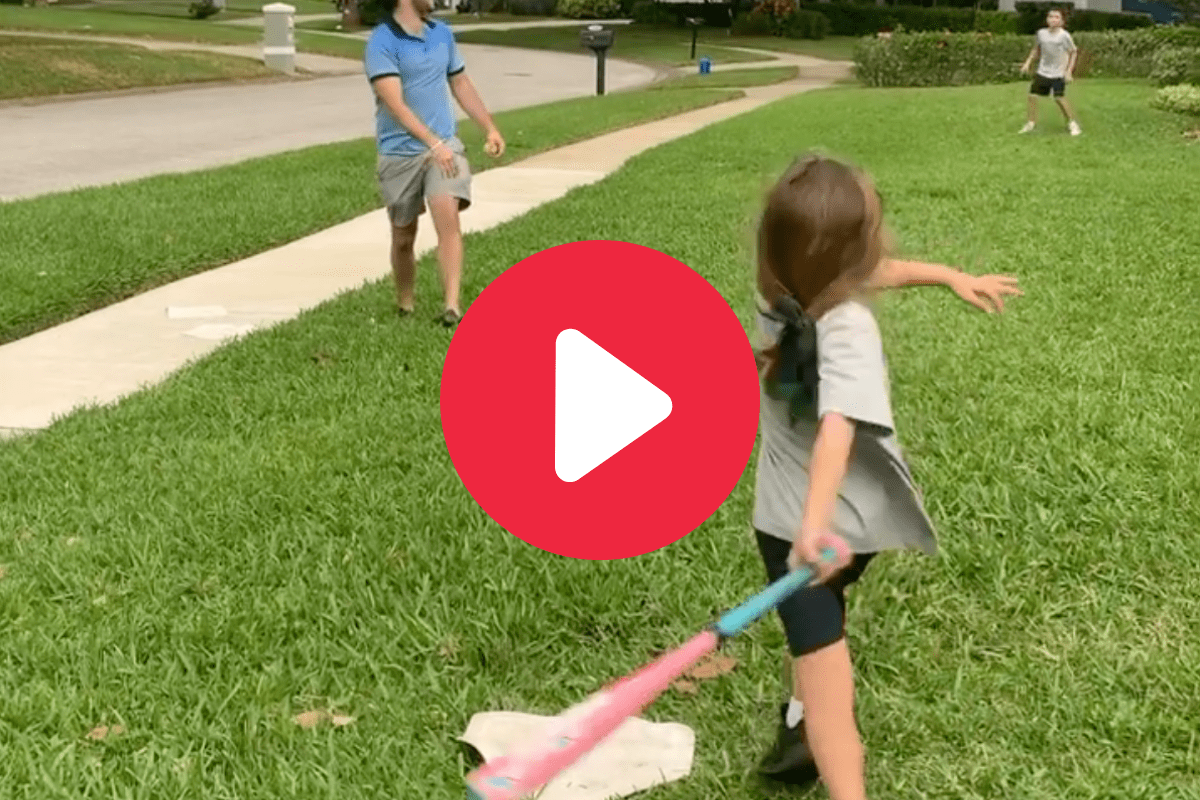 Screenshot from Instagram: mashingmila
If Ken Griffey Jr. and Jennie Finch had a kid, it would look something like the one and only Mashing Mila Romano.
Don't know who that is? You might want to write down her name and remember it for years to come. At just 6 years old, the little girl with a big swing reminiscent of Griffey's sweet stroke has been taking the Internet by storm because she simply mashes baseballs better than boys her age.
In fact, Mila's dad hopes she'll one day become the first female MLB player. Don't even try to doubt her.
Mashing Mila: 6-Year-Old Baseball Phenom
RELATED: Meet Amaya Moreno: The 11-Year-Old Star Female Quarterback
"Mashing Mila" is the 6-year-old daughter of former 1997 MLB Draft first-round pick Jason Romano, who was taken 23 picks after Lance Berkman and played four season in the big leagues. He now works as a baseball agent for Excel Sports Management and is one proud dad.
Mila has baseball in her blood, and it shows.
She has an entire Instagram account dedicated to her favorite hobby: mashing. Whether she's swinging on the tennis court, golf course or baseball field, this 6-year-old female phenom is out to prove she can hit dingers while wearing a dress and a ponytail.
And she's damn good at it.
In her first tee ball game in October 2020, she cranked a ball to the fence. Back in November 2020, she blasted a home run over all the little league boys on the field.
"Sorry boys! Next time play on the other side of the fence," her Instagram post read.
Mila has the sweet southpaw swing many people dream of. You might say it looks like Ken Griffey Jr.'s. Wouldn't you know it: her father was teammates with Junior on the Cincinnati Reds in 2005 and even pinch hit for the Hall of Famer in a game he went yard in.
Mashing Mila AKA "Kim Griffey Jr." boasted a natural swing from the first time she picked up a bat before she turned two, according to Jason. After endless hours watching baseball with her dad, she's perfected her craft even more.
"She just picked up the swing," Jason told Spectrum Sports 360.
Mashing Mila is still tearing up tee ball on the diamond. She'll get to terrorize dads in coach pitch and eventually other pitchers her age. You may want to remember her name, though, because she could break barriers in the future with a swing like that.
She's already faced one MLB pitcher, Kansas City Royals starter Brady Singer:
?As long as she likes it and wants to play, I will encourage her,? Jason said in 2019. ?I think if she keeps progressing, there is no limitations to what she can become. So, you want to see what the future of baseball looks like? You?re looking at it."
Baseball needs a first female player, and Mila Romano could wind up being that.