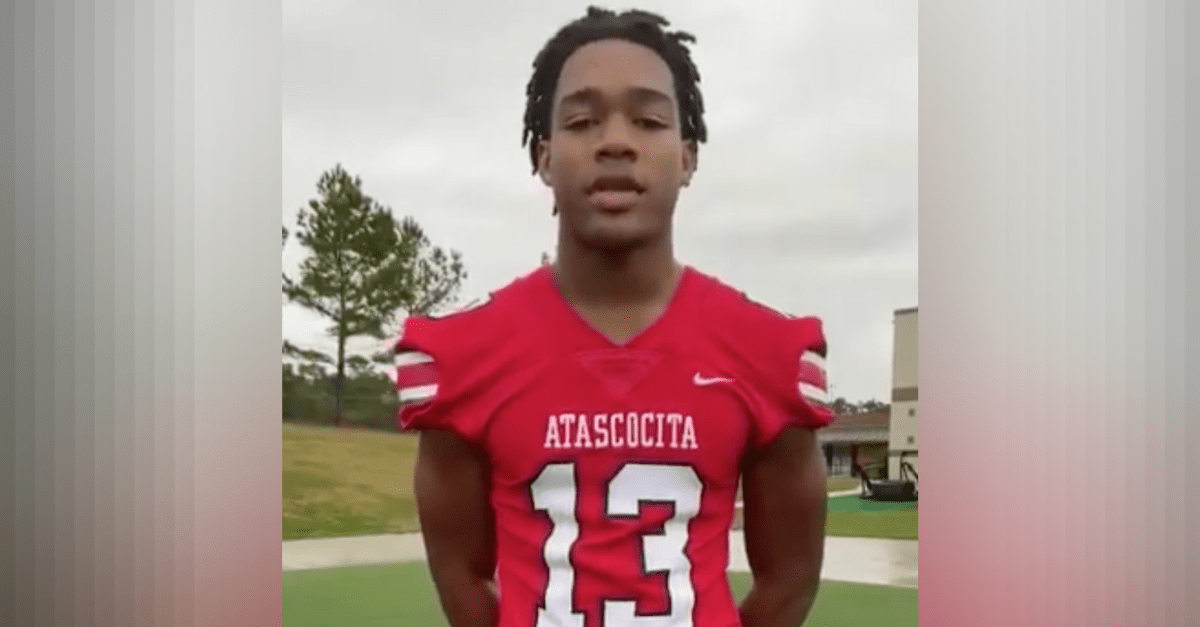 Screenshot from Twitter
As the Auburn Tigers continue to compete at a high level in the SEC, head coach Gus Malzahn looks to reload with elite high school talent each and every year. He's not afraid to travel to get great players, either, and he landed another one from the state of Texas.
Atascocita tight end Landen King, a three-star recruit from Humble, Texas, committed to Auburn on June 15. He originally committed to the Texas Longhorns, but found an ideal home on The Plains following his decommitment this spring.
There's no doubt King is a big-time addition to Auburn's 2021 football recruiting class.
3-Star TE Landen King Commits to Auburn
RELATED: Auburn Secures Bo Nix's Future Replacement in 4-Star Quarterback
Ranked as the No. 24 tight end in the country, according to the 247Sports Composite, Landen King is definitely a big pickup for Auburn, Gus Malzahn and offensive coordinator Chad Morris.
King, a 6-foot-5, 220-pound tight end, fielded offers from Texas, Alabama, Arizona, Arizona State, Georgia, Georgia Tech, Houston, Kansas, Michigan State, Oklahoma State, Ole Miss, Oregon, Penn State, Purdue, SMU, South Carolina, Tennessee, Texas A&M, Virginia Tech, and Washington, among others.
He became the third recruit from the Lone Star State to commit to Auburn, joining a pair of North Shore four-star teammates in dual-threat quarterback Dematrius Davis and offensive lineman Jaeden Roberts.
TE Landen King Highlights
As a junior in 2019, Landen King caught 53 passes for 853 yards and nine touchdowns, according to The Montgomery Advertiser. He can line up on the line of scrimmage, in the slot or outside like a traditional wide receiver.
Considering his 6-foot-5 frame, that makes King one scary option for future Auburn offenses.
King's versatility will be key at the college football level and putting on more weight could potentially make him a big-time playmaker for the Auburn Tigers for years to come.
This post was originally published on June 15, 2020, but has been updated.