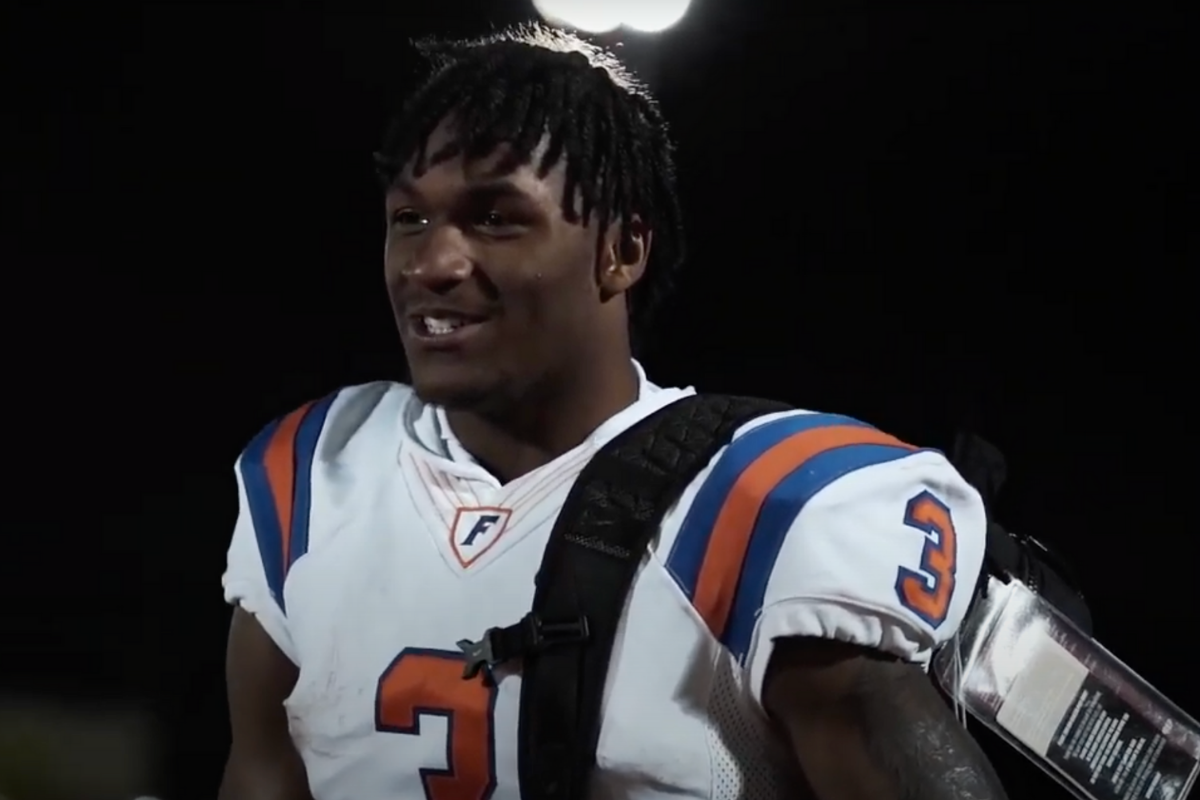 Screenshot from YouTube
Luther Burden may only be a junior in high school, but he is getting showered with praise for his work on the football field. The five-star wide receiver is ranked as the best prospect at his position in the entire 2022 recruiting class, according to the 247Sports Composite.
NCAA coaches from across the country reached out with scholarship offers in hopes of landing this stud.
The Missouri native originally attended Cardinal Ritter College Prep, but in January 2021, he moved to Illinois to play for the coveted program at East St. Louis High School.
Burden has his college football future set up as well. Back in October 2020, he committed to the Oklahoma Sooners. He still has time before he graduates, but the wideout appears ready to make an impact for head coach Lincoln Riley's team already.
Luther Burden Commits to Oklahoma
RELATED: Kyler Murray's High School Highlights Are Second to None
In addition to the Sooners, wide receiver Luther Burden received interest from plenty of schools, including Alabama, Arizona State, Arkansas, Auburn, Baylor, Florida, Florida State, Georgia, Illinois, Indiana, Iowa, Iowa State, Kansas, Kansas State, Kentucky, Louisville, LSU, Michigan, Michigan State, Minnesota, Missouri, Nebraska, Ohio State, Ole Miss, Oregon, Penn State, Purdue, Southern Miss, Syracuse, TCU, Tennessee, Texas, Texas A&M, Texas Tech, USC, Virginia Tech, West Virginia, and Wisconsin.
The Sooners are a consistent threat in the Big 12, and they have multiple College Football Playoff appearances under their belt. With the addition of Burden in the coming years, perhaps they can make the leap from "CFP participant" to "CFP champions."
WR Luther Burden Highlights
Luther Burden is certainly a burden for opposing defenses. He's quite literally the best player at his position in the entire recruiting class, so the weaknesses in his game are close to nonexistent.
Allen Trieu, a recruiting analyst for 247Sports, gave Burden a glowing scouting report and compared him to A.J. Brown of the Tennessee Titans, which is high praise considering what Brown has done in the NFL. He also projected Burden to be a future first-round pick.
?In his last season with CRCP, Burden totaled 895 yards and 12 touchdowns. He has been the focal point of the offense his entire life, and not much will change at East St. Louis.
Luther Burden is a five-star recruit and has the looks of a future All-American. If he lives up to his potential at Oklahoma, the NFL will certainly be his next destination.