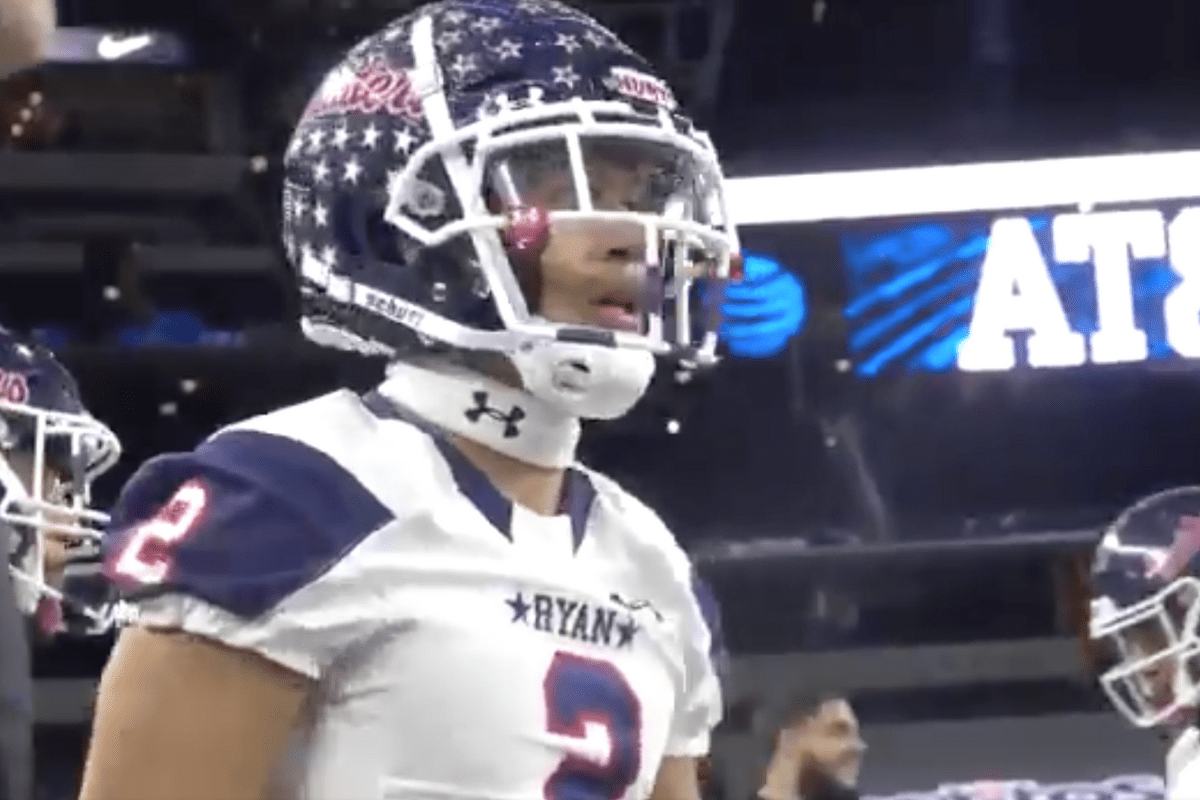 Screenshot from Twitter
Where will Billy Bowman play college football? That's the question many were asking.
On October 13, 2020 the wide receiver narrowed down his list of suitors to three potential schools: Georgia, LSU, and Oklahoma.
The explosive wideout, who plays for Ryan High School in Denton, Texas, must have had quite a bit of thinking to do, as he also received offers from some prestigious schools such as Alabama, Arkansas, Auburn, Baylor, Florida, Florida State, Georgia Tech, Kansas, Notre Dame, TCU, and Texas Tech.
Notably, Bowman was initially set to play for the Texas Longhorns next season, but he de-committed from head coach Tom Herman's program on October 7.
Bowman is going to play in the Big 12 next year, but it will be on the other side of the Red River.
Billy Bowman's Final 3 Schools
RELATED: Nation?s No. 6 Recruit Passes on Dream School to Stay Home
According to the 247sports Composite, Bowman is the third-best athlete in the recruiting class and the No. 33 overall prospect in the nation.
In addition to wide receiver, he also plays cornerback and a bit of running back for Ryan, showing his seldom-unparalleled versatility amongst his peers. Talent evaluator Gabe Brooks lauded his "functional agility with impressive close-quarters mobility and top end-track speed evident in the open field." The expectation is that the three-sport athlete will be a multi-year starter at one of the schools he has deemed a finalist, and Brooks also suggests that the receiver has legitimate NFL Draft potential.
Without stating the obvious, this de-commitment puts the Longhorns in somewhat of a pickle for more reasons than one. Texas football also has a pledge fellow wide receiver Ja'Tavion Sanders, who happens to be a teammate and close friend of Bowman's on their high school team.
Now that Bowman has left the program, Sanders may be willing to follow.
Interestingly enough, the four-star recruit will now take his talents to the Oklahoma Sooners.
Billy Bowman Commits to Oklahoma
Oklahoma head coach Lincoln Riley just added another notch in the longstanding rivalry between OU and Texas. because Billy Bowman Jr. is headed to Norman next season.
On November 1, Bowman committed to the Sooners.
"I want to thank the Lord for all that he has blessed me with because without him none of this is possible. I want to thank my parents & sister for all of their support. Also I want to thank my coaches, family, & friends. While analyzing my options I truly believe I've found the best FIT for me, to help me get to the next level. After lots of prayer, I am COMMITTING to… The University of Oklahoma! Boomer Sooner!"
Bowman will join five-star quarterback Caleb Williams in OU's star-studded 2021 football recruiting class.
ATH Billy Bowman Highlights
With explosive highlights like these, it is no wonder so many schools wanted Bowman on their team.
At 5-foot-10 and 175 pounds, the Denton Ryan star has drawn comparisons to defensive back Cyrus Jones of the Baltimore Ravens on his less-familiar side of the ball, and, perhaps more impressively, Tyler Lockett of the Seattle Seahawks for his work as a wide receiver.
Those comparisons are lofty, but it shows how well-regarded the four-star prospect from the state of Texas has been, and what he can bring to the NCAA level next season and beyond.
This post was originally published on October 20, 2020 before updating with Bowman's commitment to Oklahoma.