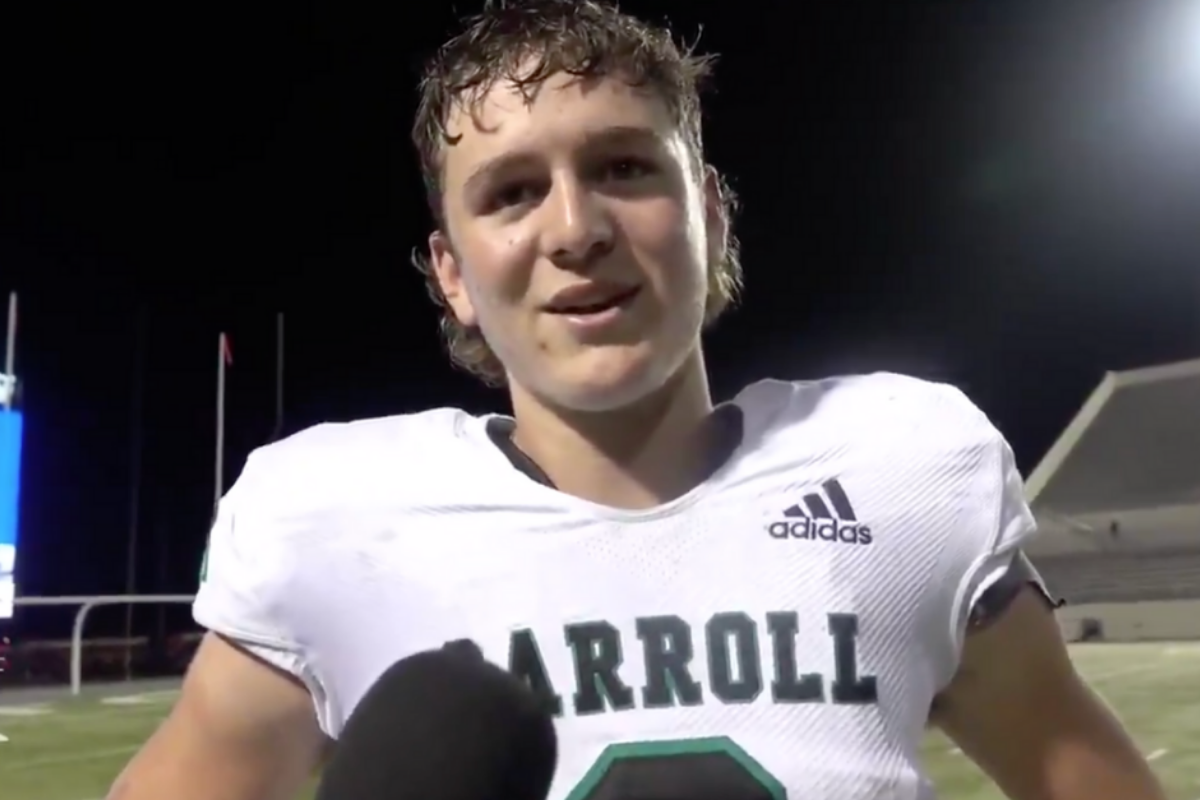 Screenshot from Twitter: Nick Harris
The state of Texas is a hotbed for talented high school football quarterbacks. Patrick Mahomes, Drew Brees, Matthew Stafford and so many more made a name for themselves before starring in the NFL on the prep scene in the Lone Star State, where the caliber of play is bigger and better.
Quinn Ewers could very well be the next in line. With a luscious, bleached blonde mullet and a style of play comparable to Trevor Lawrence, the No. 1-ranked quarterback in the 2022 recruiting class could change the landscape of college football with his commitment.
Ewers is only entering his junior year at Southlake Carroll High School in Southlake, Texas, but the buzz is already completely surrounding him. The No. 2 overall recruit by 247Sports and No. 1 overall by ESPN could follow in the footsteps of recent Heisman Trophy winners like Baker Mayfield and Kyler Murray at Oklahoma, where 2021 No. 1 quarterback Caleb Williams committed. Or the five-star passer could take the SEC by storm and attend Alabama like 2020 top QB Bryce Young chose to do.
5-Star QB Quinn Ewers Recruiting
RELATED: 2022's No. 2 Cornerback Trims List to 10 Schools
2022 quarterback Quinn Ewers has a cannon arm and pinpoint accuracy, so it's no surprise college football programs across the country are hot on his trail.
According to 247Sports, the 6-foot-3 signal caller has 29 offers from NCAA programs that include Alabama, Auburn, Ohio State, Oklahoma, Oklahoma State, LSU, Florida, Georgia, Texas, Arizona State, Michigan, Miami, Penn State, South Carolina, Texas A&M, Tennessee, Baylor, TCU, USC and Washington.
As for Ewers football recruiting process or decision, that's anyone's guess.
The folks over at 247Sports believed early that Ewers could wind up playing for head coach Lincoln Riley at Oklahoma, which is just up the road from his hometown. He also was slated to visit Auburn before the coronavirus pandemic hit, according to USA Today. However, he has plenty of reasons to head south to Austin and play for the Texas Longhorns.
Ewers told 247Sports that he's a big fan of Texas offensive coordinator Mike Yurcich, plus he has family ties to the Big 12 school.
"My whole family is Longhorns. That'd be pretty cool. I have family near Austin. They would all come to games. I have family in New Braunfels which isn't too far and a bunch more family down South, that's where we originally moved from. This year they have to amp it up a little bit. I'm excited to see what they can do this year," he said.
The last quarterback or player of Ewers' magnitude to attend Texas? Just some dude named Vince Young.
Quinn Ewers Highlights
What stands out when watching this kid play is his incredible athleticism. He can roll out of the pocket and sling the ball 50 yards down the field on his back foot, or he can keep it and run the 50 yards himself.
Ewers can fire the ball with a tight spiral into tight holes or float it over defenses with touch. Some of the throws in the video above already resemble that of an All-American passer prepping for the NFL Draft.
Just check out him casually flinging a ball 73 yards as a high schooler:
And let's talk about that accuracy: Per Max Preps, Ewers threw for 4,003 yards, 45 touchdowns and just three interceptions as a sophomore in the Dallas-Fort Worth area last year. THREE interceptions. Out of 402 pass attempts. It's no wonder the Southlake Carroll Dragons went 13-1 and finished their run just short of state title. Ewers was then voted Fort Worth Star-Telegram Offensive Player of the Year and MaxPreps National Sophomore of the Year. He's somehow posted a better quarterback rating so far into junior season.
Regarded as the "best junior quarterback prospect since Clemson's Trevor Lawrence" by 247Sports, Ewers' spot among the top of the 2022 recruiting rankings make all the sense in the world.
Where pro-style quarterback Quinn Ewers will end up is up to him, but it could completely change one program and put them in playoff contention.
---
Quinn Ewers Commits to Texas
UPDATE (August 14, 2020): In the midst of the coronavirus pandemic, COVID-19 outbreak and uncertainty surrounding the fall season, Ewers decided it was time to make a verbal commitment.
Ewers announced his commitment to the Texas Longhorns, where head coach Tom Herman is licking his chops at the in-state commitment from a transcendent arm talent.
---
Quinn Ewers Decommits from Texas
UPDATE (October 29, 2020): Ewers' commitment lasted a little more than two months. The five-star quarterback announced on his Twitter account on Wednesday night he was de-committing from the Texas Longhorns, and there's already a rumored favorite to land his services.
"I've decided to de-commit and reassess the situation before making such an important decision on my future. I would like to thank the University of Texas for their belief in me and my abilities. I understand this year has been challenging for the coaches and administrators as well, so I appreciate their understanding and wish them the best in their future," he wrote on social media.
"My family and I thank Texas Longhorns fans for their interest and support. I will soon have a firm decision on where I will spend the next few formative years of my life and career, and I look forward to sharing that with you."
According to rumors and 247 Sports' predictions, Ewers could very likely be heading to the Big Ten and committing to Ryan Day's Ohio State Buckeyes football team. His decommitment from Texas is not only a massive blow to UT but could be a huge gain for OSU in the post-Justin Fields era.
As the college football world waits for his commitment, it's clear that whichever team gets his pledge will be getting a dude who makes the wide receivers and running backs around him much better.
---
Quinn Ewers Commits to Ohio State
UPDATE (November 20, 2020): Ewers indeed is planning on taking his talents to Columbus to join the Buckeye Nation. He committed to Ohio State football in a tweet on Thursday. According to 247 Sports, he's the second-highest rated OSU commit ever behind Terrelle Pryor.
The mulleted kid from Texas may not be flashing his talents in the NCAA for a while, but he should be an exciting quarterback when his time comes. Ohio State fans should be thrilled over this commitment, one that reminds them of Urban Meyer's recruiting days.
This article was originally published July 15, 2020. It's been updated to track Ewers' recruitment.