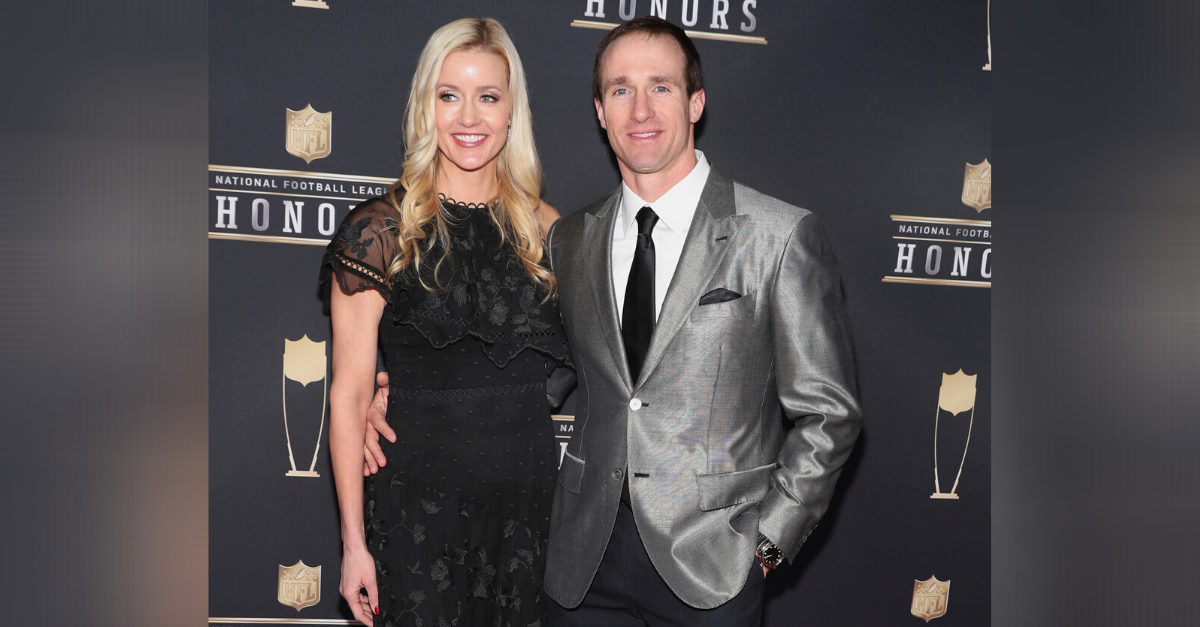 Photo by Michael Zorn/Invision for NFL/AP Images
New Orleans Saints quarterback Drew Brees is one of the best quarterbacks of all time. No one in NFL history has more passing yards or passing touchdowns than 41-year-old from Texas.
Before the San Diego Chargers selected him in the second round of the 2001 NFL Draft, Brees lit up the Big Ten Conference with the Purdue Boilermakers. After five seasons in San Diego, the free agent took his talents to the NFC, where he and the Saints would grow into a perennial playoff team under Sean Payton in the Mercedes-Benz Superdome.
Off the field, Brees is known as a devout Christian. He's funny, too, as evidenced by the time he played the role of "undercover boss." That doesn't mean he hasn't had to face negative publicity. In 2019, he defended himself from anti-gay accusations after appearing in a commercial disseminated by Focus on the Family, an organization viewed by many as hostile to the LGBTQ community.
Brees also garnered criticism when he and his wife sat next to President Donald Trump and First Lady Melania Trump at the 2019 College Football Playoff National Championship between LSU and Clemson in New Orleans. A picture of that recirculated following his "disrespecting the flag" comments following the death of George Floyd in May 2020. He apologized once athletes, media members and even teammates slammed him for it.
Still, this begged the question: who is the woman next to Drew Brees? Let's meet her.
Who Is Drew Brees' Wife Brittany Brees?
Brittany Dudchenko was born on September 18, 1976, in Syracuse, Indiana.
She attended Wawasee High School in Syracuse and later attended Purdue University, where she'd meet her future husband. The two started dating in the late 1990s and got married in 2003.
How Did They Meet?
RELATED: Eli Manning and His Wife Built The Next "Manning Family"
The Breeses' story wasn't exactly love at first sight.
Drew was a sophomore quarterback at Purdue and Brittany, a junior, caught his eye. He approached her on his 20th birthday after having "about 17 shots" and apparently bombed the first impression.
"I made a real fool of myself when I first met her," Brees told ESPN the Magazine. "It was when I was a sophomore. It was my 20th birthday and I'd had about 17 shots and put my foot in my mouth. It was a typical football player cheesy line — we'll leave it at that. It took me six months to get the courage to talk to her again. I finagled my way to get invited to a party that I knew she'd be at."
When the two finally went on their first date, they both brought along friends. Brees' buddies didn't dispel the idea that he was still a fool.
"So he asked me out, and all my girlfriends wanted to come with," Brittany told ESPN the Magazine. "You know, because he was 'That Guy Who Had Made Such a Fool of Himself.' So he brought some of his football friends and we went to the movies. And his friends started throwing Gummy Bears at the screen!"
Now, Brees throws footballs instead of gummy bears while his beautiful wife supports him at home.
They Do a Lot of Charity Work
The Breeses have been known for their tremendous charity work.
In March 2020, they announced they were donating $5 million to the state of Louisiana for COVID-19 relief efforts. That amount was a shocking figure among professional athletes.
"After considerable research and conversations with local organizations, we will be mobilizing our partnerships with Second Harvest Food Bank, Ochsner Health Systems, Walk-Ons, Jimmy Johns, Smalls Sliders and Waitr to prepare and deliver over 10,000 meals per day throughout Louisiana for as long as it takes to children on meal programs, seniors, and families in need.
"Let's all do our part, maintain hope, and get through this together," Drew Brees said on social media in March 2020.
The Breeses also went on the Ellen DeGeneres Show to talk about their coronavirus pandemic donation. They chatted via online video — Brees and his wife from their home in San Diego and DeGeneres in her California home.
"These healthcare workers. These doctors. These nurses, all of these people are really stepping up and rising to the occasion. Look at the best in people and that's what we're continuing to do. Hopefully other people lead by example and more people, it just trickles down. It's gonna be OK. If we can just all do this together, it's gonna be OK," Brittany Brees said.
Drew and Brittany moved to New Orleans soon after Hurricane Katrina destroyed the city in 2005. He and his wife's charity, the Brees Dream Foundation, then helped rebuild parks, playgrounds and homes in the coming years for citizens of The Big Easy who had gone through tough times.
In 2010, after winning Super Bowl XLIV, Sports Illustrated selected him as Sportsman of the Year.
"It's hard to point to a relationship in our league, between a player and a city, that's more meaningful than the Saints and Drew Brees," NFL commissioner Roger Goodell then told Sports Illustrated.
How Many Kids Do They Have?
Drew and Brittany have four children together — three boys and one girl.
They welcomed their first son, Baylen Robert, in 2009. Brittany gave birth to Bowen Christopher in 2010 and Callen Christian in 2012. Their daughter, Rylen Judith, was born in 2014.
Brees famously held up his son, Braylen, when the Saints took down the Indianapolis Colts in Super Bowl XLIV.
As you might expect, the house can be complete chaos. Brees practically has his own receiving corps and sports team in his home. It looks like Brees is one of the kids at times. How Brittany puts up with it I'm not quite sure.