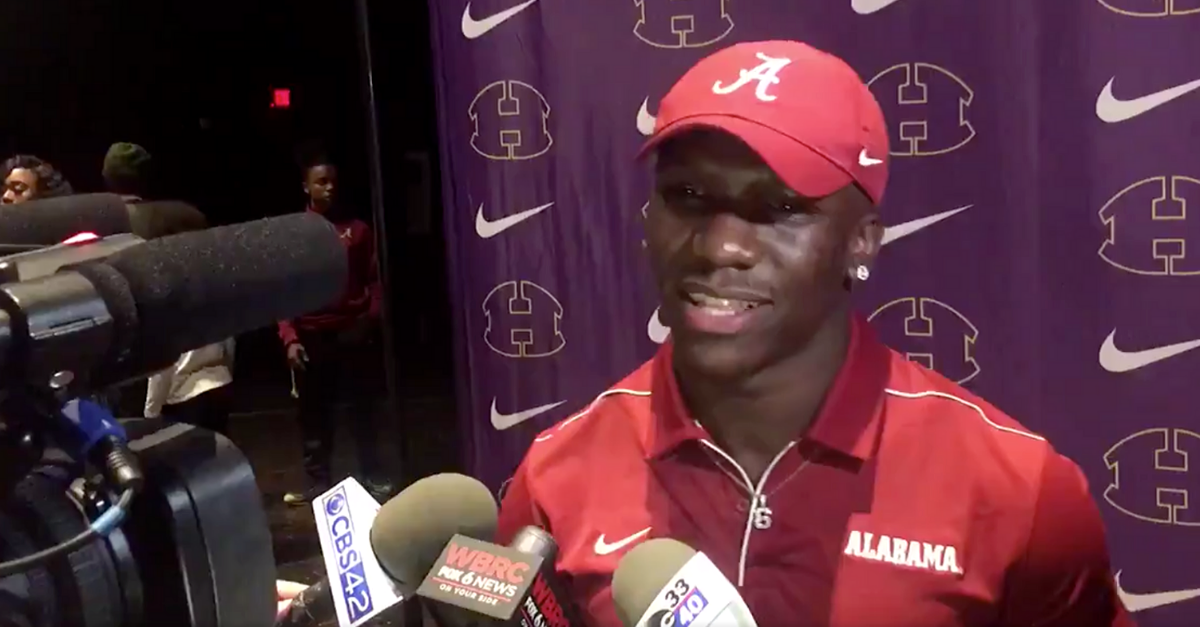 Screenshot from Twitter: Justin Smith
Hueytown running back Roydell Williams didn't have a complicated recruiting process. Despite at least a dozen offers from some of the biggest college football programs in the country, the Alabama native only had one school in mind. It also helps when that school's two Heisman Trophy winners both played his position, and one of the NFL's best rookies this season was also a former Alabama Crimson Tide running back.
Williams wasted no time during December's Early Signing Period and inked his name on a National letter of Intent to stay in his home state and join head coach Nick Saban's SEC powerhouse.
"It's been my dream," Williams told AL.com. "I had the opportunity to play at other SEC schools, but Alabama is my heart."
Hueytown's Roydell Williams Signs with Alabama
The 247Sports Composite score ranked the two-time All-State selection as the ninth overall running back for the 2020 recruiting class. The unanimous four-star recruit was rated as the No. 1 player in Alabama by ESPN.
Williams racked up 1,304 rushing yards and 25 touchdowns as a senior despite battling a hamstring injury, according to AL.com. His best season came as a junior when he exploded onto the national stage. His name dots the Alabama High School Athletic Association (AHSAA) record book several times, including the whopping 2,757 rushing yards he racked up as a junior, the 10th-most in a single season in state history. That same year, Williams scored 32 rushing touchdowns.
RELATED: Four-Star QB Jeff Sims Signs with Georgia Tech
With over 6,000 career yards, Williams fielded offers from Auburn, Florida, Florida State, Kentucky, Oklahoma State, Ole Miss, and Tennessee, among others. The Crimson Tide were never really in doubt, though, after he verbally committed on November 24 last year.
Williams was one of several elite prospects to sign his National Letter of Intent in December 2019, including safety Brian Branch, wide receiver Thaiu Jones-Bell, defensive tackle Jah-Marien Latham, and cornerback Jahquez Robinson.
Roydell Williams Highlights
Najee Harris. Josh Jacobs. Derrick Henry. Eddie Lacy. Trent Richardson. Mark Ingram. Glenn Coffee. Shaun Alexander.
The list of great Alabama football players at the running back position runs deeper than most schools could ever dream of. Is Roydell Williams potentially the next one to take up that mantle in Tuscaloosa?
This article was originally published December 18, 2019.