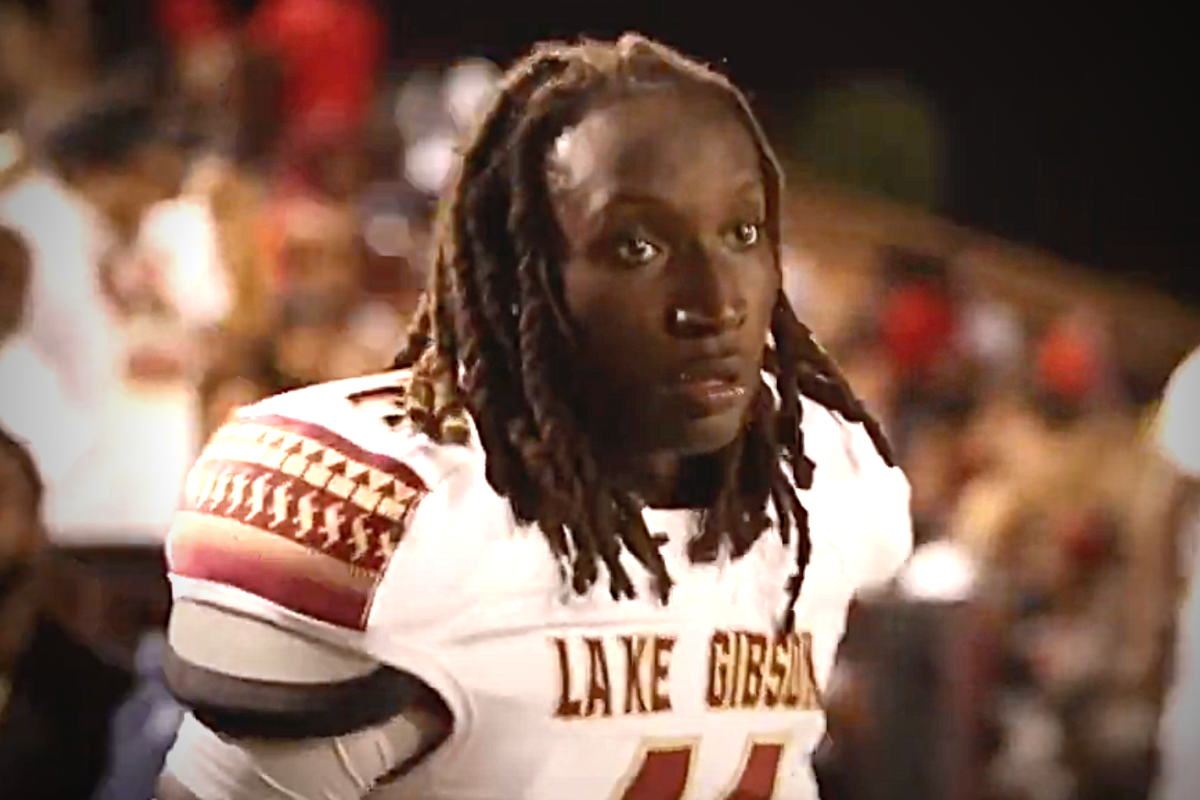 Screenshot from YouTube
Even though the 2022 college football season is still far away, one of the best members of the recruiting class has chosen where he wants to play: Sam McCall has committed to the Florida Gators.
McCall plays for Lake Gibson High School in Lakeland, Florida, just a short ride from Gainesville. His versatility at both cornerback and wide receiver has made him virtually positionless, instead just being labeled as an athlete.
In 2019, he was named to the Ledger All-County First Team after his seven touchdowns helped the Braves reach the second round of Florida state playoffs.
Despite his success on both sides of the ball, Florida seems likely to make him a full-time cornerback. Playing in the NCAA should be easy for McCall, and if he can stay focused and perform well, there is no reason to doubt his chance to be selected in the NFL Draft.
Sam McCall Commits to Florida 
RELATED: Tim Tebow's Broken Leg TD in High School Started His Legend
Head coach Dan Mullen had completion for five-star athlete Sam McCall. He also had offers from elite programs like the Alabama Crimson Tide, Arkansas Razorbacks, Florida State Seminoles, Oklahoma Sooners, and South Carolina Gamecocks.
McCall's strong relationship with Florida cornerbacks coach Torrian Gray is said to be a reason that the team was able to snag the future defensive back. The 2022 recruits are already taking shape, too. McCall joins four-star wide receiver Syveion Ellis as a future member of the Gators.
Interestingly, the Gators were the last team that McCall was able to visit in-person; he attended their Junior Day, but the COVID-19 pandemic ensured that changes would have to occur to the football recruiting process for the time being.
Sam McCall Highlights 
On the field, McCall does it all. He can hang with wide receivers while on defense and possesses enough speed to break into the end zone on offense. His 247Sports composite labels him as the fifth-best player in all of Florida, something FSU and Miami fans will surely remember when they see him on the field and wonder why their schools were not able to snag one of the best local talents.
The Georgia Bulldogs have been on top in the SEC East for the last few seasons, but a player as dynamic as McCall could help change that in the years to come. Other members of the division like Missouri and Tennessee have been put on notice as well.
The Florida football program has tasted glory before, and with McCall in the fold, they will try to reach that apex once more.