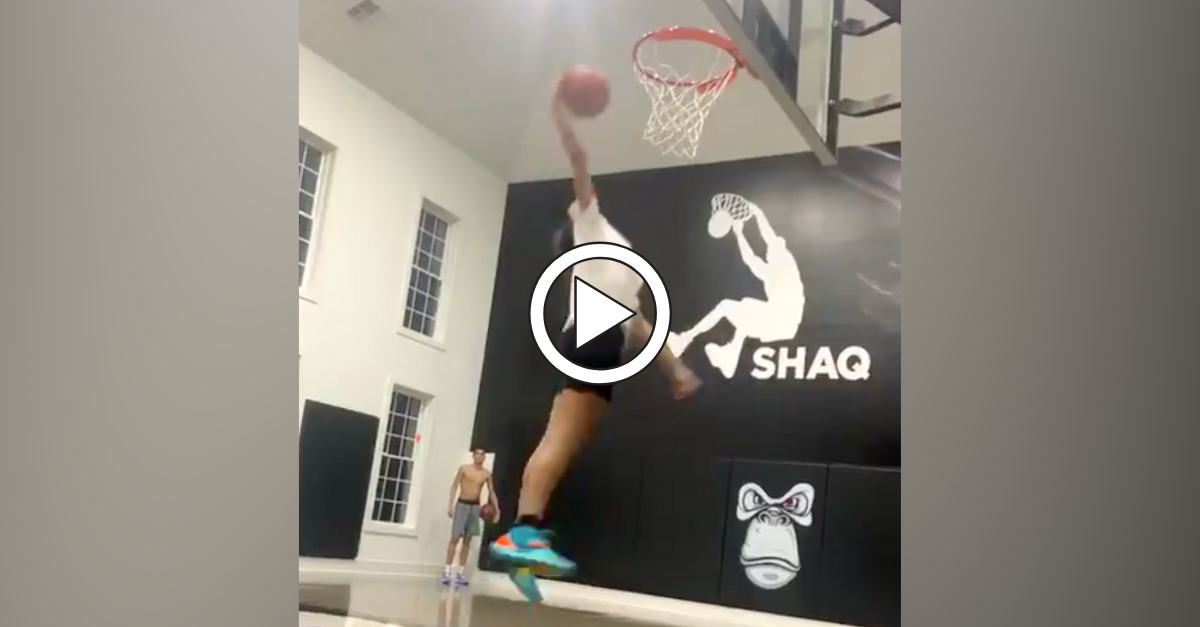 Screenshot from Twitter
As a child of NBA legend Shaquille O?Neal, great height and basketball are two things that are almost certain in life. Nobody expects them to be as large or as dominant as their dad, of course, but Shaq?s 13-year-old daughter is making quite the name for herself at a young age.
Meet Me?Arah O?Neal. She?s the youngest daughter of Shaq and ex-wife Shaunie O?Neal, and is already 6-foot-3. She?s also a blossoming basketball player at Crossroads School in Santa Monica, California ? where her older brother Shareef O?Neal played ? and continues to get better by the day.
Me?Arah might only be in middle school, but she?s already close to dunking. Seriously.
?So my 13 year old sister is a cheat code? almost dunking? Shareef, who just transferred from UCLA to LSU, posted on social media.
Me?Arah O?Neal Dunk Attempt
RELATED: Zion Williamson?s High School Highlights Are Terrifying
Shaq?s daughter appears to be another star in the making, much like her All-Star dad was for the Orlando Magic, Los Angeles Lakers, and Miami Heat. Her older siblings ? Shareef, Amirah and Shaqir ? have all laid a nice foundation, too, but there?s no doubt Me?Arah is ready to pave her own path to greatness.
Her game is already scary good and she?s only going to get better.
This hasn?t been an easy time for young Me?Arah, either. She was close friends with Gianna Bryant and called Kobe Bryant ?Unc? in several tribute posts. The devastating helicopter crash that took the lives of nine people in Calabasas really hit home, and she continues to share stories on her Instagram page, which already has over 115,000 followers.
?I?m at loss of words! never would?ve thought i would have to write this sooo soon! Gigi! You are my sister from another mother! We have the same birthday, born the exact same day, same time ! I love you way too much! and i will never understand why! Why you had to go so soonnn! Kobe… i?m speechless.. I just saw you yesterday, you was checking in on me and the family! Like a uncle was supposed to be! U were truly the best, and my favorite out of all. I was playing in your gym when i heard the news, i can?t explain the pain, it took me a minute to let it out! This is crazy! feels like it?s a dream! Everything i do here on out! For both of y?all! Y?all is family forever! Fly high Love y?all both to death!?
Me?Arah O?Neal is just getting started and she will definitely be dunking before high school and continuing the legacy of Kobe's daughter Gianna.