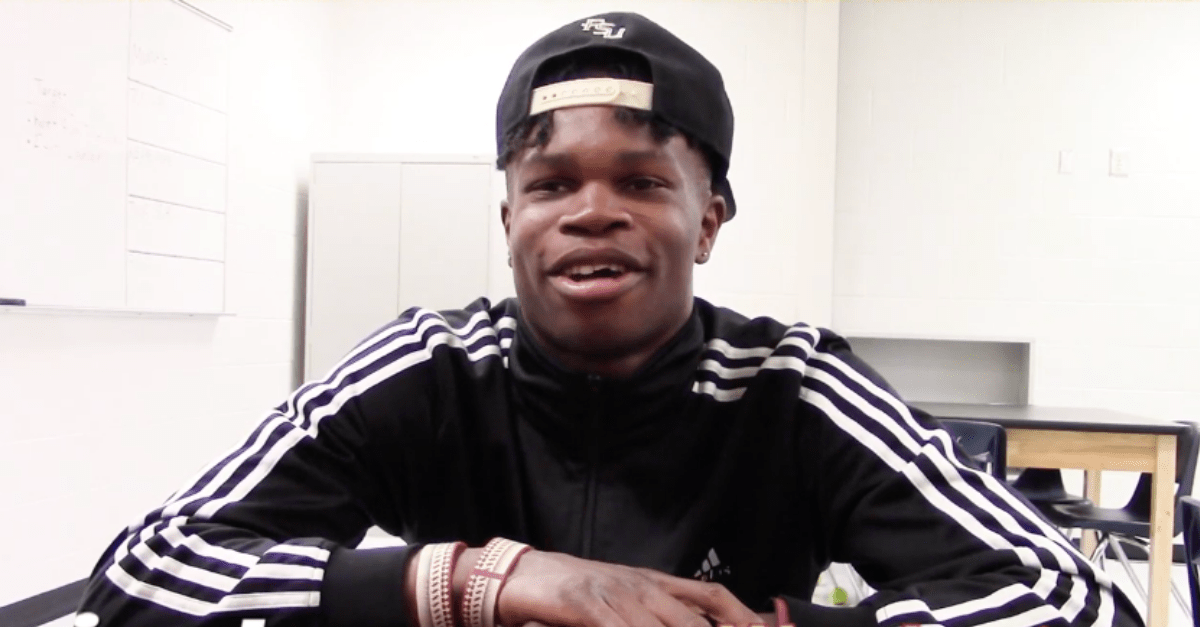 Screenshot from YouTube
Florida State head coach Mike Norvell didn't waste any time on the recruiting trail when he arrived in Tallahassee. The former Memphis coach reeled in the No. 4 cornerback in the country in Demorie Tate and four-star quarterback (but five-star name) Chubba Purdy to round out a solid first class in 2020.
FSU's first-year coach still has work to do. The Seminoles' 2021 crop consists of four-star linebacker Branden Jennings — the son of FSU all-conference linebacker Bradley Jennings — and quarterback Luke Altmyer, whom Norvell is high on.
The future is bright for Florida State, and there's plenty of reasons to be excited about Norvell's 2022 players.
Actually, there's one reason: Travis Hunter.
The five-star cornerback is ranked the No. 2 cornerback in the nation and No. 5 overall recruit in the 2022 class by 247Sports. Despite still being a couple years away from graduation, the Collins Hill High School (Suwanee, Georgia) could wind up being FSU's highest-rated defensive back since Derwin James in 2015.
Travis Hunter Recruiting
RELATED: 4-Star QB, Son of Deion Sanders, Announces College Commitment
Travis Hunter is already fielding offers from NCAA schools across the country. Local schools like Georgia and Georgia Tech have offered him as well as Power 5 programs like Florida, Alabama, Auburn, Michigan, Oklahoma, South Carolina and Tennessee.
However, Hunter appears dead-set on Florida State.
The cornerback received a scholarship offer in November 2019 and took an unofficial visit to Tallahassee on March 2. He committed to the 'Noles the following day, calling Florida State his "dream school." Florida State defensive backs coach Marcus Woodson had been pushing hard for the high school sophomore.
Ultimately, FSU football's coaching staff played a huge role in Hunter's commitment.
"[Mike Norvell] really knows the business and knows what he's talking about," Hunter told Rivals.com.
Don't get too giddy, but Hunter even called himself "the next Deion Sanders." He was, after all, invited to the Under Armour Future 50 and All-American Game. Still, Prime Time was one-of-a-kind.
Travis Hunter Highlights
Travis Hunter is young, so his 155-pound weight isn't really a concern yet. He has plenty of time to fill out his 6-foot frame, which will play well against the tall, physical wide receivers in the ACC.
After playing sparingly as a freshman, he broke out on both sides of the ball his sophomore season in 2019. Per MaxPreps, Hunter recorded seven interceptions, six passes defended and 36 tackles in 11 games. He even caught 49 passes for 919 yards and 12 touchdowns.
Hunter earned First-Team All-County honors from the Gwinnett Daily Post and the Touchdown Club of Gwinnett. He also played for the Eagles' varsity basketball team.
According to 247Sports' scouting report, his only real weakness is his weight:
"Is a pure ballhawk in the secondary with outstanding ball skills. Makes plays in coverage at a high rate and consistently comes down with the football in contested situations, whether its a jump ball or a grounded tight-window situation. Is a smooth, fluid mover in coverage and plays with a highly instinctive edge, reading the quarterback and oftentimes beating the receiver to his spot."
FSU hasn't hauled in a prized defensive back prospect like Hunter since players like Jalen Ramsey or Derwin James, both of which became first-round NFL draft picks. Living up to Neon Deion is a tall task, but it seems Hunter is ready to try.
If Hunter stays solid on his commitment through his high school career, he could be FSU's next great defensive back in line.
This post was originally published on March 19, 2020, but has been updated.