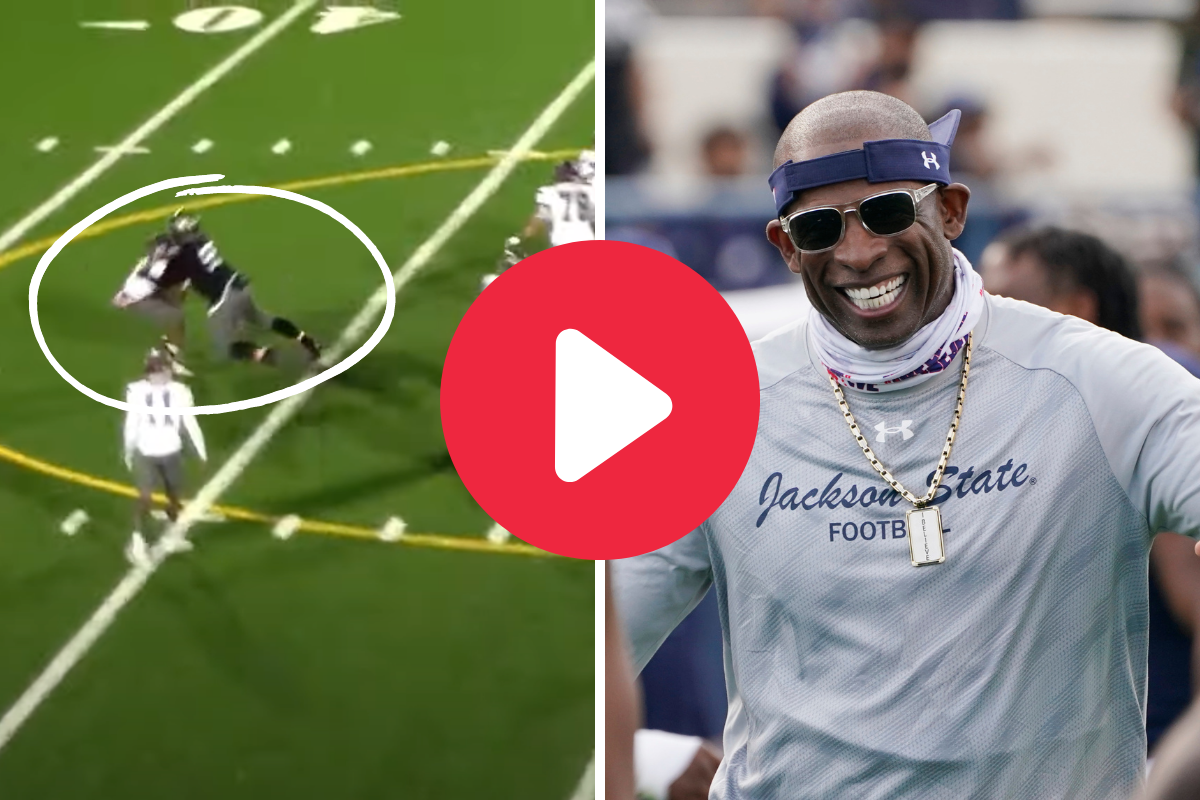 Screenshot from YouTube (left), AP Photo/Rogelio V. Solis (right)
Head coach Deion Sanders is making some big waves at Jackson State. The Tigers have reached out to plenty of recruits, but their latest signee may be the best yet.
Katron Evans is a four-star defensive tackle prospect. The shining star at St. Frances Academy High School in Baltimore, Maryland, had signed a National Letter of Intent to play for the Tennessee Volunteers, but he received his release from the NLI in April from the Knoxville SEC school to play his college football under "Prime Time."
Katron Evans Commits to Jackson State
MORE: Alabama's New 5-Star DE Will Terrorize SEC Offenses for Years
Evans was rated the No. 29 defensive line prospect in the country and the No. 9 player in Maryland, according to 247Sports. He was also a top-200 prospect in the 2021 recruiting class, marking the highest-ranked high school recruit to ever commit to Jackson State University.
In addition to the Tigers and the Vols, Evans received scholarship offers from Alabama, Arizona State, Arkansas, Auburn, Baylor, Boston College, Clemson, Duke, Florida, Florida State, Georgia, Georgia Tech, Kentucky, Liberty, Louisville, LSU, Maryland, Michigan, Mississippi State, Missouri, NC State, Nebraska, Norfolk State, North Carolina, Ohio State, Oklahoma, Ole Miss, Oregon, Penn State, Pittsburgh, TCU, Texas A&M, UCF, USC, Vanderbilt, Virginia and Virginia Tech.
JSU's 2021 recruiting class has several three-star and four-star players, including Deion's son Shedeur Sanders. Since Sanders has taken over, he's made it a point to emphasize that Jackson State is an esteemed HBCU that can provide an alternate experience to a Power 5 school. Players like Evans have bought in.
Katron Evans Highlights
The 247Sports Composite is high on Evans and for good reason. The 6-foot-4 player weighs 320 pounds, but that size hasn't zapped him of his athleticism in any way. His strength and ability to overpower his opponents make him a lock to start for Jackson State, and if he continues to look strong in the NCAA, the NFL may not be too far ahead.
It will be interesting to see if Jackson State becomes a hotbed of college football talent. With Deion Sanders at the helm, they should be able to take the FCS by storm in the coming seasons.