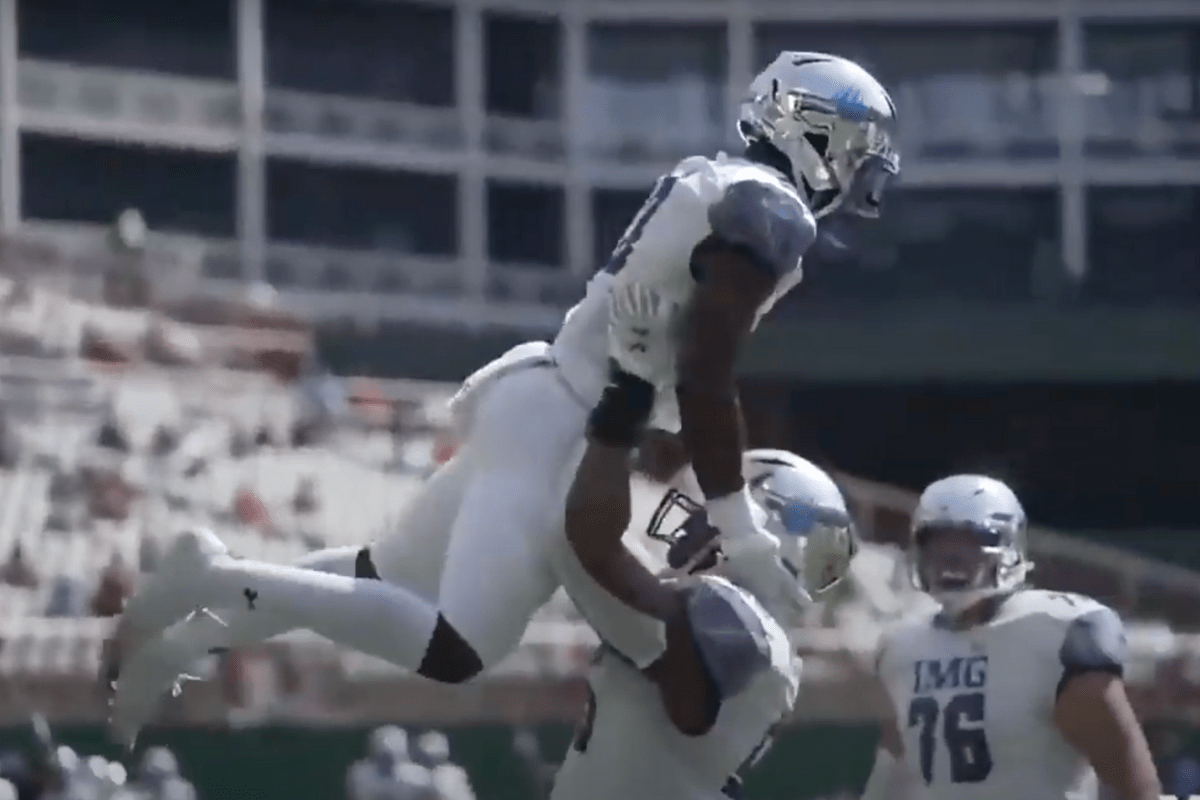 Screenshot from YouTube
The talk of the high school football world has been Stacy Gage, a running back who plays for IMG Academy in Bradenton, Florida. He has been dominant his entire life and has received the accolades to back up his hype.
Gage is from the St. Petersburg area and being in the spotlight is nothing new; he was named the MVP of the Future Stars Camp in Tampa while playing for the Riverview Raiders, all while just being 12 years old.
With the amount of attention he has gotten, it is no surprise that he has been called the "LeBron James of youth football."
Let's take a look at this transcendent talent who is making everything look easy on the football field.
Stacy Gage Highlights and Statistics
RELATED: Remember Mike Alstott? He?s Now a High School Coach
Gage has talent in spades and is not afraid of older competition. Last year, he scored 11 touchdowns in just seven games as an eighth grader. His 1,005 rushing yards were enough for his team, Bell Creek Academy, to reach the playoffs, but they were knocked out by Lakeside Christian and could not win a state title.
He joined the IMG Academy Ascenders before COVID-19 altered season and has already made quite an impression. He initially began at the "varsity" football team level, which is the second-highest tier, but earned himself a promotion after collecting 10 TDs and 588 yards.
In a showdown against a very tough Duncanville High School team at Globe Life Park in Texas, Gage didn't disappoint, reaching paydirt twice in the second half against the Panthers.
Gage gets the luxury of playing with a fantastic quarterback, Michigan commit J.J. McCarthy, so this Ascenders team will be a force to be reckoned with over the rest of the season. They are the No. 1 team in the MaxPreps rankings, and they will have little trouble remaining in the pole position.
Stacy Gage's Future in Football
Even as a freshman, Gage is a superstar football player in the making. Running backs are notoriously volatile, but despite the inherent injury risk, he looks like he belongs at the position at the college level, but if something were to go awry, he could play linebacker competently as well. He also lines up at wide receiver in certain formations, signaling how quick and explosive he can be at multiple offensive positions.
The dream of making the NFL is still just a dream at this point, but Gage has all the makings of a player who will be there in a few years.
Though this is just speculation, being called "football's LeBron James" and being ranked by RNR Sports Media as the best 14-year old in all of South Florida should lead to interest from prestigious college programs.
Elite schools like Alabama and Georgia could always use upgrades on offense, and they will be schools to watch in the race to acquire Gage a few years from now.