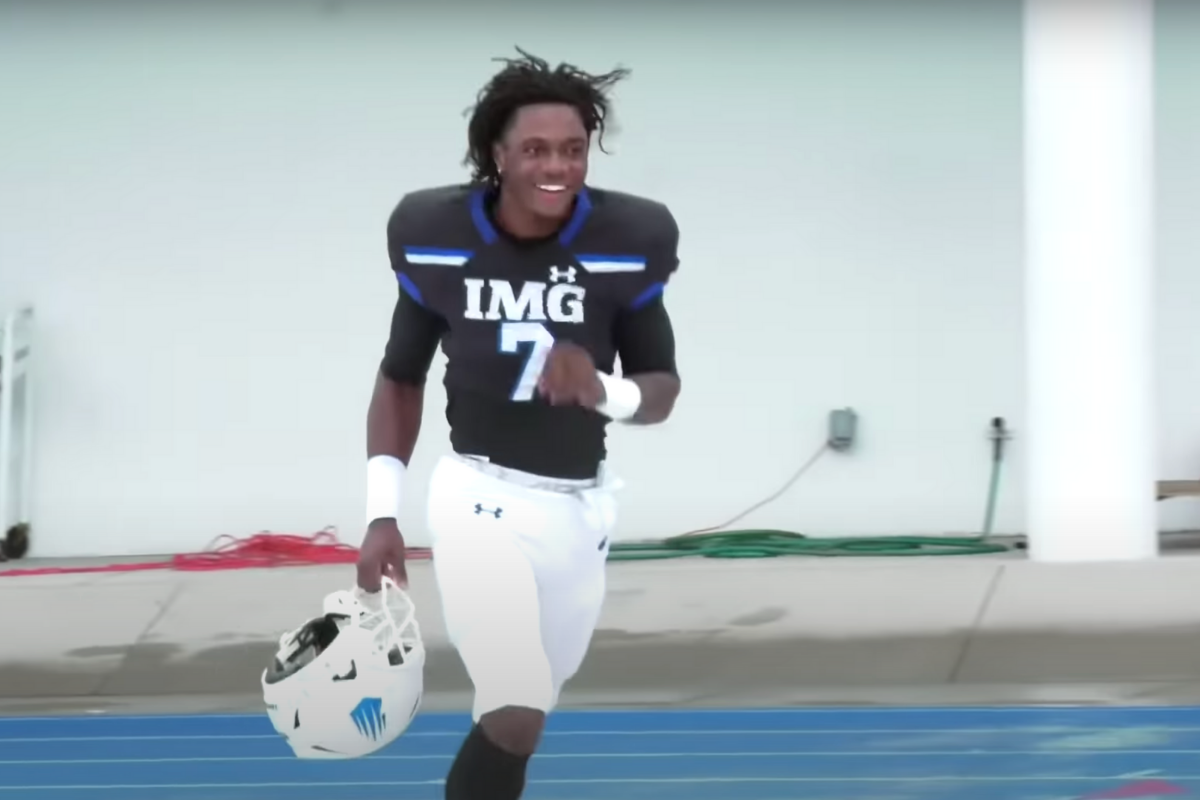 Screenshot from YouTube
The Alabama Crimson Tide hold themselves to a different standard than nearly every other team. If they don't win the College Football Playoff, it is almost considered a failure and a lost season.
With that kind of pressure, head coach Nick Saban needs to ensure that the team has a deep recruiting class year after year. The commitment of five-star wide receiver Jacorey Brooks is just one reason the team will remain a consistent threat at the top.
WR Jacorey Brooks Recruiting
RELATED: Nation's No. 1 CB Announces Massive Dual-Sport Commitment
Before his commitment to Alabama football, the superstar wide receiver had to weigh offers from programs such as Arkansas, Auburn, Baylor, Florida, Florida State, Georgia, Georgia Tech, Kentucky, Louisville, LSU, Miami, Nebraska, Ole Miss, Penn State, South Carolina, Syracuse, Tennessee, Texas A&M, and West Virginia.
Brooks, the No. 2 receiver nationally, according to the 247Sports Composite, currently plays for IMG Academy in Bradenton, Florida, after transferring from Booker T. Washington High School in Miami in the 2020 offseason during the coronavirus pandemic and COVID-19 outbreak.
Last year, during his dominant junior season in 2019, he had almost 1,200 receiving yards and 16 touchdowns.
Jacorey Brooks Highlights
As seen in this highlight compilation, Brooks can use his size to his advantage and easily score against smaller-sized defenders. At 6-foot-3, he is threat to win battles for contested passes against cornerbacks.
One drawback could be his relatively slow 40-yard dash time (4.83 seconds), but he appears to be faster on film and has had no trouble being able to get past coverage.
Although Clemson and LSU have won the last two College Football Playoff championships, Nick Saban's squad can never be counted out. Tuscaloosa is still an enticing option for recruits, and Brooks will only help bolster their receiving corps, which took a hit with the departures of Jerry Jeudy (Denver Broncos) and Henry Ruggs (Las Vegas Raiders) to the 2020 NFL Draft.
Brooks will join Agiye Hall and Christian Leary as wide receiver's in Alabama's 2021 recruiting class.
Alabama is known for its star players, and even though Brooks won't have newly-appointed Miami Dolphins starting quarterback Tua Tagovailoa throwing to him, the Crimson Tide will almost certainly be in a position to win once again.