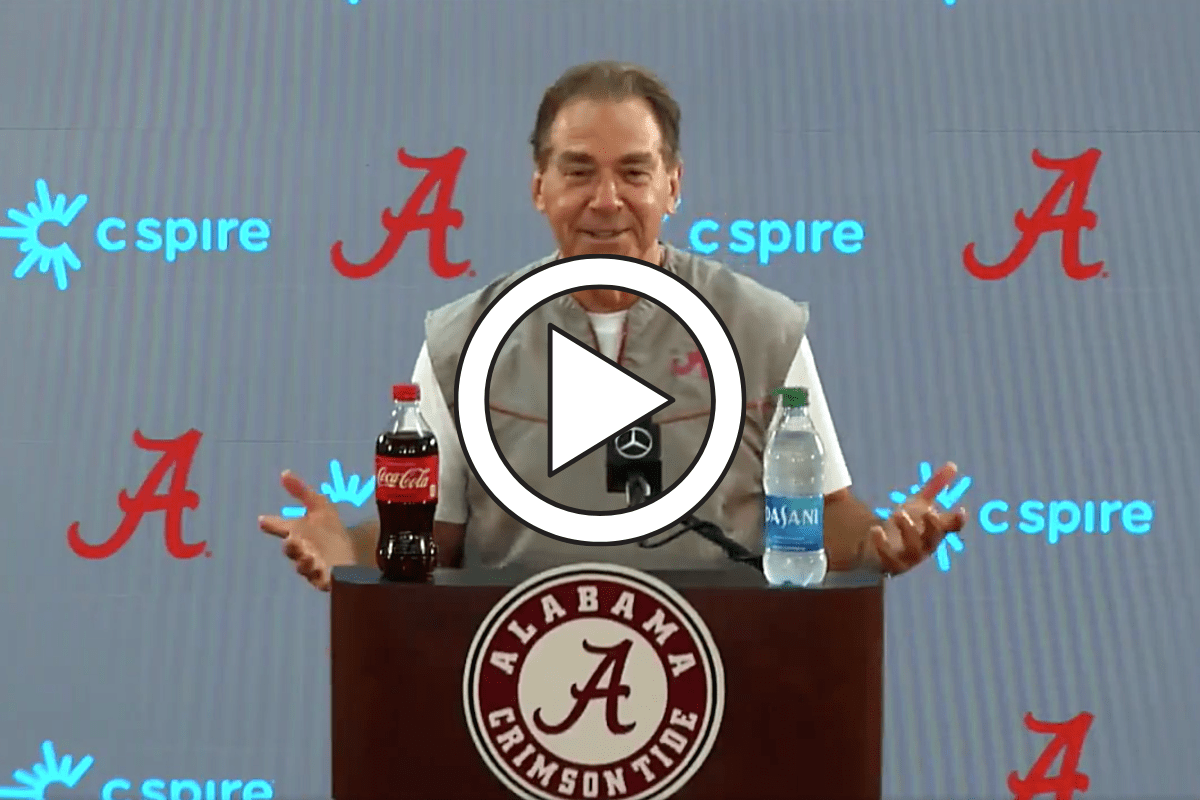 Screenshot from Twitter
Before Alabama Crimson Tide head coach Nick Saban won any national championships or SEC championships at LSU and Alabama, he played defensive back at Kent State University. A young Saban even helped the Golden Flashes win the MAC Conference for the first time in 1972.
That being said, the 68-year-old grandfather is in no shape to put the pads on and try to cover a wide receiver. Don't get me wrong. His wife still makes him jog on the treadmill and he can dance a mean "Cupid Shuffle," but the guy had a freaking hip replacement, for crying out loud.
Lane Kiffin doesn't care. Leading up to Alabama's game against the Ole Miss Rebels in Oxford, Mississippi, he called out the coach he formerly served as offensive coordinator under.
Kiffin Calls Out "Elderly" Saban
RELATED: Lane Kiffin?s Impression of Nick Saban Cracked Everyone Up
That's Kiffin, who is 45, telling Dan Patrick on his radio show that a man 28 years older than he can't cover him. This is why I love the SEC and am so excited for Kiffin to be a part of the SEC West.
"I don't play and he doesn't play. We'd have better chances if that was the case. I don't think he can cover me," Saban told Patrick. "I was talking to him the other day I'm really worried about coach. He's elderly."
Well, Kiffin is very correct. 'Bama opened at 24-point favorites against Ole Miss. Kiffin is also much younger and briefly played quarterback at Fresno State University.
Don't think Saban didn't have an answer for that.
Saban Responds to Kiffin's Comments
Thank you to whoever asked Saban this question at his mid-week press conference, because it needed a response.
"I think he's probably right. I wouldn't disagree with him. I guess what I would ask is when he's my age what's he gonna be like?" Saban said as he cracked a smile. "It's a little bit of a disadvantage to be my age and have had a hip replacement, but I still pride myself in my ability to cover. I just don't think I could cover him."
This whole ordeal is hilarious and figures to be a main talking point during the their matchup on Saturday. Don't expect any surprises, though, because Saban improved to 20-0 against former assistants after beating Jimbo Fisher's Texas A&M Aggies in a season warped by COVID-19.
Saban and Kiffin's college football and NFL coaching careers (and personalities) are quite different. Saban's stops included Michigan State, LSU and the Miami Dolphins. Kiffin spent time with the Jacksonville Jaguars, USC Trojans, Oakland Raiders, Tennessee Volunteers, Alabama Crimson Tide and Florida Atlantic Owls before earning becoming the Ole Miss coach.
Fans in Tuscaloosa certainly remember Saban's sideline blow-up on Kiffin against Western Kentucky years ago. Kiffin's "rat poison" comments gave NCAA fans a good chuckle as well.
What if they settled their differences by guarding each other? I think just about any route Kiffin runs against the Alabama coach results in a touchdown, personally. I'm not sure social media is ready for that.