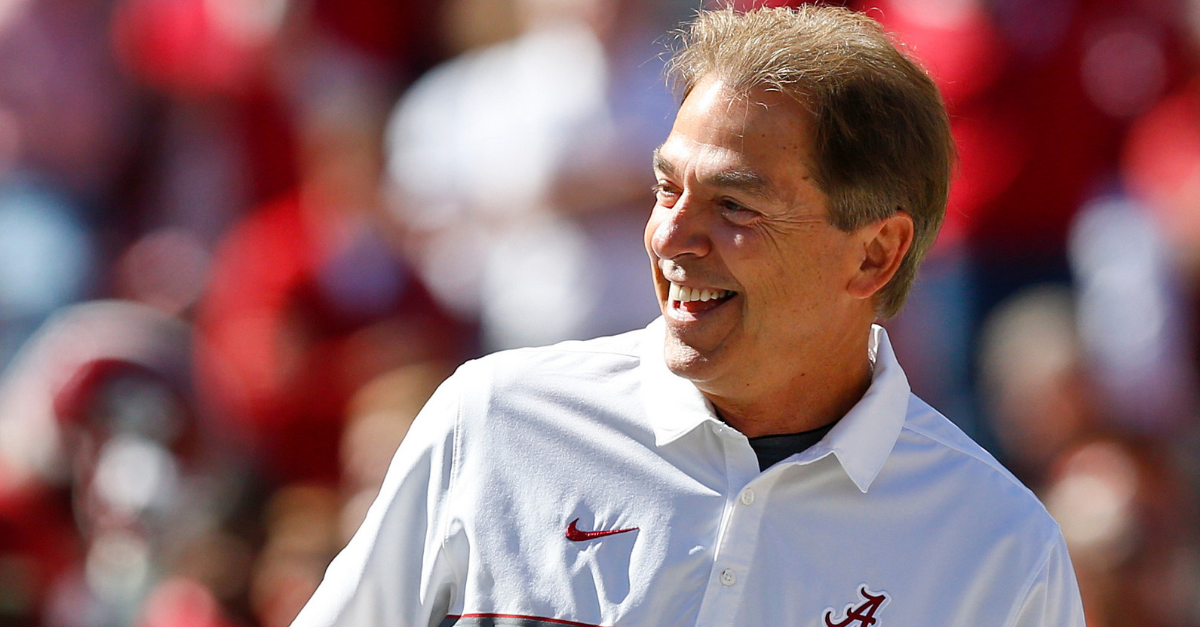 AP Photo/Brynn Anderson
Alabama Crimson Tide head coach Nick Saban gives off the impression that he's meaner than a junkyard dog. Well, at least on the football field, where he's never shy to speak his mind and demands championship-level commitment from his coaches and players. Off of it, Saban is as charitable a human being as you'll ever find, and he and wife Terry Saban are parents to two kids, son Nicholas Saban and daughter Kristen Saban Setas.
In October, Saban's daughter revealed that she and her husband, Adam Setas, were expecting their first child.
Move over, Coach. "Papaw" is going to have a busy summer!
Nick Saban's Daughter Announces Pregnancy
RELATED: Nick's Kids Foundation Donates $560K to Local Organizations
Saban's first grandchild is Amèlie Elizabeth Saban, who was born to Nicholas and his wife, Kelsey Laney Saban, back in 2013.
Saban revealed on his weekly radio show in 2016, per AL.com, "My kids were always afraid of me. And most of the players are a little afraid of me. But little Amèlie, she's not afraid of me at all. And I expect her to be afraid of me and she's not."
She revealed on her Instagram account a few weeks after the initial announcement that a baby boy was on the way!
Remember that movie Remember the Titans? I certainly hope so because it might be the greatest sports movie ever. Hayden Panettiere played Coach Yost's daughter in the movie, breaking down game film, verbally assaulting referees, and running drills during training camp practice.

Why do I get the feeling that Nick Saban's grandson will be a football nut and become one of the greatest Alabama football coaches of our lifetime?
In all seriousness, congrats to the Saban family! While the Alabama football team, chasing College Football Playoff national championship games, SEC titles, beating Auburn and LSU, recruiting elite high school athletes, and cementing a college football legacy seems to eat the bulk of Saban's attention in Tuscaloosa, his family life at home means a lot more for the devout Catholic than most fans realize.
---
UPDATE (March 19, 2020): As Saban's pregnancy neared its end, she took to social media several times to celebrate the family's baby shower and progress. Kristen even joked on Twitter about the coronavirus outbreak interfering with her expected delivery date.
"I?m fine staying away from people for 8 weeks (hi, introvert) but I?m also supposed to have a baby in 7 weeks so like…"
---
UPDATE (April 27, 2020): On Monday, April 27, 2020, James Nickolas Setas was born!
James weighed 9 pounds, 12 ounces and arrived at 8:18 a.m., according to Kristen's Instagram post.
"We are in such awe of God?s timing and creation," Kristen wrote.
Congrats to the new parents!
This article was originally published October 18, 2019. It was updated following the birth of Saban's grandson.