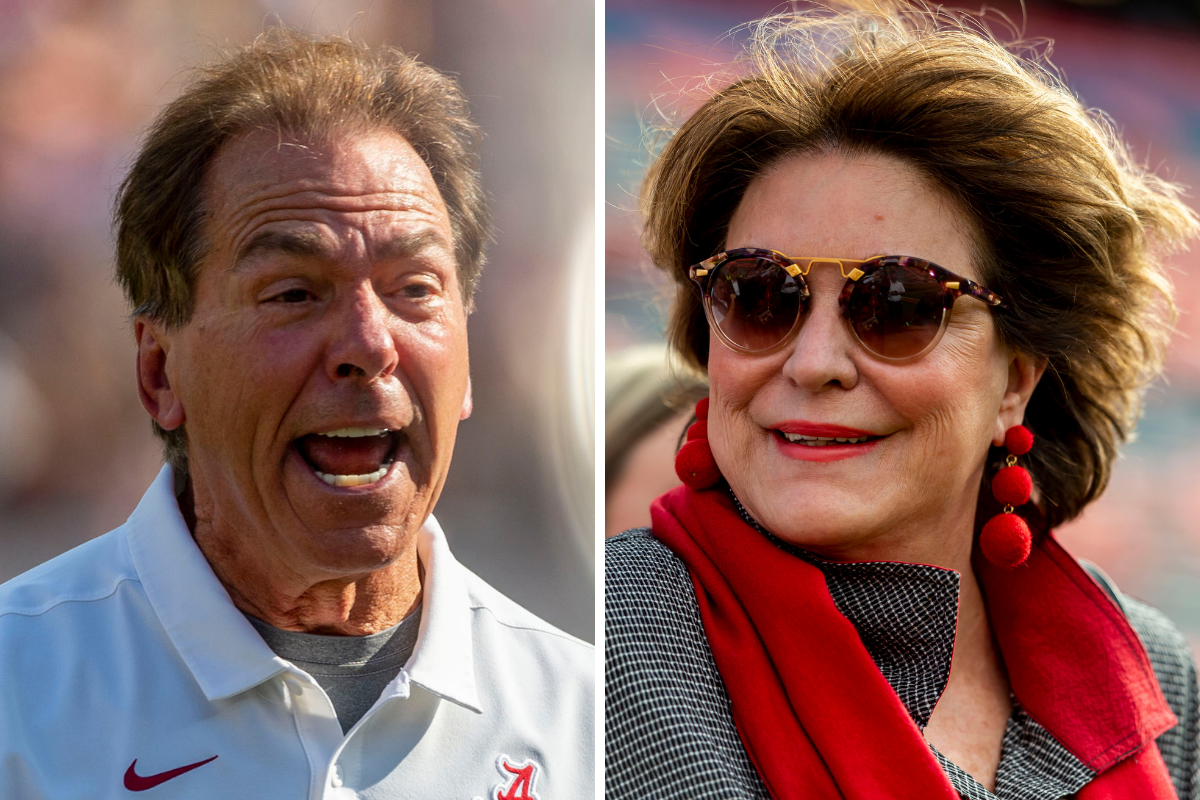 AP Photo/Vasha Hunt (left), AP Photo/Vasha Hunt (right)
If you follow the Alabama Crimson Tide, you know it?s Miss Terry, not head coach Nick Saban, who is responsible for truly running the college football dynasty. But for those new to the party, what she made her 67-year-old husband do is all the proof you need.
During Alabama football?s 42-3 thrashing of the Duke Blue Devils, Saban?s coaching staff earned an unsportsmanlike conduct penalty. You see, things weren?t as pretty as what the final score indicated from the Mercedes-Benz Stadium in Atlanta, and the violation just added to the frustration.
In the third quarter, after a Trevon Diggs interception, one of Alabama?s coaches celebrated and eventually stepped on the field, earning the penalty. That?s when Saban lost his cool and decided to share some choice words with an official on the sideline.
Nick Saban Loses His Cool, Wife Makes Him Run
RELATED: Nick Saban Stars in 3 ?Recruiting? Commercials with the Aflac Duck
Due to the tirade after the unsportsmanlike penalty, which proved to be a bit of an overreaction, Nick Saban?s wife, Terry Saban, handed out some punishment of her own and he shared it at the end of his weekly press conference with reporters in Tuscaloosa.
"Miss Terry made me run on the treadmill for 20 minutes. The leadership group had a meeting, and they wanted to implement some disciplinary action but it kind of got overruled. But I'm not proud of it. I really am not. In all honesty, there was somebody in the white. It wasn't a player. It was a coach.

"I thought they were upset because the players were celebrating a good play, and that sort of fueled my reaction. But anyway, it is what it is. I'll learn from it just like the players learn from their mistakes.?

? Alabama Head Coach Nick Saban
Look, the 15-yard penalty last weekend didn?t really matter to the SEC powerhouse. The game was a blowout, thanks to quarterback Tua Tagovailoa throwing for 336 yards and four touchdowns.
However, it?s very funny the legendary head coach was forced to run during the week of the 2019 home opener against New Mexico State.
This post was originally published on September 5, 2019, but the thought of Miss Terry making Nick Saban run is forever hilarious.