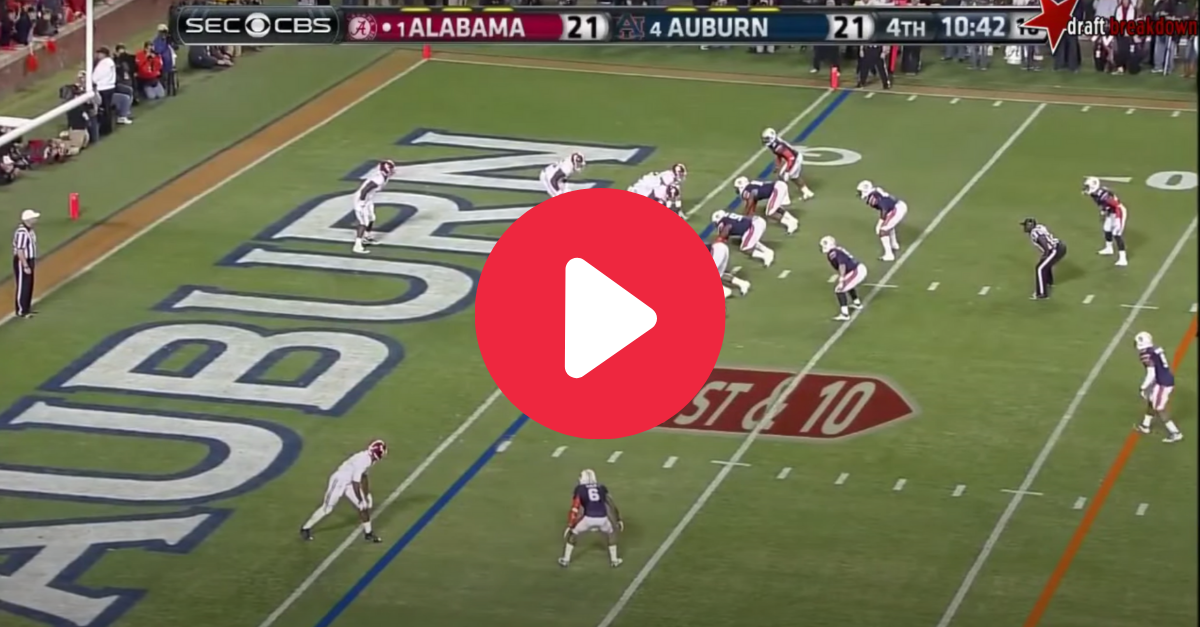 Screenshot from YouTube
The 2013 Iron Bowl was an absolutely electric game full of nonstop action and heart-pounding plays. When Alabama zigged, Auburn zagged. At every snap from either SEC powerhouse, fans had no clue what was coming next in Jordan-Hare Stadium.
Of course, Auburn Tigers' Chris Davis gifted the entire college football world the "Kick Six" that remains an Iron Bowl treasure. In a game that featured NFL talent like T.J. Yeldon, Kenyon Drake, Derrick Henry and Amari Cooper, the unbelievable final play managed to barely upstage a remarkable 99-yard touchdown from Cooper.
How many Alabama Crimson Tide fans even remember the longest pass in school history?
Amari Cooper's Historic 99-Yard TD Vs. Auburn
RELATED: Amari Cooper?s Blazing Speed Saved Alabama?s Title Season
Had it not been for Adam Griffith's missed 57-yard field goal and Davis' 109-yard return to win the game, this would have been the story of the NCAA season. It would have dominated ESPN TV shows and Alabama radio shows.
With less than 11 minutes left in the fourth quarter and the score tied at 21-21, Alabama quarterback AJ McCarron heaved a pass down the sideline from the one-yard line. Wide receiver Amari Cooper got his man to bite on a double move, hauled it in and shook off another defender before he raced into the end zone for a 99-yard touchdown pass.
To this day, it's still the longest passing play in University of Alabama history.
Many instantly viewed the play as McCarron's "Heisman Moment." He finished second in Heisman Trophy voting that year to Florida State's Jameis Winston.
However, Alabama fans likely hate recalling what happened next. Auburn quarterback Nick Marshall linked up with Sammie Coates with 32 second left to tie the game at 28-28. When Alabama attempted a field goal with one second left, Auburn pulled off the "Kick Six."
The No. 1 team in the nation was upset by the No. 4 team. Cooper finished with six catches, 178 yards and the touchdown. Nick Saban's squad finished the year 11-2 after a loss to Oklahoma in the Sugar Bowl.
Cooper finished his career as Alabama's all-time receiving yards and touchdowns leader and was taken fourth-overall in the 2015 NFL Draft by the Oakland Raiders, but the now Dallas Cowboys wideout hasn't taken a 99-yard pass to the house since that day in 2013.