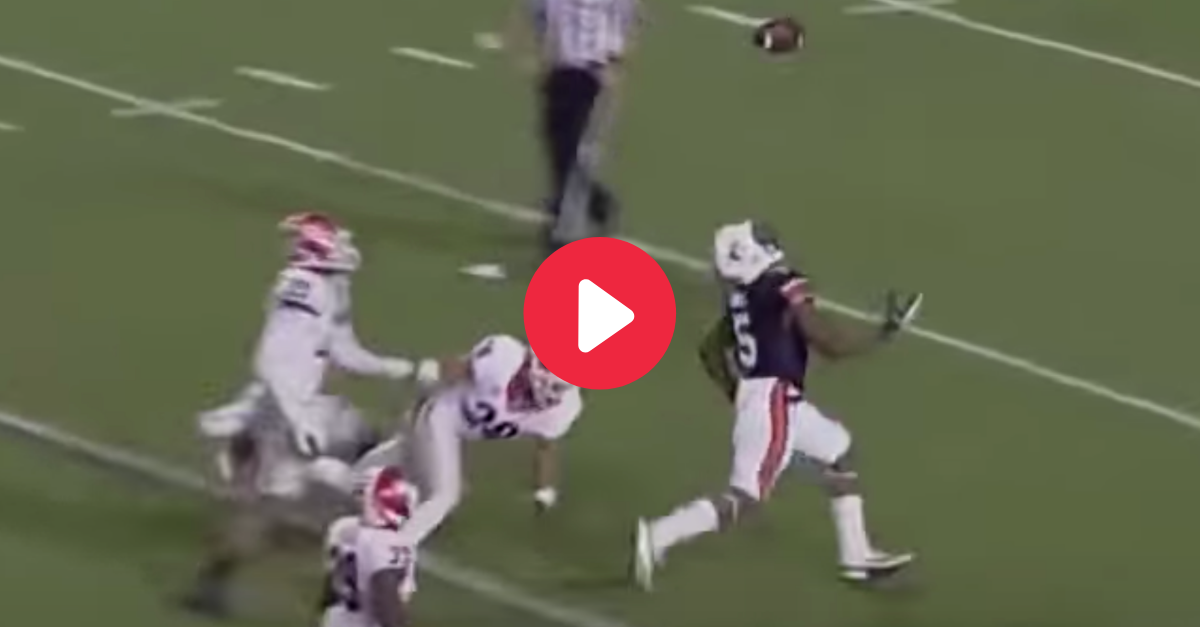 Screenshot from YouTube
The Deep South's Oldest Rivalry is filled with iconic games, performances, and moments. With over 120 meetings and counting, the showdown between the Auburn Tigers and Georgia Bulldogs never seems to disappoint. There is one specific play, however, that sits above the rest.
There's bound to be fireworks when two high-profile Southeastern Conference teams — one from the SEC East and one from the SEC West — meet each year, but no explosion is perhaps as loud as the November 2013 game at Jordan-Hare Stadium in Alabama.
Trailing by one point with less than a minute to play, Auburn quarterback Nick Marshall miraculously found wide receiver Ricardo Louis for a 73-yard touchdown that would keep the Tigers' national title hopes alive.
Today, the Hail Mary play is best known to fans as the "Prayer at Jordan-Hare."
The Prayer at Jordan-Hare
RELATED: The Best Quarterbacks in Auburn Tigers History, Ranked
Facing 4th-and-18 behind its own 27-yard-line, Auburn needed a first down or the game was over. The Tigers still had 36 seconds and a timeout left in the fourth quarter, so they didn't need to do anything too crazy but to move the chains. That's not what happened, though.
Standing in the shotgun, Nick Marshall took the snap and stayed poised in the pocket for a few short seconds before unleashing a deep pass down the middle of the field.
At first, it looked like the game would be over. Georgia safety Josh Harvey-Clemons and Tray Matthews were both there and jumped up to make a play on the ball. Then, somehow, someway, the ball bounced straight up and into the hands of Ricardo Louis, who sprinted into the end zone untouched.
The Auburn players on the sideline went nuts. Auburn fans went nuts. Heck, even the CBS Sports broadcasters went nuts. It was one of the craziest plays in NCAA college football that year and probably ever.
The play by first-year head coach Gus Malzahn was designed for Marshall to hit wide receiver Sammie Coates, but he chose the deep option instead.
"He took a chance," Malzahn said. "I was looking at the dig route that was wide open and then I had a bad angle on the catch. Once I realized what happened, I knew we needed to go for two and was trying to figure what to call then."
Auburn missed the two-point conversion to extend the lead, but the damage was done. The seventh-ranked Tigers spoiled the upset by Mark Richt and the No. 25 Bulldogs, 43-38.
Shockingly enough, that wasn't even the craziest play for Auburn football that season. Two weeks later, the Tigers defeated Alabama in the Iron Bowl with famous "Kick Six" return.
Auburn lost the BCS National Championship Game that season, but nobody should ever forget the "Prayer at Jordan-Hare" that helped them get there.