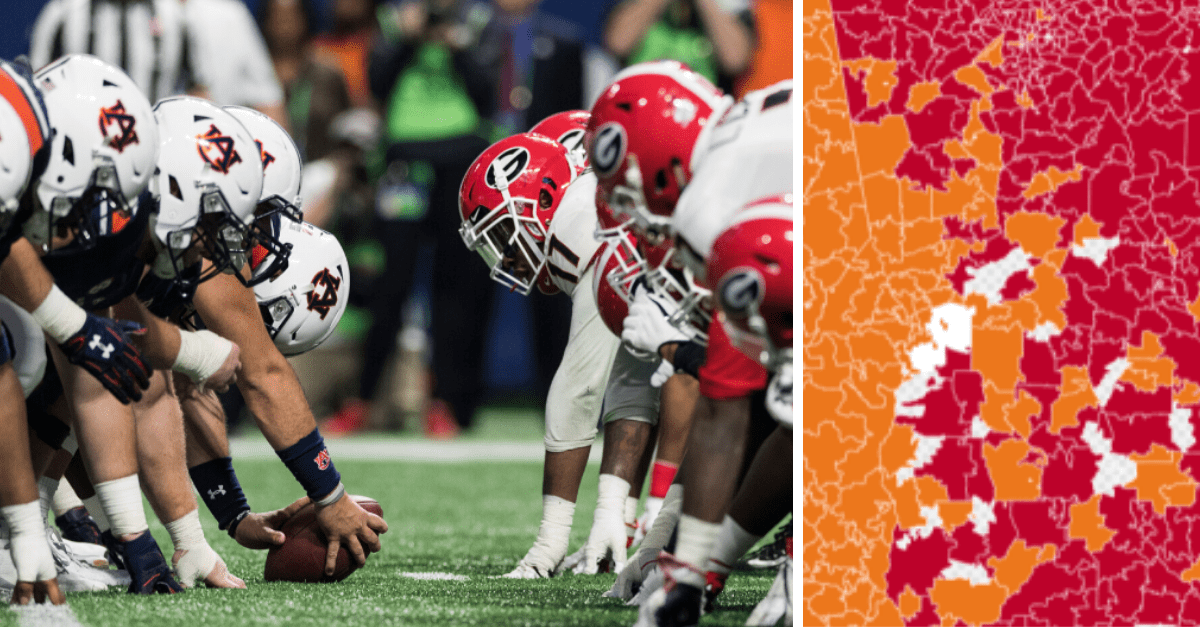 Ric Tapia via AP (left), VividSeats (right)
Auburn, Alabama is full of history. Rolling Toomer's Corner is a tradition unlike anything you will ever see in your life. Iconic Auburn Tigers athletes like Bo Jackson and Pat Dye built the football program into one of the Southeastern Conference's premier destinations for recruits across America.
Hop on Interstate-85 headed across the border into Georgia, and you'll find Athens just three hours away. The Georgia Bulldogs are no slouch when it comes to tradition, either. Transcendent athletes like Herschel Walker boost UGA's incredible football pedigree that includes two national championships and 13 SEC titles.
Put the Auburn Tigers and Georgia Bulldogs on the same field, though? You're staring down one of the oldest and greatest rivalries in all of college football.
Why Is It the Deep South's Oldest Rivalry?
Auburn and Georgia first met on the gridiron February 20, 1892. Since that first matchup (Auburn won 10-0, for what it's worth), the Deep South's Oldest Rivalry grew into the second-most played rivalry game in all of major FBS college football — Only Minnesota-Wisconsin, a game that determines the winner of Paul Bunyan's Axe, has been played more times.
Heading into the 2019 meeting at Jordan-Hare Stadium between these College Football Playoff caliber teams — UGA entered ranked No. 4 while Auburn was ranked No. 12 — the 124th installment of this incredible series was sure to be another classic. We got Jake Fromm versus Bo Nix. It was Kirby Smart facing Gus Malzahn.
Heck, it's Alabama versus Georgia at this point.
Georgia leads the Deep South's Oldest Rivalry, 59-56-8, which is about as close a rivalry split as you'll find.
Set aside on-field history and the fact both schools are separated by only a few hundred miles. Over the last 100 years, as thousands of football fans moved all over the South, they took those generational allegiances with them and planted their flags across both states.
Thanks to our friends at Vivid Seats, a deep dive across Alabama and Georgia revealed what fan base really controls "The Deep South's Oldest Rivalry."
Auburn vs. Georgia Rivalry
The map above shows college football ticket sales between 2012 and 2018 made through Vivid Seats — a Chicago-based ticket marketplace — for every zip code across Alabama and Georgia. Where you see orange, Auburn fans dominated ticket sales. In the red, that's where Dawgs purchased the most tickets. For counties that are gray in color, there wasn't enough information to determine which fan base dominated that area.
According to this incredible data, the only area of Alabama where University of Georgia fans bought more tickets than Auburn fans was the 35987 zip code near Ashville. (Oddly enough, Ashville is about two hours north of Auburn.)
When it comes to Georgia, however, Auburn University fans are dominating at the border and beyond.
All across The Peach State, from the 30725 of Chattanooga Valley to the 30446 of Newington, Auburn fans invaded Georgia with their orange and blue hats, hollering "War Eagle!" all year long.

If you're a Dawg fan and know someone who needs to step up their game, reclaim their town in UGA's name, and get to Sanford Stadium, check out all the Georgia football tickets available on Vivid Seats.
On the flip side, every Auburn fan that needs to get to Jordan-Hare for The Iron Bowl, Vivid Seats has Tiger fans covered for 2019 and beyond.
With both teams playing in opposite divisions — Georgia in the SEC East and Auburn in the SEC West — it's likely the Deep South's Oldest Rivalry could meet outside this regular season football game and for an SEC Championship Game showdown in the future. This happened for the first time in 2017, when Georgia beat Auburn, 28-7, on their way to the CFP title game.
Auburn vs. Georgia never disappoints on the field, but thanks Vivid Seats' research, maybe it's time for this off-the-field rivalry to heat up, too.
This article was originally published November 15, 2019.