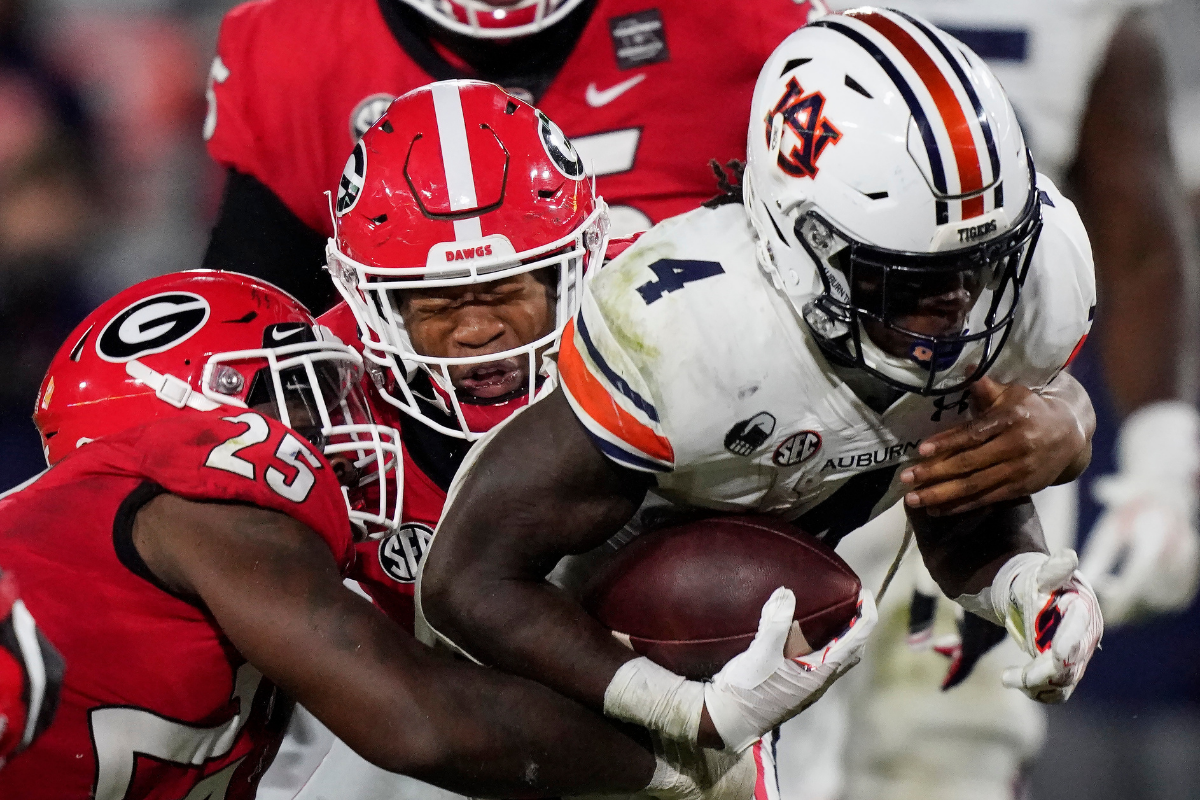 AP Photo/Brynn Anderson
Some nicknames were meant to be. "Broadway" Joe Namath thrived when the lights shined brightest. Walter Payton was "Sweetness" in its purest form. Calvin Johnson morphed into "Megatron" every time the ball was in the air.
Auburn Tigers fans will be treated to another great nickname as the 2020 college football season (hopefully) keeps moving, and his name is Cartavious "Tank" Bigsby.
Auburn RB Tank Bigsby
Cartavious Bigsby struck fear into every defense in Georgia's Class AA. The Callaway High School standout ran for 3,857 yards and 49 touchdowns over his junior and senior seasons for the Cavaliers. "Tank" verbally committed to head coach Gus Malzahn's Auburn football team in August 2019, then averaged 11.4 yards per carry and led his team to the state semifinals in his last season.
Bigsby was rated as a four-star prospect by every major recruiting service, and the 247Sports Composite Rankings listed him as the No. 4 running back recruit in America. The Auburn signee held scholarship offers Alabama, Arkansas, Clemson, Florida, Florida State, Georgia, LSU, Miami, Michigan, Mississippi State, Nebraska, North Carolina, Notre Dame, Ohio State, Ole Miss, Oregon, South Carolina, Tennessee, and USC among the more than three dozen he fielded.
The Plains was an easy choice for Hogansville's favorite son, who joins high school teammates Tank Johnson and Keiondre Jones, both of whom are offensive lineman for Auburn.
"[Auburn] felt like home," Bigsby said (via LaGrange Daily News). "It felt like I was a member of the family."
One look at his highlight tape, and you'll see exactly why they call him "Tank."
Tank Bigsby's High School Highlights
RELATED: Auburn's Updated 2020 Schedule Features Iron Bowl Shake-Up
The sudden and bitter departure of 2019's leading rusher JaTarvious Whitlow left a massive hole to fill — Whitlow is now playing for Western Illinois in the FCS . The obvious replacement was sophomore D.J. Williams, who only tallied 84 total carries as a true freshman despite putting 130 rushing yards on LSU's defense. Mark-Antony Richards, Shaun Shivers and Harold Joiner will also be in the mix, but Bigsby is the breakout candidate of this deep backfield group.
Standing 6-foot and weighing around 210 pounds, the true freshman phenom arrived on campus in January before the COVID-19 outbreak affected the spring football schedule. Tank wasted no time making noise, and he is setting lofty goals for his collegiate career.
"I want to win a natty. I want to win a Heisman," Bigsby said.
In games against Kentucky at home and at UGA in Athens, Bixby tallied 14 combined carries for 46 yards. He hasn't found the end zone yet, but a plethora of injuries in the backfield might mean even more carries for the true freshman.
Auburn University hasn't had a 1,000-yard back since Kerryon Johnson in 2017. Paired alongside reigning SEC Freshman of the Year Bo Nix, expect Tank Bigsby to carry on Auburn's lineage of elite running backs for the next several seasons before the NFL comes calling.
This post was originally published on August 26, 2020 before updating.