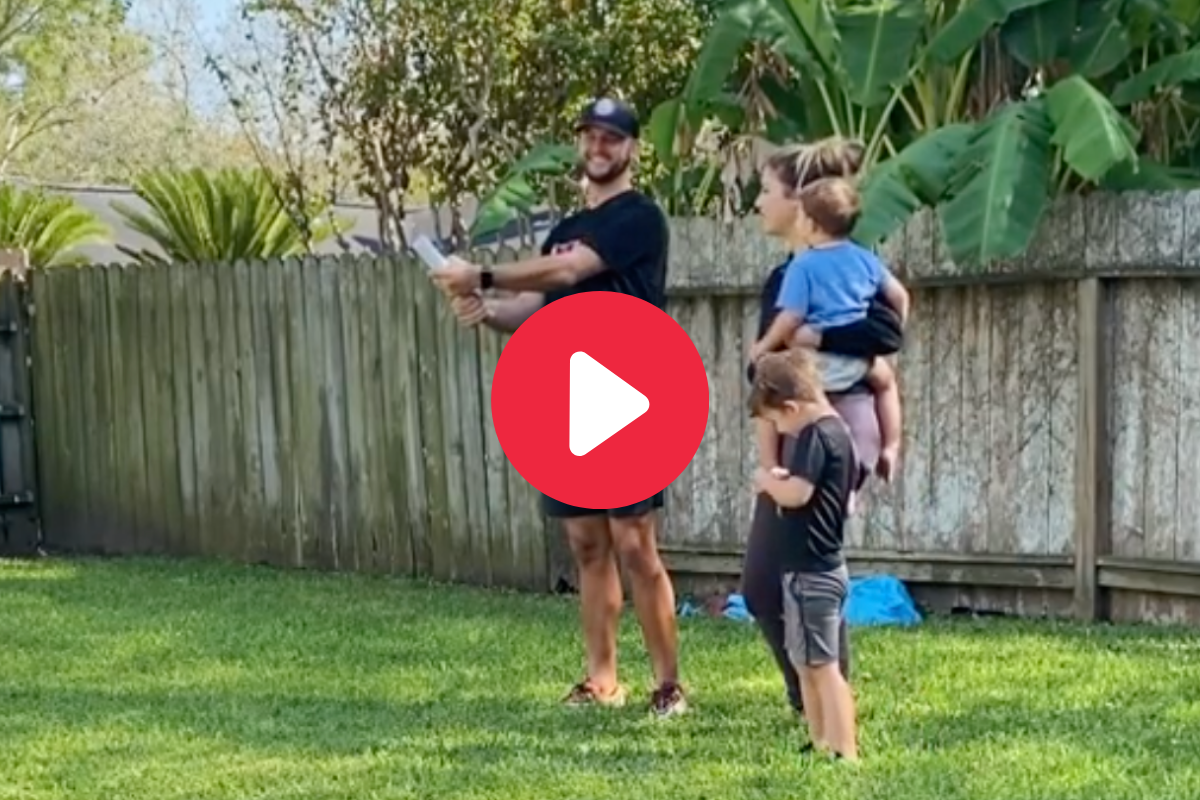 Screenshot from Instagram
With 4 minutes, 22 seconds left in the first quarter of the 2013 BCS National Championship Game, and the Alabama Crimson Tide out to a quick two-touchdown lead over the Notre Dame Fighting Irish, the sports world was officially introduced to Katherine Webb. Little did she know that she was even on camera or that the moment would actually change her life forever.
At the time, Webb was a student at Auburn University and had already been crowned Miss Alabama USA in 2012. For this story, and for her career, perhaps her best title back then was being Alabama quarterback A.J. McCarron's girlfriend. So when ESPN cameras found her, Webb instantly became the "lovely lady" everyone wanted to find out about.
ESPN announcer Brent Musburger and color analyst Kirk Herbstreit sure had some nice things to say. The rest of America did, too.
Katherine Webb's BCS Title Game Fame
RELATED: Tim Tebow's Wife Recreates Iconic Halftime Speech
The college football title game down in Miami wasn't even close. Alabama absolutely destroyed Notre Dame, 42-14. Crimson Tide running back Eddie Lady and linebacker C.J. Mosley dominated the game. Katherine Webb, however dominated the headlines.
Although she was shown throughout the game, the first glimpse, and the dialogue between Musburger and Herbstreit, is what most people remember.
Musburger: "Wow, I'm telling you. You quarterbacks. You get all of the good-looking women. What a beautiful woman… Whoa!"

Herbstreit: "Wow. A.J.'s doing some things right down in Tuscaloosa."

Musburger: "So if you're a youngster at Alabama, start getting the football out and throwing it around in the backyard with pop."
Needless to say, Alabama gained a few fans that night. So did Katherine Webb.
Katherine Webb's Title Game Aftermath
In a matter of hours, Katherine Webb became a celebrity. Her Twitter account went from 2,000 followers to over 160,000. "A.J. McCarron girlfriend" began trending and was searched over 1 million times on Google. She also received several job offers.
Donald Trump offered her a job to be a Miss USA Judge. She covered Super Bowl XLVII for Inside Edition, was a contestant on ABC's Splash, and became a bikini model in the 2013 Sports Illustrated Swimsuit Issue.
Webb also starred in a very risqué Carl's Jr. commercial.
A.J. McCarron & Katherine Webb Got Married
Yes. Katherine Webb-McCarron and her husband A.J. McCarron got in engaged in 2014 and tied the knot a couple of months later in Alabama.
Their personal life isn't fully known, but the former Miss Alabama winner admits she quit Hollywood to start a family, and the couple have two boys: Tripp and Cash Carter.
McCarron, who was a fifth-round pick in the 2014 NFL Draft, currently plays for the Houston Texans and is the backup quarterback to Deshaun Watson. He's also been on the rosters of the Cincinnati Bengals, Buffalo Bills, and Oakland Raiders.
During the coronavirus pandemic and COVID-19 outbreak, the NFL quarterback and former beauty queen announced they are expecting their third child.
A.J. McCarron's Wife Gender Reveal Post
The McCarrons are expecting their third child soon, and it's another baby boy.
"And God said… BAM! YOU'RE A BOY MOM," she wrote on social media. "PSA- prayers needed for my sanity."
A third son is probably not what wife Katherine Webb was expecting, but she's happy regardless.
The happy couple's celeb love story just keeps getting better.
This article was originally published March 31, 2020 before updating.