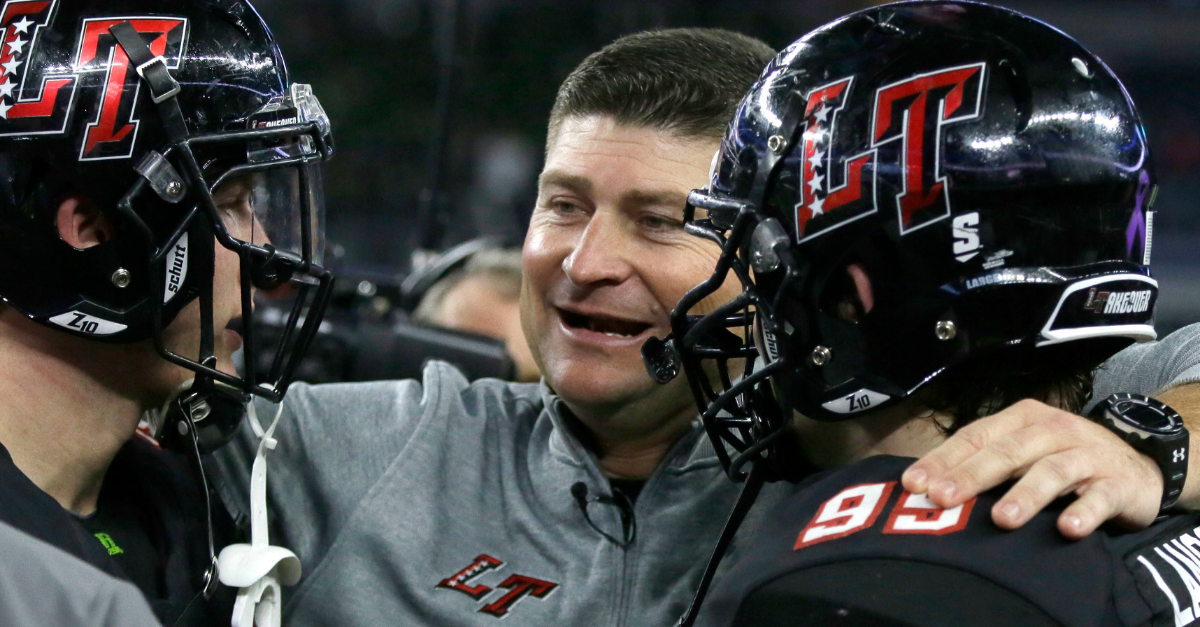 AP Photo/LM Otero
It's no secret that NFL coaches make a ton of money to lead a group of professionals in the most popular sports league in the United States. It also doesn't take a rocket scientist to figure out that some college football coaches make enough money that they could become the governor of an entire state. But what about the salaries high school football coaches who are hired to teach a group of teenagers how to become young men?
The Fort Worth Star-Telegram dove deep into their salary database to find 32 high school teams who played in the quarterfinal round of the Texas High School State Playoffs at the Class 6A and Class 5A levels in 2018. What they found is that not only does it pay to be a high school football coach in Texas, the amount of money they make doing so is beyond eye-opening into the magnitude of an amateur game.
When you look at the Star-Telegram's complete database of high school football coach jobs and the money they make, your head will likely spin right off your neck.
In 2018, there were 270 high school coaches in Texas with a salary over $100,000.
The highest-paid high school football coach remaining among those 32 coaches was Hank Carter, the head coach of the Lake Travis Cavaliers in Austin, Texas. From 2014 to 2017, Lake Travis posted a 53-7 record and won the 2016 Class 6A Division I state title under Carter. In 2018, the Cavaliers went 13-2 while led by four-star quarterback Matthew Baldwin, an Ohio State Buckeyes commit.
Hank Carter reportedly makes an annual salary of $158,512.
The lowest-paid remaining was Eric Peevey, the head football coach of West Brook in Beaumont, Texas. At 13-3, Peevey's Bruins lost to the Longview Lobos in the Class 6A Division II State Championship game. Peevey was only in his second season coaching West Brook, and the team finished 7-3 the prior season.
Eric Peevey made $86,000 in 2018.
For reference, in the Lake Travis Independent School District, where Hank Carter makes more money to win football games than Texas Governor Gregg Abbott does, the average high school teacher's salary for the 2016-17 school year was $51,212.
Of the final 32 head coaches in the Class 6A and 5A playoffs last season, the average salary among them was $112,375.
Texas High School Football Coaching Salaries
Class 6A Division I
Hank Carter, Austin Lake Travis: $158,512
Reginald Samples, Duncanville: $130,969
Terry Gambill, Allen: $126,365
Jonathan Kay, Galena North Shore: $120,133
Edward Pustejovsky, Cy-Fair: $119,036
Jeff Hulme, Waco Midway: $111,415
Sean McAuliffe, Converse Judson: $111,288
Riley Dodge, Southlake Carroll: $97,284
AVERAGE: $121,875.25
Class 6A Division II
Todd Dodge, Austin Westlake: $150,000
John King, Longview: $133,675
Gregory McCaig, Cypress Creek: $119,860
Kenneth Plunk, Amarillo Tascosa: $114,672
Matt Meekins, Spring Westfield: $104,030
David Branscom, San Antonio Brandeis: $97,783
Jason Tucker, Haltom: $97,722
Eric Peevey, Beaumont West Brook: $86,000
AVERAGE: $112,967.75
Class 5A, Division I
Randy Allen, Highland Park: $133,875
Ricklan Holmes, Tyler: $109,585
Charles Bruce, San Antonio Wagner: $109,534
Dave Henigan, Denton Ryan: $108,751
Shaun McDowell, Richmond Foster: $104,203
Bradley Butler, Alvin Shadow Creek: $100,175
David Gilpin, Mission Memorial: $96,742
Lon Holbrook, Birdville: $92,646
AVERAGE: $106,938.88
Class 5A, Division II
Rodney Southern, Huntsville: $121,800
Phil Danaher, Corpus Christi Calallen: $120,963
Richard Whitaker, Port Lavaca Calhoun: $111,201
Chad Cole, Frisco Reedy: $104,698
James Williams, Fort Bend Marshall: $102,061
Max Kattwinkel, Lubbock Cooper: $102,000
Steve Wood, Aledo: $102,000
Mark Bindel, Wichita Falls Rider: $97,026
AVERAGE: $107,718.63
It's time to take a step back and consider the high school football coach salaries of these football programs. These coaches are helping build brands and local economies in the process for their respective private and public schools' communities, sure, but are high school football team wins really worth more than what an Athletic Director, or even the Governor of Texas, is worth?
Movies like Friday Night Lights make Texas football look glamorous, and in reality, it's not too far off.

This reporting from the Star-Telegram is shocking to say the least, but now you have a better understanding on the magnitude and scale that high school sports have on a local economy, and just how valuable years of experience and high school head football coaches really are to the state of Texas.
This post was originally published on December 6, 2018.