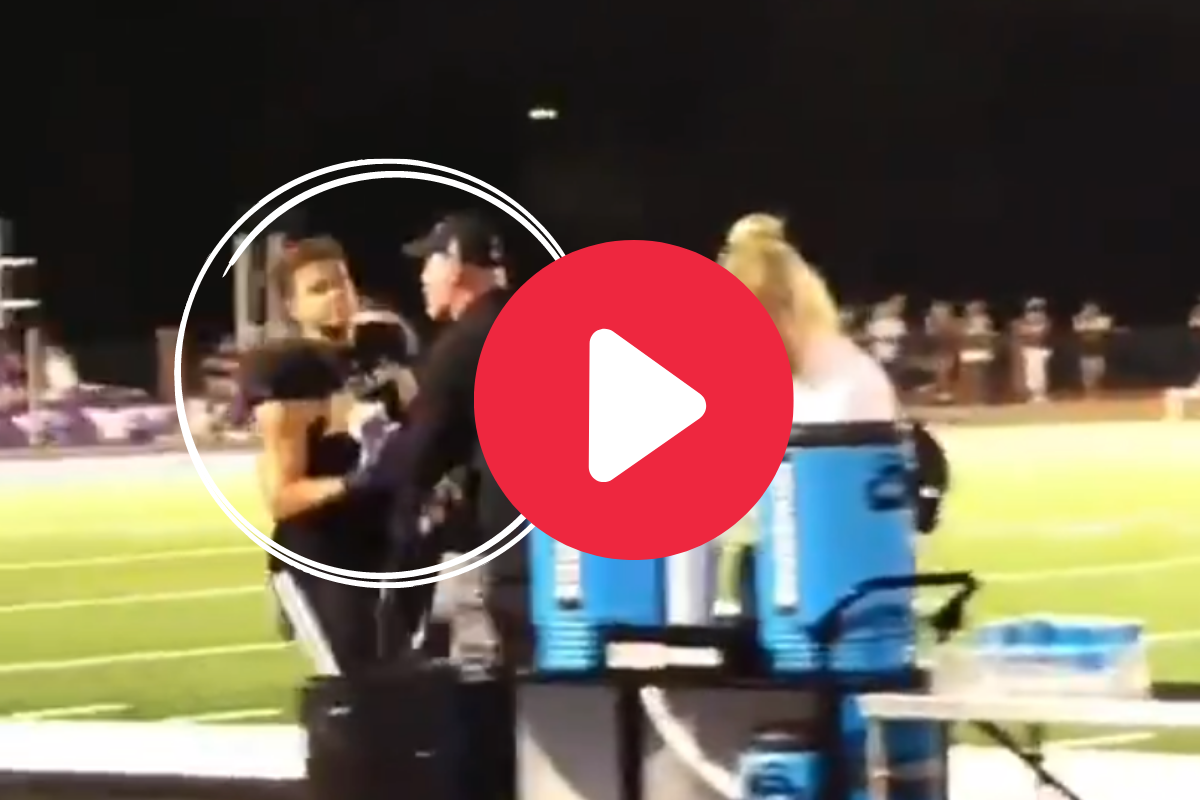 Screenshot from Twitter
The player/coach relationship is simple on paper. Do what the coach says. That's it.
These days, with sports content more accessible than ever and the participation era in full force, the line between what's coaching and what's too much is blurred.
Remember when Michigan State basketball coach Tom Izzo was criticized for putting his arms around players and yelling in their face? Then a lot of his players came to his defense.
Trent Dilfer faces a similar controversy. Only Dilfer does it much louder and viciously, and it got him in some hot water.
Trent Dilfer's Viral Sideline Tirade
RELATED: Trent Dilfer Married a College Swimmer & Started a Family
Former NFL quarterback Trent Dilfer was hired as the head coach of Nashville, Tennessee's Lipscomb Academy in 2019. He's built a stable program in his two years as a high school football coach, leading the Mustangs to the Division II Class AA State Championship game last year.
Dilfer is undoubtedly passionate as shown over the years of running the Elite 11 QB camp. He took his passion to a questionable level this past weekend. Dilfer was talking to one of his players, Beau Dawson, who's the son of former NFL kicker Phil Dawson.
He was talking to Dawson near the water coolers. Dawson allegedly said something that made Dilfer loose it. He grabbed Dawson by the pads and drove him back like he's blocking for a run. Dawson was shocked that his coach was grabbing him like this and threw his hands up in surrender. Dilfer screamed for Dawson to sit down on the bench. One assistant tried to hold back Dilfer and a few other players stepped in to comfort Dawson.
The worst part about this is it was in full view for everyone to see. There isn't another player in sight until the end. Oh, and Phil Dawson is the special teams coordinator on Dilfer's staff.
Trent Dilfer Apologizes For Tirade
The video went viral and again brought up the debate on what the line is between hard coaching and cruelty. Dilfer issued a statement released by the school.
"I want to address the incident on our sideline during Friday night's game versus Independence that has drawn a lot of attention," Dilfer said. "First and foremost, I take full responsibility as the head coach and leader of our team for not deescalating an emotional situation with one of our players, Beau Dawson. Beau is one of our finest student-athletes and embodies all the characteristics we are looking for in our Mustang players. Beau plays the game with the right kind of passion and is an inspiration to our other players. During a moment of frustration in an attempt to get our team to play with more discipline, I unfairly singled Beau out. Somehow Beau Dawson has been portrayed publicly as the culprit in this situation, when in reality I should have been a better leader and shown greater wisdom and discernment in how I handled this incident. Overall, I could not be more proud of Beau and the rest of our team for how they handle the emotional nature of each game they compete in."
There isn't any word yet on whether the Super Bowl champ will face discipline. Either way, he has his fair share of backlash and support online.
Related Videos