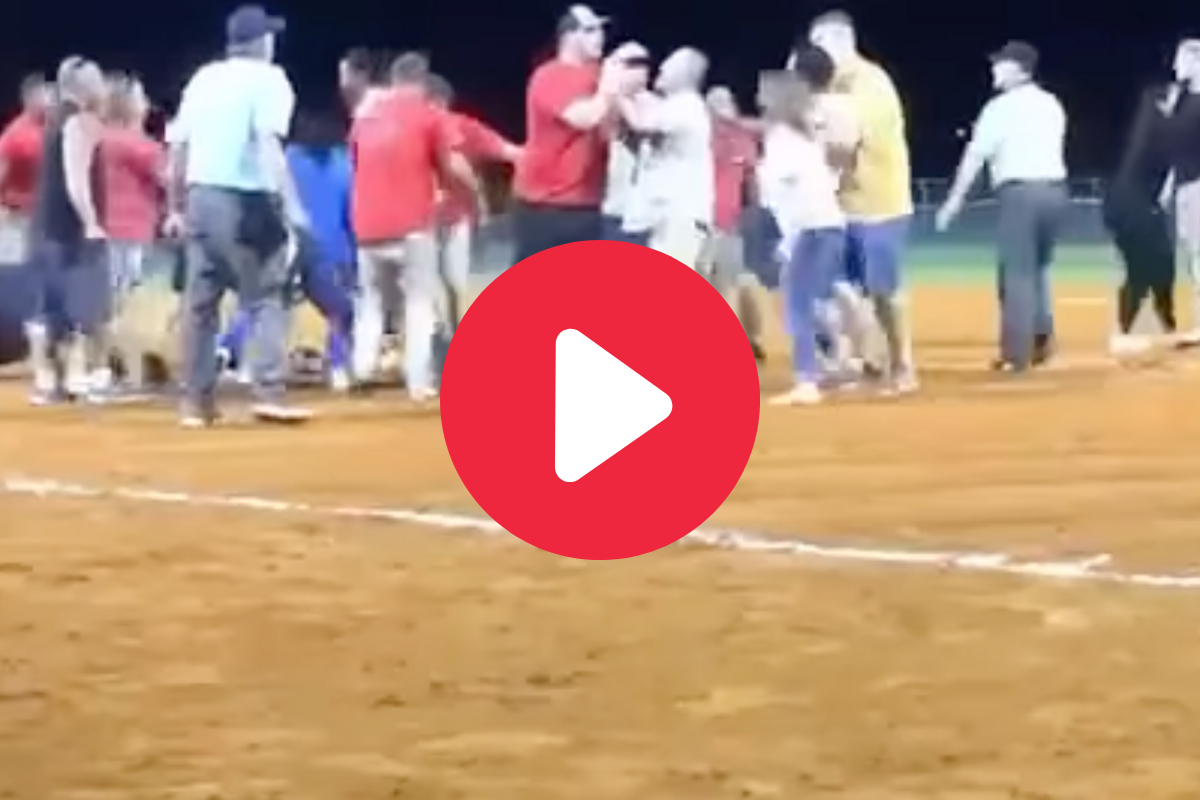 Screenshot from Facebook
It's a crying shame when parents and coaches let their egos interfere in youth sports.
Little League is (and probably always will be) one of the worst leagues for this reason.
Some dads need to realize they shouldn't be anywhere near the diamond if they can't control their tempers. Parents are supposed to be setting good examples for their 10-year-olds, not throwing down like they're in a bar at 2 a.m.
Unfortunately, that wasn't the case in Florida's Callaway Little League.
Callaway Little League Brawl
RELATED: Little Leaguer?s Leap Over Catcher Robbed By Umpire?s Call
According to police, this brawl all started after "verbal altercations and insults directed at children" during a 10-and-under Little League game last week in Callaway, Florida.
Coaches from the Callaway Braves and Southport Braves (couldn't think of another team name?) were chatting up a storm. One coach walked away while saying something, which another took issue with.
Then, as a little girl walks right next to the two coaches, the one in red lands a huge punch on the other and tackles him to the ground. Numerous coaches add to the scrum. Seconds later, another altercation breaks out behind them by second base. One dad is seen chasing another like wild animals.
Foul language was used, too. One woman drops a "motherf***er" to which an older woman tells her to shut her mouth because children are around.
It's all the perfect display of what not to do at a youth baseball game.
According to mypanhandle.com, three baseball coaches were charged with disorderly conduct. The men — Justin Jamison, Philip Murphy and Samuel Montes-Lopez — were all suspended from coaching and banned from attending games the rest of the season.
?That behavior is never acceptable,? Bay County Sheriff's Office Captain Michael Branning told mypanhandle.com. ?Especially when you have younger children out there on a sports team.?
The absolute most laughable part of the brawl? Murphy said he swung on Jamison (the punch that began the brawl) in self-defense because he was being threatened.
"I was put in a position where I had to defend myself,? Murphy said in a statement, via mypanhandle.com. ?It?s unfortunate where this took place and I wish it never happened. That being said I did what I thought I had to do to protect myself from this person who had just told me his intentions.?
The video of the fight, posted by Thomas Guidas on Facebook, has taken off on social media. It's been viewed more than 30,000 times and shared more than 800 times.
Hopefully these parents were chewed out by their children. Props to the umpires for at least trying to break things up.