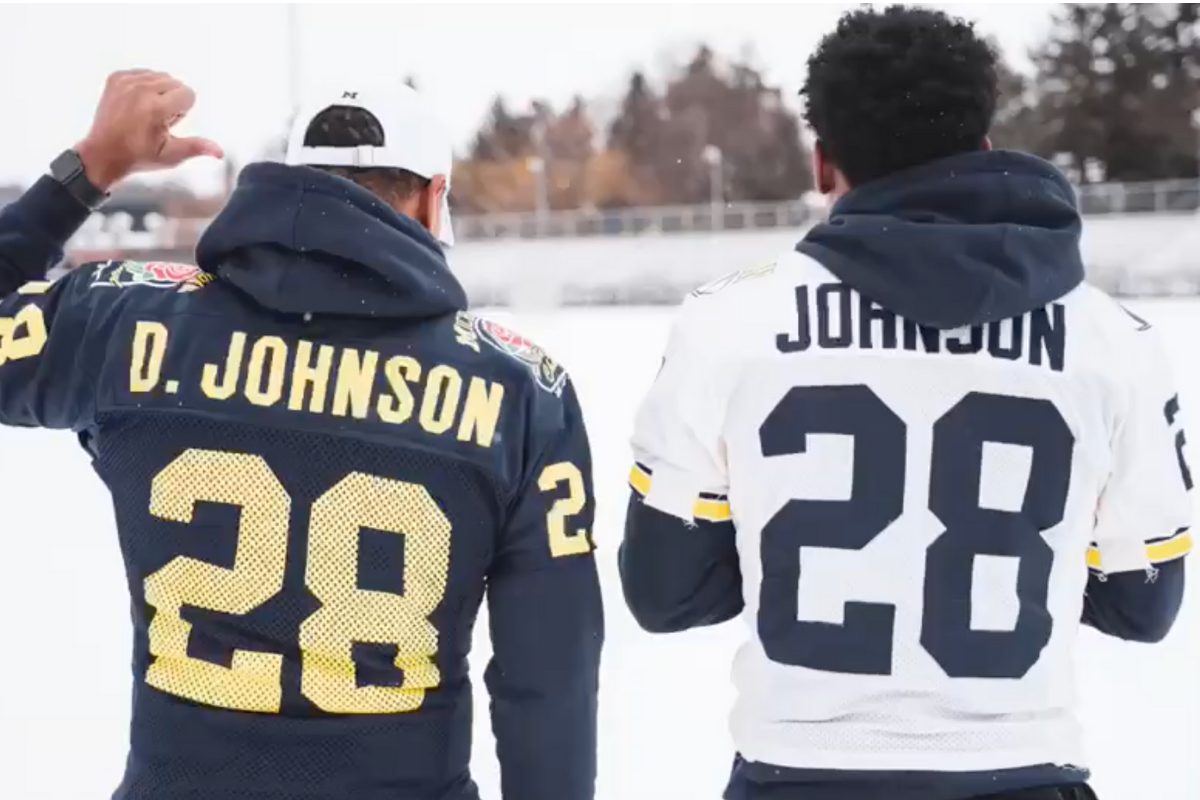 Screenshot from Twitter
Will Johnson is one of the most heralded prospects in the entire 2022 football recruiting class. The defensive back is a five-star talent and will be outstanding when he reaches the next level.
Johnson attends Grosse Pointe South High School in Michigan and has been the best player on the field since making the varsity team his freshman season. Though his best work is done on defense, he is a solid wide receiver who scored eight touchdowns in 2019.
After much deliberation, Johnson decided to commit to the Michigan Wolverines.
His father, Deon Johnson, played in Ann Arbor in the early 1990s, so the familial connection to the maize and blue will remain strong.
Will Johnson Commits to Michigan
RELATED: 3-Star QB, Son of NFL Journeyman, Taking Talents to Pac-12
Considering his talent, it is no wonder that five-star cornerback Will Johnson had college offers from historically successful schools.
Alabama, Arizona State, Florida, Georgia, Kentucky, LSU, Maryland, Michigan, Michigan State, Nebraska, Notre Dame, Ohio State, Oklahoma, Penn State, Tennessee, Texas A&M, USC, and West Virginia all made offers.
Ultimately, Jim Harbaugh was able to land the in-state prospect.
The Wolverines' class of 2022 looks strong so far. Four-star players such Tyler Morris, Tay'shawn Trent, and Kody Jones will be joining Johnson on campus soon.
Harbaugh has lost some key battles on the recruiting trail recently, so it is great to see him land one of his top targets.
CB Will Johnson Highlights
Will Johnson is a lockdown corner, as evidenced by the 21 tackles and eight pass breakups he had in 2019. Not many quarterbacks were daring enough to test him, and his two-way ability helped the Blue Devils reach the playoffs in multiple seasons.
The 247Sports Composite puts him as the fourth-best cornerback in the class and the best recruit from the state of Michigan.
Scouts believe that he has a great chance of making the NFL once his time in college is over. Perhaps the Detroit Lions are doing early scouting on the hometown kid.
Will Johnson still has some time before he makes his college football debut, but fans should be gearing up and anticipating greatness. The five-star cornerback has plenty in his profile to like, and he will certainly make an impact with the Wolverines as soon as he can.
This post was originally published on November 25, 2020 before updating.