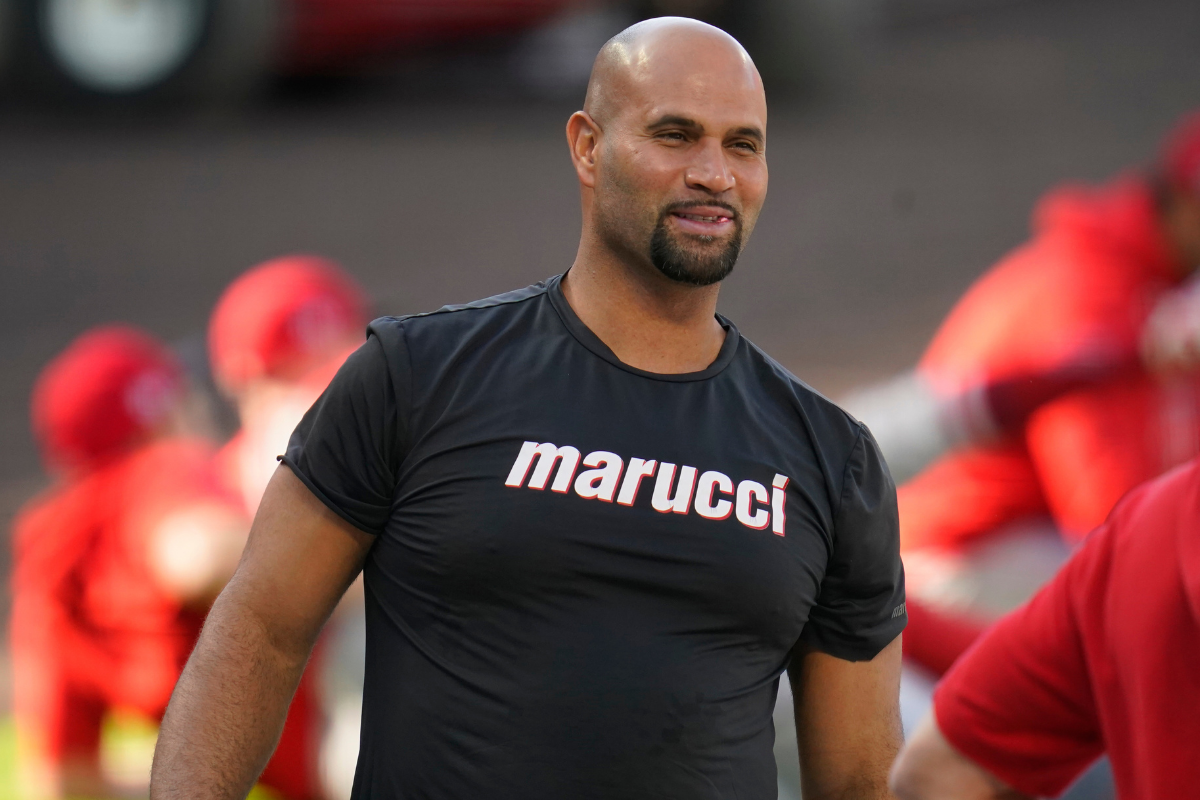 AP Photo/David Zalubowski
Albert Pujols is one of the greatest MLB players to ever step foot on the field.
While his career has tailed off since joining the Los Angeles Angels, the first baseman's legacy will forever remain as one of the game's most-feared hitters.
The Dominican Republic legend has been playing in MLB since 2001, and his 20-year career has seen him amass a monumental fortune.
So, just how much money has Pujols hauled in throughout his playing days?
Albert Pujols MLB Career
RELATED: Albert Pujols Becomes 3rd MLB Player to Reach 2,000 RBIs
Albert Pujols grew up in New York City, but moved to Missouri during his youth. The Fort Osage High School graduate attended school at Maple Woods Community College in Missouri, and stayed in-state when he turned pro.
Pujols made his MLB debut in 2001 as a member of the St. Louis Cardinals, who selected him in the 13th round of the 1999 MLB Draft.
As a rookie, Pujols launched 37 home runs en route to the National League Rookie of the Year award. The superstar baseball player never slowed down after that, making nine All-Star appearances throughout his 10 years with the Cards.
While in St. Louis, Pujols won three National League MVP awards, two World Series titles, two Gold Glove Awards and six Silver Slugger Awards.
After 11 years with the Cardinals, the Santo Domingo native latched on with the Los Angeles Angels on a massive 10-year contract as a free agent, teaming up with fellow superstar Mike Trout.
The former NL Most Valuable Player struggled to produce at the same level in L.A., having made just one American League All-Star appearance since joining the team.
Throughout his illustrious Major League Baseball career, the two-time World Series champion has proven to be one of the best players in baseball history. He has hit 662 home runs, recorded 2,100 RBI and maintained a career batting average of .299.
A lock for the Baseball Hall of Fame, Pujols has played in 77 postseason games.
Albert Pujols Personal Life
Albert Pujols is currently married to his wife Deidre. The happy couple has five children: Albert Jr., Ezra, Isabella, Sophia and Esther Grace.
Pujols frequently shares pictures of his family on social media, boasting an impressive 185,000 followers on Instagram.
Albert Pujols Net Worth
The former NL MVP has made a fortune as a professional baseball player.
According to Celebrity Net Worth, Pujols boasts an estimated net worth of $170 million, placing him among the wealthiest players to ever feature in the MLB.
He ranks alongside New York Yankees legends Derek Jeter and Alex Rodriguez, Detroit Tigers and Florida Marlins icon Miguel Cabrera, Cincinnati Reds slugger Joey Votto, and Seattle Mariners club hero Ichiro Suzuki in terms of career earnings.