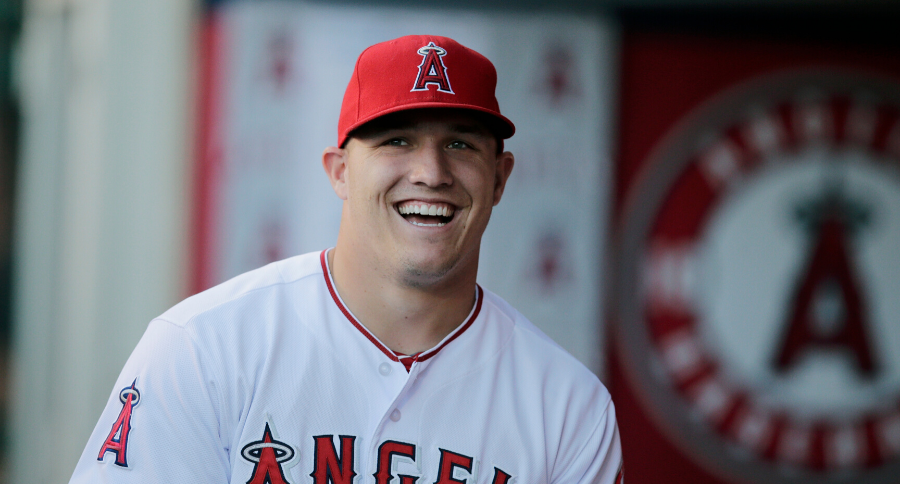 AP Photo/Jae C. Hong
We are all witnesses, and I'm not talking about Nike's LeBron James poster.
Los Angeles Angels outfielder Mike Trout is the most dominant baseball player of our generation. If MLB did a better job marketing its athletes (or Trout played for the New York Yankees), we'd talk about the 28-year-old center fielder like he was the greatest athlete on the planet. In all honesty, he probably is.
Through his first nine seasons, Trout's resume makes my head spin. He's a three-time American League MVP, and he finished as AL MVP runner-up four more times (The two seasons he didn't win or finish second? He was Rookie of the Year in 2011, and he finished fourth in 2018 despite playing only 114 games.) The eight-time MLB All-Star has led all of Major League Baseball in runs, walks, stolen bases, on-base percentage, and OPS at different parts of his career, as well as leading the AL in RBIs (111 in 2014) and stolen bases (49 in 2012).
Trout's 12-year, $430 million deal is the largest contract in sports history.
Wins Above Replacement (WAR) determines the impact of a player versus a base-line replacement in that same position (think of a bench player or Triple-A level call up). Trout's 72.8 career wins above replacement in nine years already ranks 86th all-time — That's more than National Baseball Hall of Fame inductees Larry Walker, Derek Jeter, Tony Gwynn, John Smoltz, Ivan Rodriguez, Carlton Fisk, Roberto Alomar, Craig Biggio, Roy Halladay, and Jackie Robinson had their entire careers.
Blending speed, size, power and instincts, Mike Trout is among the best players to ever live. The Vineland, New Jersey, native was always this smooth, too.
Is Mike Trout Married?
Young Michael Nelson Trout sat in his Millville Senior High School Spanish class when he noticed Jessica Cox for the first time. Seeing an empty desk next to her, Trout started acting out so the teacher would "punish" him and move his seat to the back where Jessica was. Flirting began, and the high school sweethearts' relationship blossomed.
That story, shared by Grace Ormonde Wedding Style, is only a fraction of this fairytale couple's journey. You haven't even heard how Trout proposed yet.
Mike Trout's Wife: Jessica Cox
Several years after Mike's baseball career took off in Southern California, it was time for his grand gesture to Jessica. The couple walked outside, and Trout told his girlfriend to look up at the sky.
Written in the clouds was this: "WILL YOU MARRY ME JESS?"
Don't worry. She said yes.
They were married on December 9, 2017 in New Jersey. The ceremony took place amidst a winter snowfall. There were 750 candles lining the room where rings were exchanged. A slideshow from Jess' dad was set to Tim McGraw's "My Little Girl." Guests brought Christmas gifts that were donated to hospitals in Orange County, California, and Philadelphia, Pennsylvania.
"It was the biggest, craziest, most awesome and loving day of my life, and I would not have changed one single thing," Trout said.
Thanks for the invite…
According to Cheat Sheet, Cox attended Lebanon Valley College and received an education degree. She works as a teacher, which gives plenty of time during summer break to root on Trout's Angels.
Aaron Cox's Death
In August 2018, Jessica's brother Aaron Cox, who pitched for several seasons in the Los Angeles Angels' minor league system, died at the age of 24. His cause of death was not revealed publicly. Cox was placed on Los Angeles' voluntary retirement list just two days before he died, according to the Los Angeles Times.
Trout remembered Cox on Instagram, saying, "You were more than just my brother-in-law… you were my best friend."
Trout Family Prepares for Son's Birth
On March 2, 2020, the family announced that they were expecting the birth of their first child in August. The MLB superstar shared a video on social media of him finding out about wife Jessica's pregnancy, the pair's gender reveal to learn they were having a baby boy, and telling their families.
Trout wrote on Twitter, "Little man, you have the best mommy already and I can't wait to be your dad! We are so humbled by this gift God has given us. We love you already, buddy!!"
Rumor has it the Angels are already drafting a multi-year contract offer to Baby Trout.
---
UPDATE (July 30, 2020): After going on paternity leave in the early window of Los Angeles' coronavirus-shortened MLB season, Trout announced the birth of the family's son, Beckham Aaron Trout, at 5:10 p.m. on July 30.
Yes, Mike Trout's son has the initials B.A.T.
---
The MLB slugger needs playoff experience — the Angels have one playoff berth with Trout on the roster — to put him into the upper echelon of all-time legends. With his family watching every home run and career-high the rest of the way, there won't be many players left to chase when Trout's playing days are over.
This article was originally published May 20, 2020. It was updated after the Trout family announced the birth of their son.