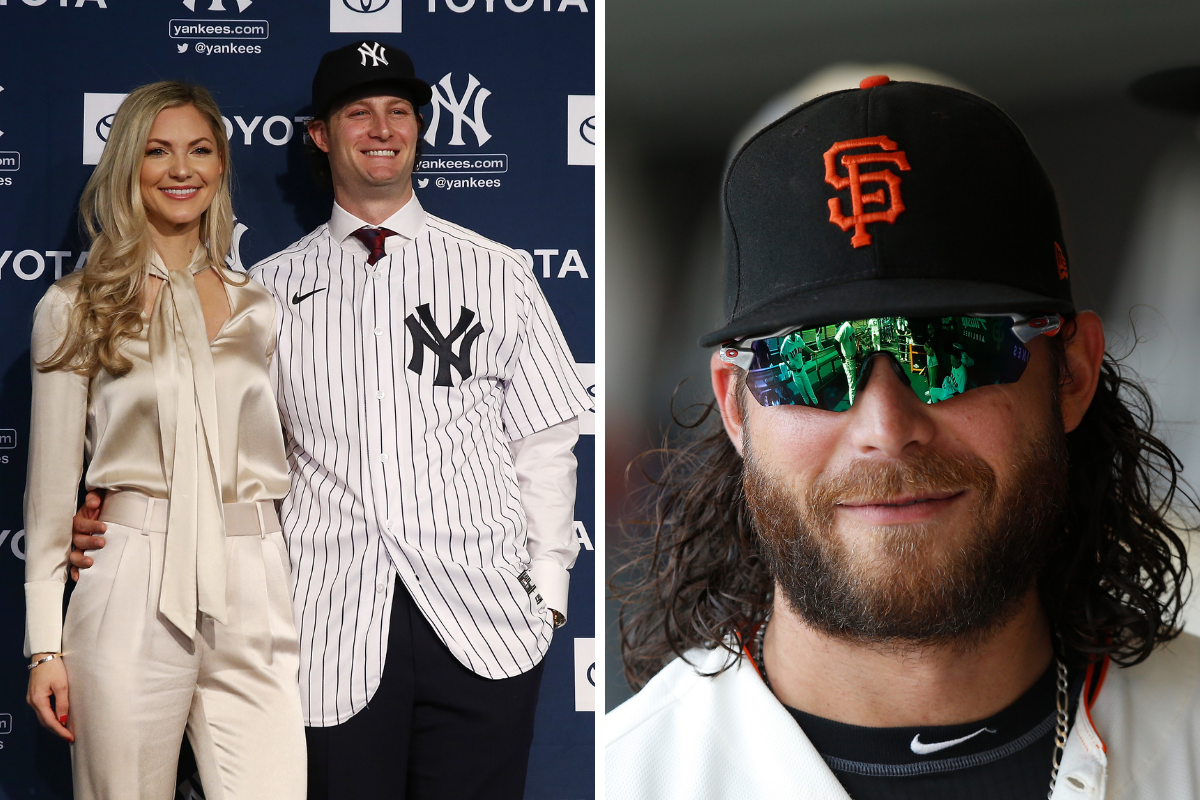 Photo by Mike Stobe/Getty Images (left), Photo by Lachlan Cunningham/Getty Images (right)
Life comes at you fast. Everything can change in a matter of months, weeks, or even days. The coronavirus pandemic was proof of that, but oddly enough, it only added to the whirlwind offseason New York Yankees pitcher Gerrit Cole went through.
Back in December 2019, the four-time MLB All-Star and perennial Cy Young candidate tossed away his Houston Astros jersey and shaved his beard to sign a record-setting, nine-year deal and don baseball's famous pinstripes. Then, less than a month later, Cole and his wife Amy announced they were expecting their first child.
So much has changed, but baseball remains a constant in the Cole household, even during quarantine and while Amy was pregnant.
Gerrit Cole's Wife Amy Crawford
Amy Cole — formerly known as Amy Crawford — is the sister of San Francisco Giants shortstop Brandon Crawford. She won the Women's College World Series with the UCLA Bruins, too. That quite the athletic family, and adding Gerrit to the mix only added to that.
The Crawfords grew up in the Bay Area, while Cole grew up in Newport Beach. Amy and Gerrit met each other at the University of California, Los Angeles, and dated for three years before their engagement in July 2015. Gerrit and Brandon both played at UCLA, but they weren't teammates. The Coles tied the knot in November 2016, according to PlayersWiki.
"I remember thinking she was the prettiest girl I had ever met and I wanted to get to know her." — Gerrit Cole.
Amy Cole is a recruiting manager at Essex Mortgage, a career coach at Athletes to Careers and reportedly earns $100,000 per year.
Amy Cole Shows Off Pitching Skills
RELATED: Justin Verlander's Supermodel Wife Kate Upton Helped Save His Career
For as much as Gerrit Cole isn't the average Major League Baseball starting pitcher, Amy Cole is far from the average athlete herself. She's actually an accomplished softball player and baseball runs in her family.
So to see her and Gerrit enjoying a game of catch isn't surprising. Nor is it a shock she can throw some heat with her fastball and has movement on her slider.
But to do it all while pregnant? That's definitely next level.
Gerrit Cole's Son Caden
On June 30, 2020, Caden Gerrit Cole was born. He weighed 7 pounds, 13 ounces, according to The New York Post, and arrived just before Yankees ace Gerrit Cole reported to Yankee Stadium ahead of the 2020 MLB season.
"Amy is doing excellent and he is doing excellent," Cole said, via The Post. "He's strong. He's a good mix of his dad and his mom. He's a little towhead. He's absolutely adorable. He's got big blue eyes and gosh I just can't stop staring at him."
It will be some time before the new baby boy gets in a bullpen session, but you better believe Yankees manager Aaron Boone is already scouting the future ace.
The Yankees' Gerrit Cole, who started his career with the Pittsburgh Pirates and led the American League in ERA and the major leagues in strikeouts with the Astros in 2019, has been one of the best starting pitchers in baseball while in the Bronx.
The ace has been tasked with carrying the Yankees through the playoffs in 2021 (they have to beat the Boston Red Sox in the AL Wild Card Game on ESPN first). There's no doubt he will have the love and support from his family, too.
This post was originally published on April 9, 2020. We brought it back before Cole took on the Red Sox in the American League Wild Card Game.
Related Videos