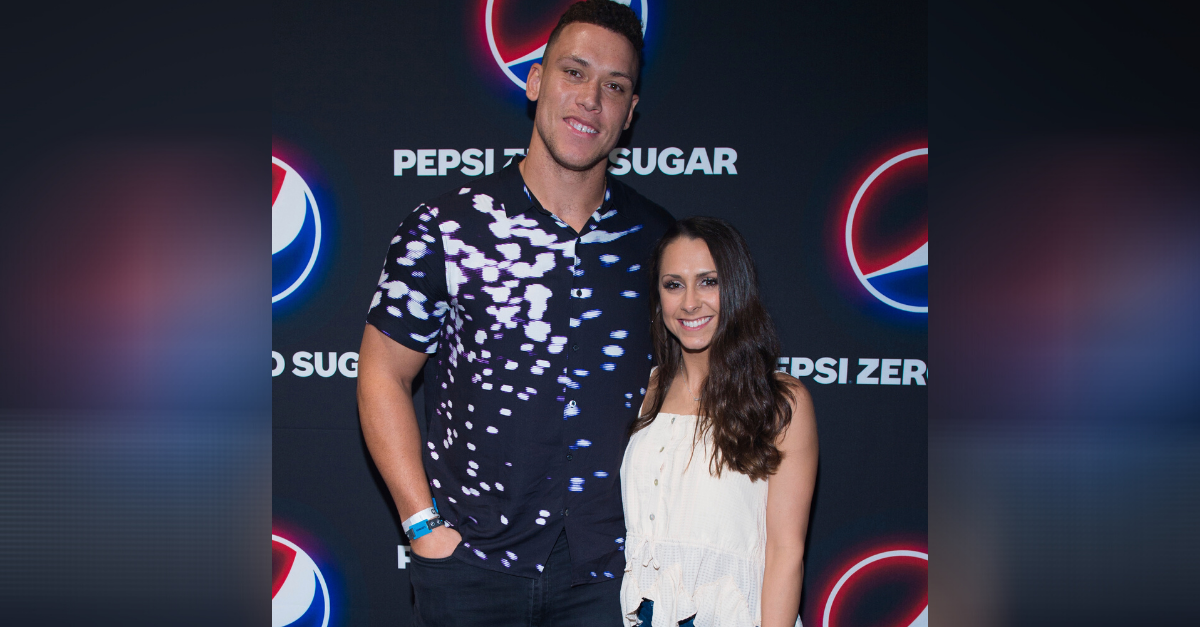 Photo by Scott Roth/Invision/AP
New York Yankees players are famous for their dating histories. Derek Jeter's list of past girlfriends could field an entire baseball team, plus some bench players. Alex Rodriguez's love queue may be even more impressive, considering it includes Madonna, Cameron Diaz, Torrie Wilson and now his soon-to-be-wife Jennifer Lopez.
Heck, Mickey Mantle (who once hooked up with a girl under the bleachers at Yankee Stadium and wrote about it) and Joe DiMaggio (who married the one and only Marilyn Monroe) would never survive the age of social media. But the Bronx Bombers of recent seem to be more private than those who used to rock the pinstripes.
No current Yankee is as famous as Aaron Judge. The 28-year-old is easily recognizable in New York City for his 6-foot-7, 280-pound frame. The two-time All-Star and 2017 American League Rookie of the Year is one of the most powerful sluggers in Major League Baseball.
Judge seems like an even-keeled guy who keeps his personal life private. But if you think the man set to make $8.5 million in 2020 doesn't have a girlfriend, you'd be very wrong.
Who Is Aaron Judge's Girlfriend Samantha Bracksieck?
Aaron Judge played college baseball at California State University, Fresno. Like her baseball playing boyfriend, Bracksieck attended Fresno State, which is where the two likely first met.
The pair have been together at least as far back as 2014 judging from an Instagram photo on his account. She and Judge's parents are posing in the photo from a Thanksgiving run.
Judge and Bracksieck reportedly split up in 2016. Judge was then rumored to be dating Jen Flaum, a University of Michigan graduate who grew up in New Jersey and worked in real estate.
During that time, Bracksieck reportedly got engaged to another man.
"Her and Aaron Judge broke up in October/November 2016. She started dating Luke Heinrichs only two months later in January of 2017," Terez Owens reported. "They were serious very quickly and she got engaged while they were on vacation together a year later on May 12, 2018."
However, she was back together with Judge in 2019. She was on the right fielder's arm at then-teammate C.C. Sabathia's LegaCCy Gala in September 2019. Bracksieck was also spotted with Yankees outfielder Giancarlo Stanton's girlfriend, Chase Carter, in October at Target Field for the ALDS.
In February 2020, Judge and Bracksieck flew to Miami for the Super Bowl. They attended the Fanatics Super Bowl Party and Sports Illustrated's The Party, according to SportsGossip.com.
That same month, Bracksieck ran into legal trouble.
Bracksieck Arrested For Extreme DUI, Name-Drops Judge
Bracksieck made national headlines for name-dropping her boyfriend during a DUI arrest in February.
She was pulled over in Scottsdale, Arizona, at about midnight on February 25 for driving without her headlights on. The 26-year-old told police she was on her way home from Mastro's Steakhouse, where she had two glasses of wine. She blew a 0.12 on a breathalyzer and was put under arrest.
The oddest part of the exchange between her and police, which is all on police video, is when she brings Aaron Judge into it.
"Do you understand what you are doing right now? … I just need to get home. … Do you know who my boyfriend is? This is Who going to be bad for me. I'm just saying that right now. … So me being arrested for having two glasses of wine is not OK. Oh, f**k," she said in the video.
Here's just a brief part of the conversation, transcribed by NJ.com:
Bracksieck: "My boyfriend is in the spotlight of New York media in general, and now here I am in cuffs in Scottsdale, Arizona. That is not good."

Police: "What does he do? Does he own a company?"

Bracksieck: "He plays baseball for the Yankees so this is not good."

Police: "Who is your boyfriend?"

Bracksieck: "Aaron Judge. This is so bad."
TMZ reported that Bracksieck blew two higher BAC tests of .169 and .181 at the police station. She was then hit with charges of extreme DUI. She's due in court in June and could face jail time, bringing some irony to Judge's catchphrase "All Rise." The Yankees star has yet to comment or say anything about the incident.
Aaron Judge is undoubtedly a public figure in the MLB and professional sports world, and the New York media can be ruthless. But the New York Yankees slugger and outfielder isn't the one in trouble. He's probably more focused on the sport's return from the coronavirus pandemic and gearing up for spring (summer?) training in Florida.
This article was originally published May 22, 2020.