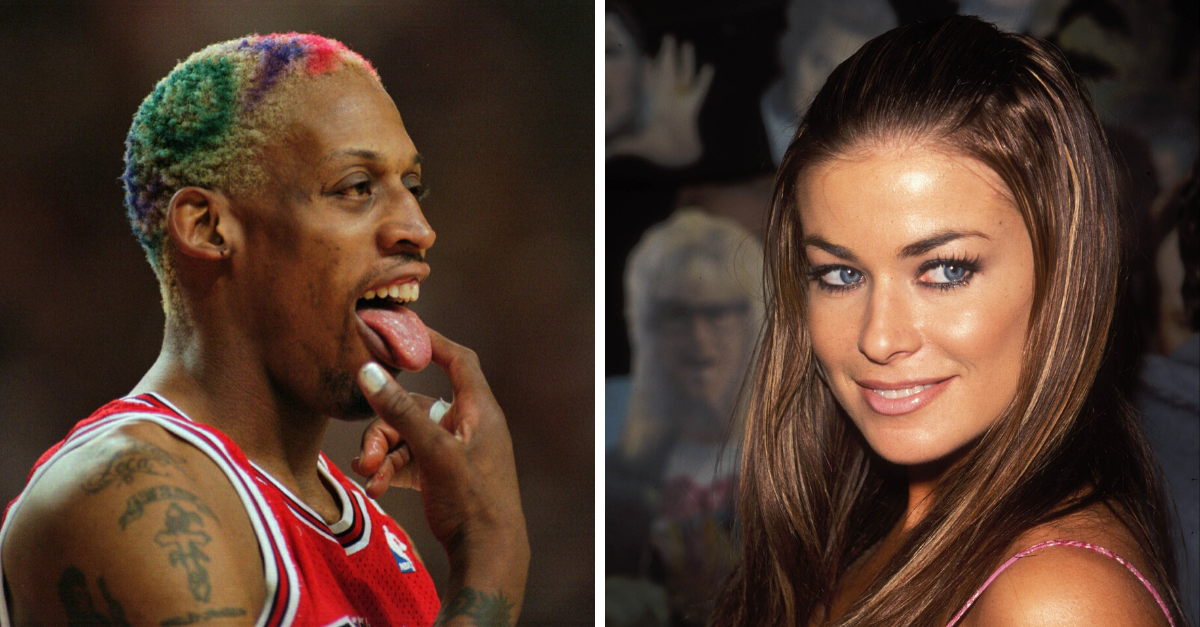 AP Photo/Beth A. Keiser (left), Star Max via AP Images (right)
There is only one Dennis Rodman.
No one one embodied a nickname like "The Worm" like the man who has more crazy stories than he does piercings and tattoos. Rodman rose to fame partly because of his hair color choices and partly because he made up one-third of the 1990s Chicago Bulls' big three alongside Michael Jordan and Scottie Pippen.
Rodman was a lovable, one-of-a-kind weirdo who once wore a wedding dress and tried to marry himself. The rainbow-haired bad boy is an open book about all of his wild stories, literally. He wrote numerous books about his time on and off the court. As one would expect, the NBA star would likely need a million pages in a chapter focused on his dating history.

In ESPN's "The Last Dance" documentary centered around Michael Jordan's NBA career, MJ reveals the story of how Rodman once flew to Las Vegas for a weekend and was caught in bed with Playboy model and actress Carmen Electra by Jordan.
That's far from Dennis the Menace's craziest dating story.
He claimed to have had a threesome with a dwarf and a woman in a wheelchair and slept with a bridesmaid on a separate occasion. He estimates that he's had sex with more than 2,000 women during his NBA career with the Detroit Pistons, Chicago Bulls, San Antonio Spurs, Dallas Mavericks and Los Angeles Lakers. Even that is nowhere near Wilt Chamberlain's number.
Yes, Rodman married three times and had three children — one with Annie Bakes and two with Michelle Moyer. But Rodman also dated Hollywood celebrities, a pop music star and a current NBA owner.
Here are the headliners.
Carmen Electra
RELATED: Remember Kobe Bryant with Jerseys and T-Shirts to Cherish Forever
Carmen Electra's modeling and acting career skyrocketed after she posed for Playboy in 1996. Rodman and the Baywatch star met in 1998 and married shortly after.
The two reportedly dated for nine months before tying the knot in Las Vegas's Little Chapel of the Flowers at 7 a.m. one morning. Rodman has told numerous stories about this passionate, short-lived marriage, including how he and his ex-wife had sex in just about every place possible in the Bulls practice facility.
"In the training room, the weight room, this, that," he wrote in I Should Be Dead By Now. "We did everything under the sun at the Berto Center, everything that you could name."
Electra told Oprah Winfrey in a "Where Are They Now?" episode that she fell in love with Rodman at a "vulnerable" time of her life after her mother developed a brain tumor, saying she went into "self-destruction."
"What I saw, in the beginning, was this gentle giant that was in a lot of pain," Electra said of her ex-husband. "So in a way we understood each other. When it was good, it was amazing, and when it was bad, it was the worst."
The highly publicized relationship didn't last long. The two filed for an annulment nine days after the marriage and six months later it was officially over with.
Madonna
Rodman's relationship with this celeb was full of wild stories and allegations. None were bigger than his claim that the 'Material Girl' offered him $20 million to impregnate her and she once flew from Las Vegas to New York City just to sleep with him.
"She wanted to get pregnant really bad," he wrote in Bad As I Wanna Be. "She would send me faxes that said, 'I really want to be with you, I miss you.'
She and the basketball player dated in 1994 and even posed for a cover of VIBE Magazine in June 1994, although it wasn't released.
Vivica A. Fox
Fox starred in hundred of movies, including Independence Day and Kill Bill, so it's no surprise she wanted someone who enjoyed the spotlight as well.
Rodman accompanied the actress as her date to the 1997 Academy Awards, during which he smoked a cigar on the red carpet. Oh, he also told the story of how she allegedly urinated in his limousine. Just another day in the life of Dennis Rodman.
Jeanie Buss
Before she was the Los Angeles Lakers owner and president, Buss dated Rodman back when her dad Jerry Buss owned the team.
Buss also happened to pose for Playboy back in 1995. Knowing that, are we even surprised that Rodman dated her? It isn't exactly breaking news he had a thing for Playboy models.
She eventually linked up with Phil Jackson, which is quite the 180 from Rodman. It appears Rodman and Buss have remained friends, judging from this tweet in 2018.
Rodman obviously dated more women than just these four, but these are the most notable. Hats off to an incredible basketball career and an even more impressive dating career.