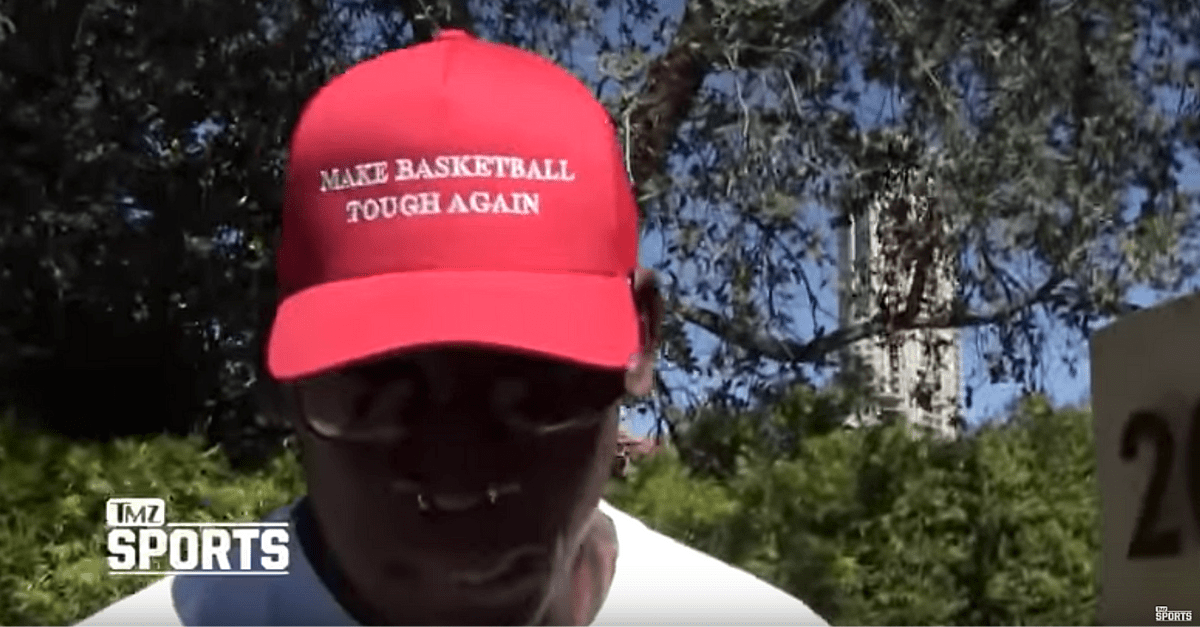 YouTube: TMZSports
It's no secret that today's NBA is much less physical and violent than it used to be. Rule changes have spread the game out to create a faster tempo, and as a result, players are filling up stat sheets like never before. The days of Bill Laimbeer, Charles Oakley and the NBA enforcer are slowly dying and making way for smaller, faster players. Not everyone is exactly pleased with this change, either.
Former Chicago Bulls forward Dennis Rodman was a classic enforcer in the late 1980s into the 1990s. The five-time NBA Champion is one of the best rebounders and defenders to ever play the game, but that didn't happen without playing a little dirty. When TMZ Sports asked about a hat he was wearing, the outspoken Rodman made sure to let everyone know how he feels about pro basketball today.
Wearing a red "Make Basketball Tough Again" hat — clearly an homage to President Donald Trump's version — Rodman said, "Man, all these [NBA players] should quit wearing tampons."
Rodman is a widely-known supporter and close friend of North Korean leader Kim Jong Un, so he's no stranger to making political statements and rocking his pro-Trump attire. This version of his hat is hard to miss, and while it might not be the original MAGA hat, it certainly gets the point across that Rodman is tired of today's NBA and wants everyone to know about it.

RELATED: Scottie Pippen: LeBron Cannot Be the NBA's Greatest Without 'Clutch Gene'
The Naismith Memorial Basketball Hall of Famer was twice named NBA Defensive Player of the Year with the Detroit Pistons before spending time with the San Antonio Spurs, then going on to win three NBA title with the Bulls alongside Michael Jordan and Scottie Pippen. From 1991 through 1997, Rodman led the league in rebounding every year, and he did it by playing a little dirty.
The Worm is famous for his bizarre outfits and hair colors, but on multiple occasions, he lashed out at officials and was frequently ejected for on-court incidents during his career.
Sorry to burst his bubble, but the NBA isn't going to suddenly revert back to the slower, barbaric game it used to be. Current NBA Commissioner Adam Silver is championing the increase in scoring, as well as ending the one-and-done college basketball player, to help bolster the game's rising popularity. The days of the classic enforcer may be over, but not all tough guys are gone from today's NBA.