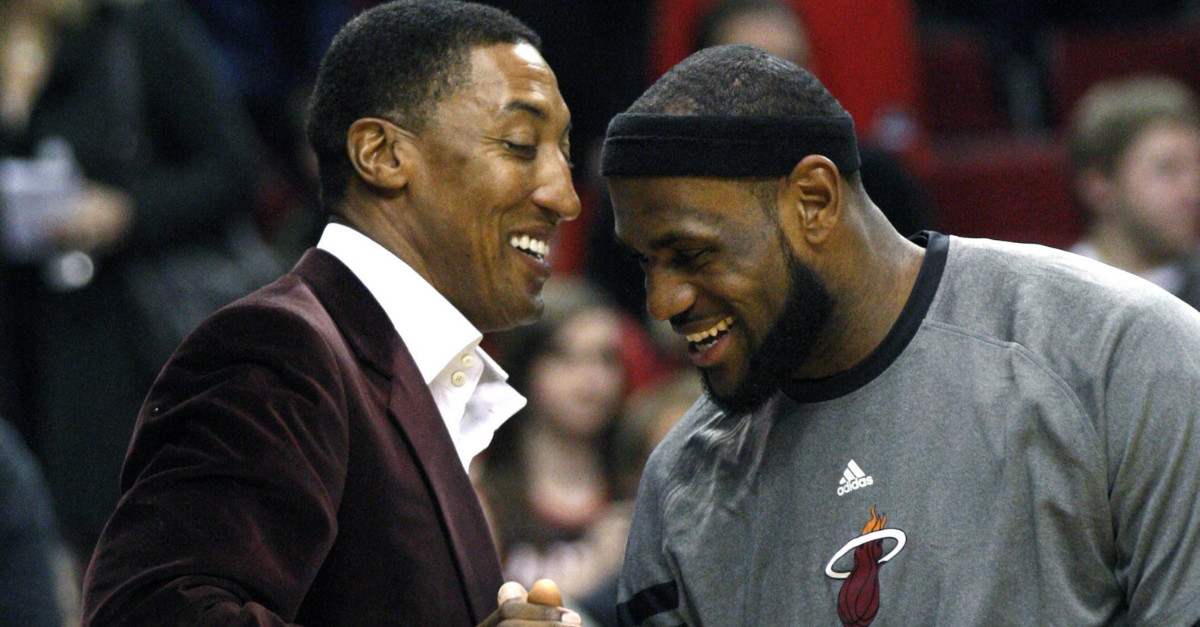 AP Photo/Rick Bowmer
AP Photo/Rick Bowmer
While the NFL's "Greatest Of All Time" debate is already a done deal, that question in the NBA gets pulled and twisted depending on what generation of basketball fan you're talking to. While Michael Jordan sits on the mountaintop in many people's minds, others like Kobe Bryant, Shaquille O'Neal, Kareem Adbul-Jabaar, Larry Bird, Magic Johnson and Wilt Chamberlain all have legitimate cases for being the best ever. However, only one player is really in contention in today's NBA.
Los Angeles Lakers megastar LeBron James is a household name, and he'll likely hold several of the NBA's all-time records when he finally hangs it up. Although he's not there yet, people already believe LeBron is the most dominant player to ever grace a basketball court. When you ask Jordan's former Chicago Bulls teammate Scottie Pippen what he thinks, though, LeBron isn't even in the same category as His Airness.
On ESPN's First Take, Pippen talked about LeBron's dominance in today's NBA. Co-host Stephen A. Smith asked the six-time NBA champion about the "killer instinct" it took James years to develop, which Jordan had from day one, and if not having it knocks him out of the G.O.A.T. debate.
"I agree. When I look LeBron, he's not what Michael was as a player. He's not even what Kobe Bryant was as a player. So when you talk about trying to compare Michael's instinct, his ability to take over games, his ability to want to have that last shot… LeBron doesn't have that gene. That's not in him. Kobe has that gene."

? Scottie Pippen
The NBA Hall of Famer said he sees that gene in players like Toronto's Kawhi Leonard and Oklahoma City's Paul George and Russell Westbrook, and although LeBron is still an all-time great player, he'll never surpass Michael Jordan for lacking that killer instinct.
Aside from the obvious discrepancy in NBA titles ? Jordan's six versus LeBron's three ? the "clutch gene" debate is the only opinion keeping this debate alive. You can decide for yourself.
RELATED: 10 Greatest Playoff Games of Michael Jordan's High-Flying Career
This is not the first time, and certainly won't be the last, that Pippen addresses the Jordan vs. James debates. Just a few weeks before saying this, the seven-time NBA All-Star called prized Duke freshman Zion Williamson the best NBA prospect since Michael Jordan. And just to clarify, ESPN's Rachel Nichols made sure he remembered that he skipped over LeBron.
"Yes, past LeBron," Pippen said. "I think [Zion's] going to be a different player. I think he's going to be a game changer. We're going to see something special out of this kid.
Pippen has even criticized LeBron for calling himself the greatest player ever.
During his time wearing the now-iconic No. 33 Chicago Bulls jersey, Pippen was a Hall of Fame small forward in every way. The University of Central Arkansas product was the fifth-overall pick back in 1987, and he went on to make ten NBA All-Defensive teams ? eight on the First Team ? and won two Olympic gold medals with the USA men's basketball team.
Few people in NBA history have a more respected opinion on Jordan's greatness than the man who carried MJ off the floor during the Flu Game. Pippen has always supported LeBron as a great player, but he's not going to simply let King James speak into existence that he's the greatest basketball player ever because he doesn't have that all-important "clutch gene."