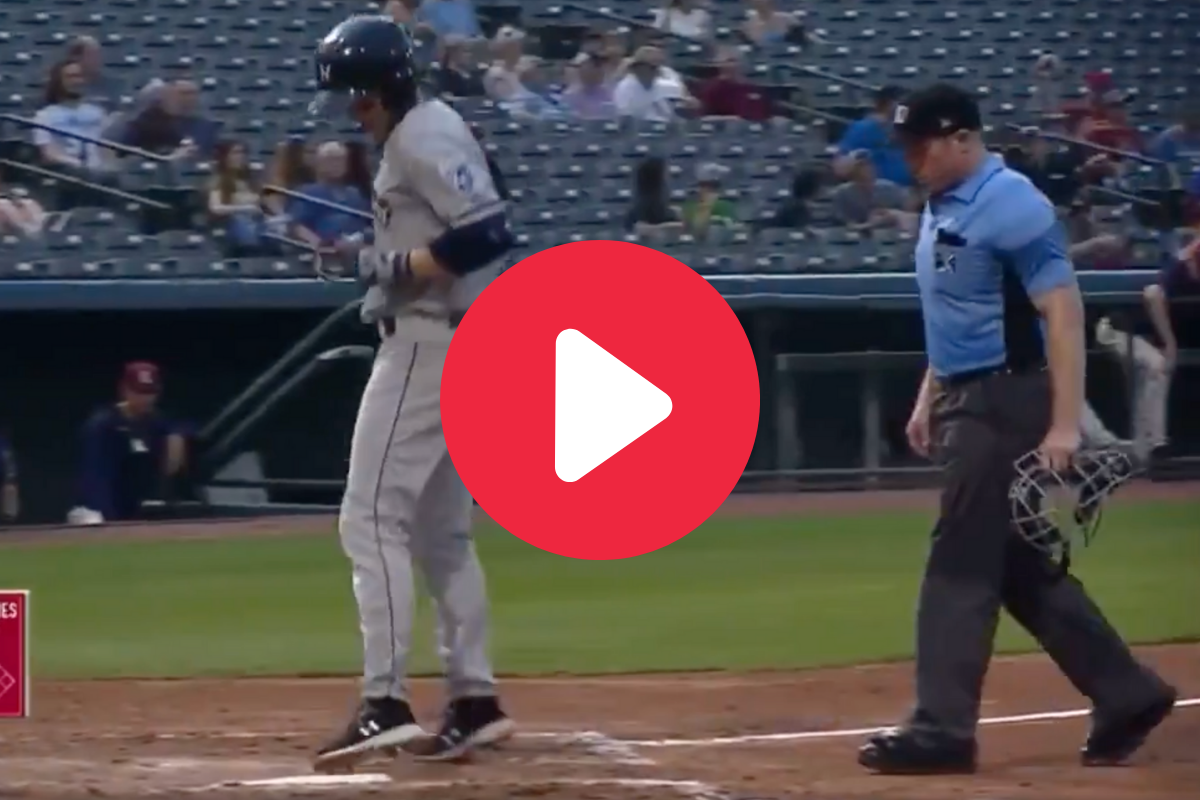 Screenshot from Twitter
Kansas City Royals prospect Bobby Witt Jr. has to own the longest triple in baseball history.
How's 430 feet sound for a three-bagger? MLB's No. 7 overall prospect and the son of 16-year veteran pitcher Bobby Witt crushed a ball well over the fence in a Double-A minor league game on Tuesday night, but he was robbed by an umpire who said he missed home plate.
Or did he?
Umpire Robs Prospect For "Missing" Home Plate
RELATED: Ball Gets Stuck in Umpire?s Front Pocket & Allows Run to Score
Bobby Witt Jr., the second overall pick in the 2019 MLB Draft, stepped to the plate in the fifth inning of a game for the Double-A Northwest Arkansas Naturals against the Frisco RoughRiders.
He mashed a ball off pitcher Hever Bueno beyond the centerfield fence for what looked like a home run at Arvest Ballpark in Springdale, Arkansas. The highly-touted prospect rounded the bases and then reached home plate.
Now, home plate umpire Chris Presley-Murphy stood there and watched Witt Jr. closely. He brushed off the plate after he left, too. Witt Jr. looked like he may have overstepped the plate and did a double take to look back at the plate.
When Naturals hitter Nick Pratto came up to bat after the play, Bueno stepped off the rubber and threw home to see if Witt Jr. would be called out. Presley-Murphy put his fist up and called him out. The hit stood as a triple.
Bobby said on Twitter that he most definitely touched home, and he (oddly) usually touches it with two feet. That's why he dragged the second foot.
The proof is in the pictures, and not even the pictures tell a complete and accurate story. Kansas City Chiefs star quarterback and Royals part-owner Patrick Mahomes seemed to think it was the wrong call. So did many fans.
Some users posted this angle, which appears to show him stepping on the plate:
However, this camera angle shows he didn't step on the plate:
What do you think? Did Bobby Witt Jr. miss home plate or did the umpire miss a call that was right in front of his face?