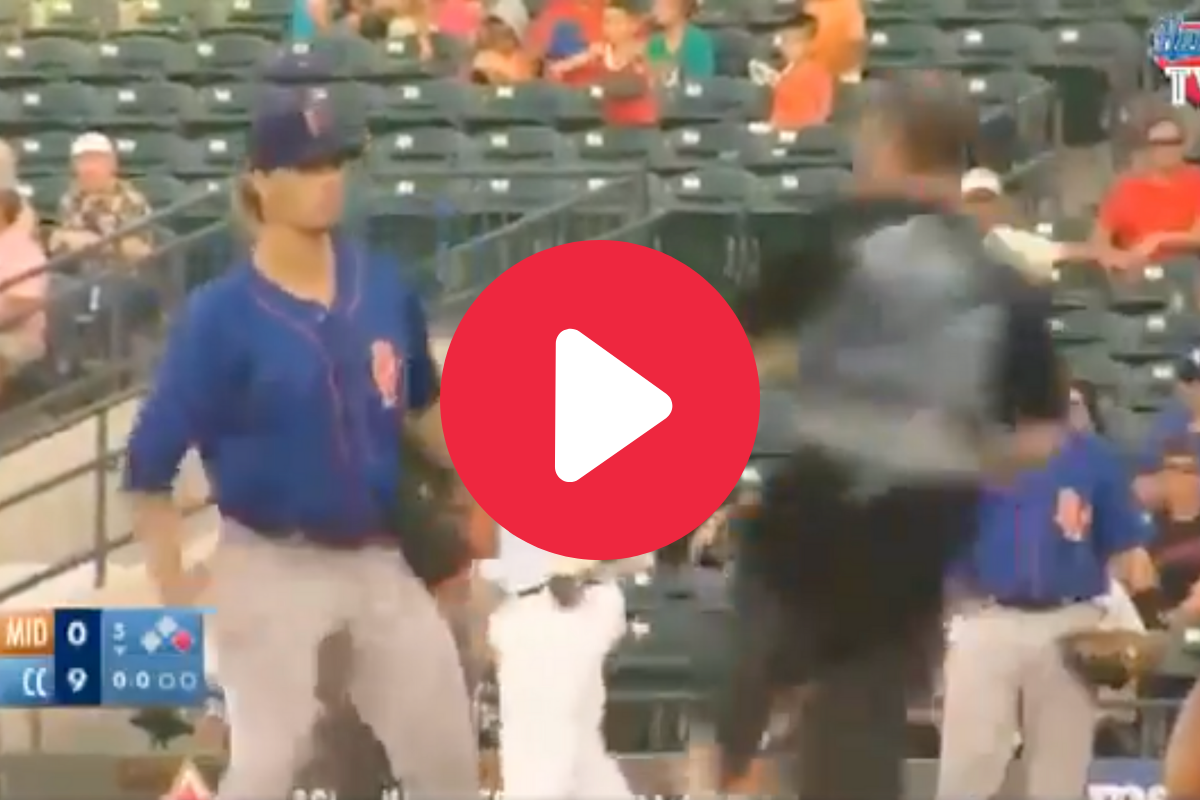 Screenshot from Twitter
We've all been to a baseball game and wanted to punch the pitcher because he can't throw strikes. Very few fans would ever actually run on to the field and do it.
One drunk spectator at a minor league baseball game couldn't take it anymore when a pitcher drilled a batter with a pitch. In a wild video that's going viral on social media, the fan sipped some liquid courage and charged the player on the mound before going face to face with him and his teammates.
Minor League Fan Charges Mound After HBP
RELATED: Dirty Punch Sparks Bench-Clearing Brawl in College Baseball Game
This clip is making the rounds on online in 2021, but it's actually from seven years ago in a game between the Texas League Double-A affiliate of the Houston Astros and Oakland Athletics. It's still one of the more bizarre things anyone's ever seen at a MLB or minor league game.
Midland Rockhounds pitcher Blake Hassebrock was on the mound facing the Corpus Christi Hooks at Whataburger Field in Corpus Christi, Texas. Hassebrock drilled Hooks first baseman Telvin Nash with a high fastball, which set off an odd series of events.
After Nash took his base, a man from the seats charged the pitcher's mound. The Hooks fan, 35-year-old Nikolas Swope, reared back to punch the pitcher but never got a swing off. He was shoved to the ground by a Rockhound player and eventually ushered off the field. Somehow, there wasn't a police officer or security guard in sight.
Swope, who police said was under the influence of alcohol, was thrown out of the stadium. He faced a charge of criminal trespassing and was accused of threatening assault, according to USA Today.
Hassebrock hasn't played since 2014 but wrote on Twitter that it wasn't the fan's first time doing such a thing.
"Ah the good ole days. I?m the pitcher in this clip, this fan is mentally disabled and this was not his first time doing this at Corpus Christi… my first thought was 'does he have a weapon'.. then faced the next batter like it was just another day it?s a heck of a memory," he wrote.
Let's just be thankful no one was hurt at the ballpark on that night. Hopefully that was the last time that Corpus Christi Hooks fan ever rushed the field.