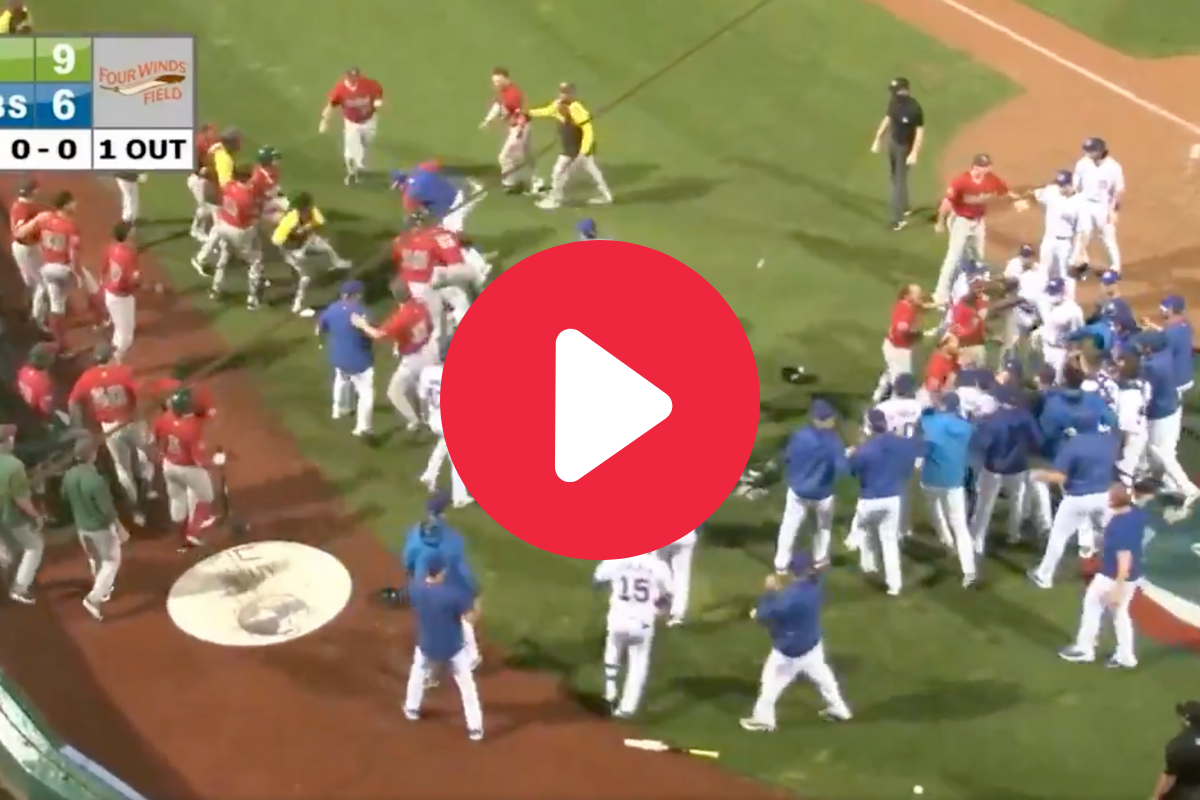 Screenshot from Twitter
Baseball missed the minor leagues last season. Like, really missed them.
Not just for the dollar beers, delicious hot dogs or silly promotions across more than 100 cities. The fights and brawls are absolutely wild when players square off at the Class A, Double-A and Triple-A levels.
Where else will you find Alaskan coaches throwing haymakers or pitchers throwing fastballs at fans in the seats?
Nowhere.
Minor league fights are back in 2021. The Fort Wayne TinCaps and South Bend Cubs engaged in a massive bench-clearing brawl that featured punches and even a ball thrown at a player.
TinCaps-Cubs Minor League Baseball Brawl
RELATED: Coach Lands Haymaker In Alaskan Minor League Baseball Fight
A minor league baseball game between two Midwest League High-A teams turned ugly Tuesday night at Four Winds Field in South Bend, Indiana.
Things got heated when TinCaps pitcher Sam Williams and Cubs shortstop Delvin Zinn said some not-so-friendly word to each other in the bottom of the seventh inning, according to FOX 55 Fort Wayne's Petar Hood.
TinCaps outfielder Kelvin Melean was then nearly beaned with a high fastball in the top of the eighth inning. Melean was rung up on strikes in the at-bat and Cubs catcher Jake Washer got in his face, which led to some shoving.
The benches cleared and chaos ensued.
Punches were thrown left and right. A TinCaps player threw a baseball into the scuffle, but nailed his own teammate's head (nice aim, buddy). Go watch it again for a good laugh. Here's a screenshot of that hilarious moment: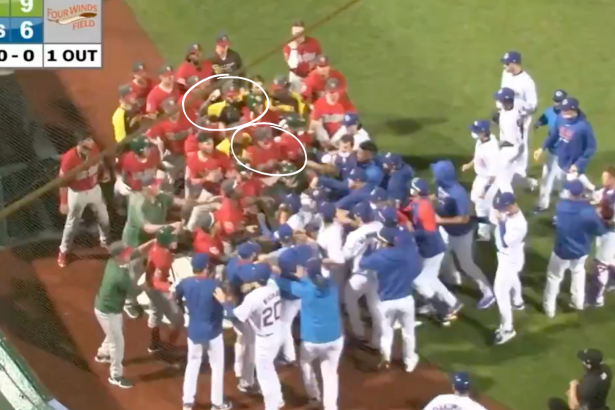 The haymakers finally stopped flying after coaches were able to subdue things.
"This was 100 percent initiated by the Fort Wayne TinCaps in the last half inning," the announcer said.
To me, that whole brawl was ignited only after Washer got in Melean's face for no apparent reason. Sure, the comment in the seventh inning may have started the bad blood, but Melean certainly didn't do anything wrong in that at-bat.
Cubs manager Michael Ryan and catcher Jake Washer were both ejected. TinCaps pitcher Brandon Hughes was tossed as well, per NBC Sports.
The South Bend Cubs are an affiliate of the MLB's Chicago Cubs, while the TinCaps are an affiliate of the San Diego Padres.
The Cubs went on to win the game, 12-10. These two teams play each other five times over the next five days, so it should be interesting to see if any more action follows.