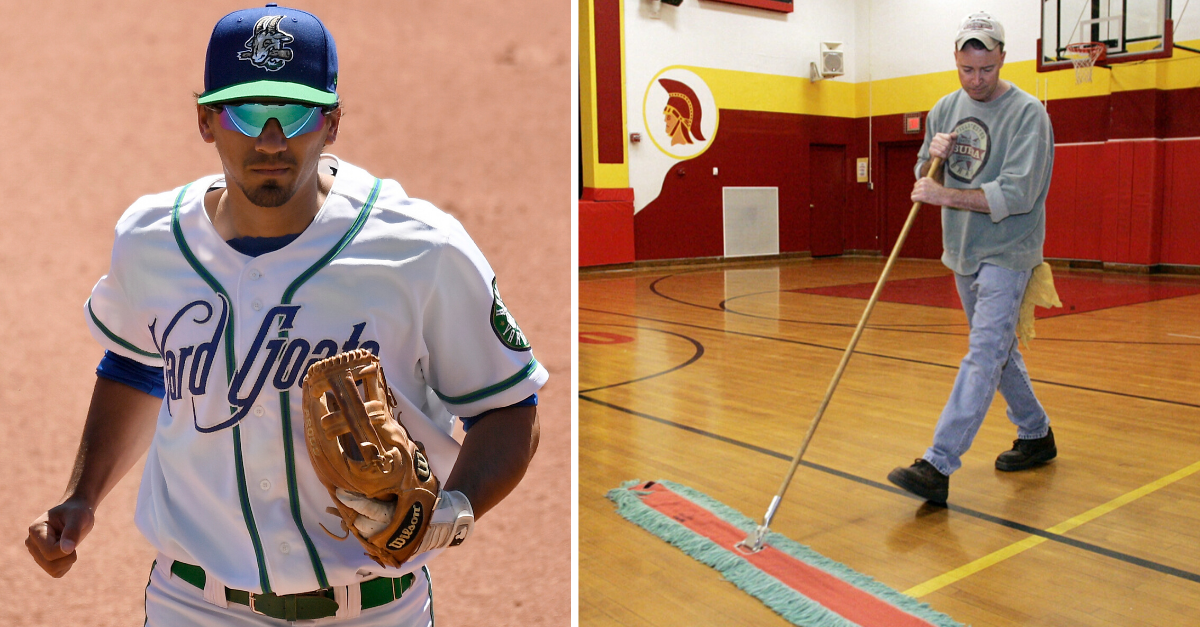 AP Photo/Jessica Hill (left), AP Photo/Tom Strattman (right)
Minor League Baseball is far from a glamorous sport. Unlike its Major League Baseball counterpart, where Mike Trout and Bryce Harper rake in hundreds of millions of dollars for their on-field services, minor leaguers are paid squat.
Despite MLB teams being worth billions of dollars and hauling in millions each season, very little of that money is distributed to the players at the Rookie, Single-A, Double-A and Triple-A ranks. In fact, it's more than just poor pay.
Minor leaguers have to deal with terrible living conditions, awful food and have to work extra jobs to afford to live — all while trying to accomplish their dreams of making it to the show one day.
Top draft picks don't have to worry about these nuisances. Some first-year players out of high school and college earn six-figure and seven-figure signing bonuses when they sign. But for those that don't, which is most of a franchise's minor leaguers, they take home way less than any state's minimum wage.
MLB issued a memo before the 2020 season instructing major league teams to raise the minimum salaries for minor league players, which will reportedly increase by anywhere from 38 to 72 percent. Still, that's nearly enough considering the amount of hours these players put in during the season and in the offseason.
Just how poorly compensated for their work are minor leaguers paid? Let's just say they make less than the average high school janitor.
How Much Do Minor League Baseball Players Make?
We know that minor league salaries are minuscule, but just how low they are might shock you. According to The Athletic, the average player salary for a minor league player was $6,000 in Single-A, $9,350 in Double-A and $15,000 in Triple-A in 2018.
The aforementioned pay bump will increase player pay at least a little bit. According to the Associated Press, rookie and short-season level players' minimum weekly pay will be raised from $290 to $400. Single-A player pay will jump from $290 to $500, while Double-A player minimum weekly pay will go from $350 to $600. Triple-A players stand to earn the most, going from a $502 minimum weekly pay to $700.
Still, minor league teams play seasons as short as three months long. That means way less pay.
Minor League Pay at Different Levels
Rookie & Short-Season: $400 weekly
Single-A: $500 weekly
Double-A: $600 weekly
Triple-A: $700 weekly
Still, $400 a week is only $1,600 per month. Even if a player's season last five months, that means they're only earning $8,000 playing professional baseball that year. They also have to train and practice in the offseason (for which they aren't paid for) while likely work another job while in a minor league system.
"I would play hungry, and I would go to bed hungry," Jeremy Wolf told PennLive.com. "I played in front of 10,000 people a night, and I wouldn't have food to eat after a game, and I wouldn't have enough money to go get food."
What's worse is that these professional athletes make less than a typical school janitor. According to the Bureau of Labor Statistics, janitors in educational services earned more than $28,000 per year on average. Even if a Single-A minor leaguer were paid over the course of the entire year, they still wouldn't make that much cash.
Minor leaguers also don't get paid during spring training despite working as much as 12 hours per day.
Average MLB Salary
Major League Baseball players currently earn more than $4 million in average salary. The major league minimum salary for major league players is $555,000 annually. That steep an increase once a minor leaguer is activated to an MLB 40-man roster means making life-changing money for some minor leaguers.
The fight for increasing minor league wages is still ongoing, however.
Players have taken action. Former minor leaguer Garrett Broshuis filed a class-action lawsuit against MLB. One big league team, the Toronto Blue Jays, opted in 2019 to independently raise minor league pay by 50 percent. The road to fair pay for all is not an easy one, though.
According to PennLive.com, the "Save America's Pastime Act" in 2018's spending bill changed the Fair Labor Standards Act of 1938 to take away minimum wage protection of minor leaguers. Both MLB and MiLB lobbied for it.
If the backbone of these billionaire franchises are their minor-league affiliates and farm systems, why are they paying their players less than the federal minimum wage?
Why are AAA players, who are one level away from the majors, sleeping on air mattresses?
Why should any professional athlete live below the poverty line, especially considering thousands of people show up to watch them play each night?
The disparities between MLB and minor league salaries is an important topic, especially as effects of the coronavirus and COVID-19 virus put pressure on the 2020 seasons taking place.