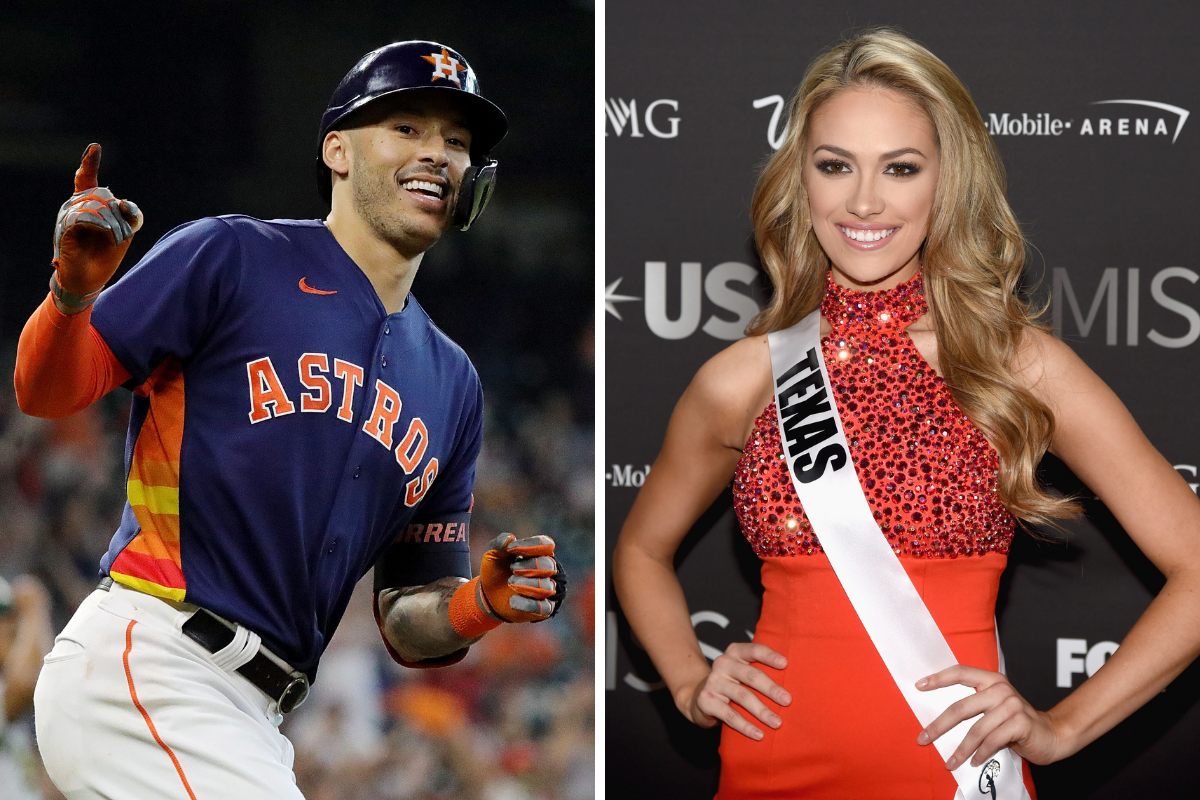 Photo by Bob Levey/Getty Images (left), Photo by Ethan Miller/Getty Images (right)
Los Angeles Dodgers shortstop Corey Seager was the last hope. LA was down 5-1 in the bottom of the ninth of Game 7 the 2017 World Series. He ripped a grounder to Houston Astros second baseman Jose Altuve, who flipped the ball to Yuli Gurriel at first to secure the first World Series title in franchise history*.
Houston shortstop Carlos Correa was ecstatic about winning his first ring, but he had another ring to attend to. Correa talked about how the win was a big step in his baseball career. He was ready to take another one.
Correa got down on one knee with a ring that would rival World Series jewelry and proposed to his girlfriend Daniella Rodriguez.
Four years later, the couple has tied the knot and are as strong as ever.
Carlos Correa's Wife Daniella Rodriguez
RELATED: Zack Greinke's Wife is a Former Dallas Cowboys Cheerleader
Before Daniella Rodriguez was Daniella Correa, she was more well known as Miss Texas USA. Rodriguez, who hails from Laredo, Texas, took home the Lone Star crown in 2016 three years after winning Miss Texas Teen USA.
As part of her Miss Texas USA duties, Rodriguez threw the first pitch at an Astros game against the Oakland Athletics in 2016. Correa, who was enjoying his second year in Major League Baseball, was smitten and introduced himself. The two hit it off from there.
The couple tied the knot at the Hard Rock Hotel & Casino in Punta Cana, Dominican Republic, in December 2019. It had to be a nice bounce back after the Astros fell to the Washington Nationals in the World Series two months prior.
As for Mrs. Correa, she reportedly earned her teaching degree from Texas A&M International University and aspires to be a counselor one day. For now, she is concentrated on running her lipstick business called Sweet D by Daniella Correa.
They Have Their Own Charity Foundation
It's safe to say helping the community is a big part of the Correas' life.
The Houston Astros star worked with Houston's Children Charity after Hurricane Harvey struck Houston in 2017. He also does charity work in his home country of Puerto Rico, such as donating money in relief of Hurricane Maria and helping with earthquake relief in January 2020.
Correa is also creative about helping the community. He participated in the pregame "First Shot" for the NBA's Houston Rockets in 2018. "First Shot" gives shooters one chance to make a shot, and if he converts, Rockets owner Tilman Fertitta donates $5,000 to charity. Correa buried it.
During the coronavirus pandemic, he donated $500,000 to provide more medical equipment for the city. The couple serves as vice presidents for the Correa Family Foundation, a non-profit with the mission to provide transformative experiences and support to children affected by poverty or illness.
The Correas each lead busy lives, and they're about to have one more person to share them with.
They're Expecting Their First Child
The two-time MLB All-Star and Daniella announced in June 2021 they were expecting their first child, a baby boy. The mother-to-be has been there to support her husband at Minute Maid Park throughout the Astros' playoff run.
From the American League Division Series against the Chicago White Sox to the American League Championship Series (ALCS) against the Boston Red Sox this year, Correa can always look up and find his wife in the park. You can bet she'll be there when the 'Stros take on the Atlanta Braves in the 2021 World Series.
Houston manager Dusty Baker, third baseman Alex Bregman, Jose Altuve and Correa are no strangers to the postseason. Even without pitcher Lance McCullers Jr., the Astros have the experience to bring home the hardware.
Whether it's a home run against the New York Yankees, a RBI against the Texas Rangers, a web gem against the Miami Marlins or even an error against the Tampa Bay Rays, Astros shortstop Carlos Correa can count on his wife to always be there for him. He'll be able to count on his son pretty soon, too.
*The legitimacy of Houston's 2017 title depends if you ask an Astros fan or not.
Related Videos