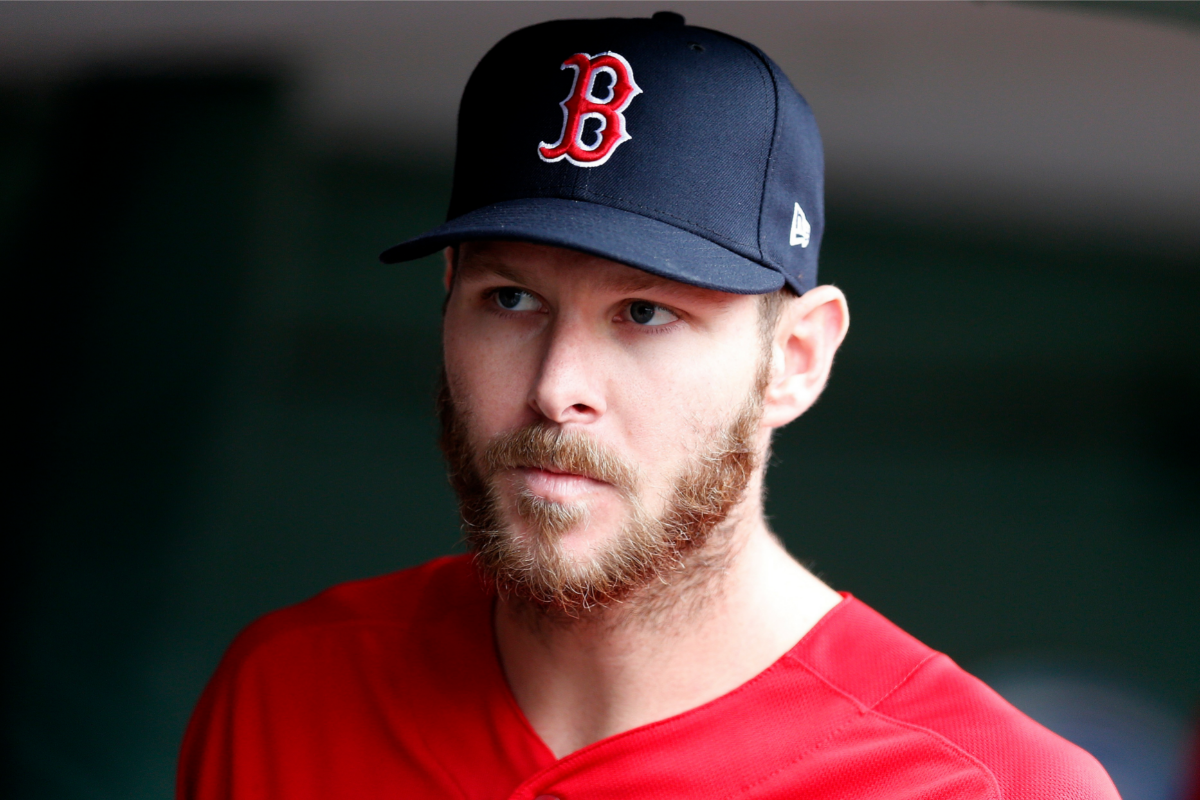 AP Photo/Michael Dwyer
Boston Red Sox pitcher Chris Sale has been one of the most feared left-handers in baseball since his days with the Chicago White Sox. Sale throws incredibly hard, and with such pinpoint accuracy, it leaves opposing batters dazed and confused.
While Sale has been on the mend from Tommy John surgery and has yet to play for the Sox in 2021, the entire fan base eagerly awaits his return to the mound.
But no one wants to see the lefty back on the field more than Sale's loving wife, Brianne.
Chris Sale's Wife Brianne Sale
RELATED: Kevin Youkilis is Married to Tom Brady?s Sister
Christopher Allen Sale has been married to his wife Brianne Aron Sale since 2011, having tied the knot at a ceremony in Fort Myers. The pair met in college while at Florida Gulf Coast University, where Sale played college baseball under coach Dave Tollett, and they have been inseparable since.
Sale and Brianne have three children together. They welcomed their first child, son Rylan Sale, while they were still in college, and they have since had two more sons, Brayson and Camden.
Both Sale and Brianne are Florida natives. Sale grew up in Lakeland and attended Lakeland Senior High School. While Sale played professional ball in Chicago, Brianne stayed home in Florida to complete her degree from FGCU.
Chris Sale MLB Career
Chris Sale was a stud in college, earning Atlantic Sun Conference Pitcher of the Year honors and was named the Collegiate Baseball Player of the Year. Naturally, his transition to professional baseball was a seamless one.
Sale entered Major League Baseball as a first-round pick in the 2010 MLB Draft by the Chicago White Sox. He made his MLB debut in 2010 against the Baltimore Orioles. Sale served as a relief pitcher during his first two seasons on the Chicago White Sox baseball team before leaving the bullpen to claim a spot in the rotation as a starting pitcher.
From 2012-2018, Sale made seven consecutive All-Star Games and finished in the top five in American League Cy Young Award voting in six of those seven seasons. Throughout his seven seasons in Chicago, Sale recorded a 3.00 ERA across 1,110 innings of work, recording 1,244 strikeouts and 74 wins.
The flame-throwing southpaw was traded to the Boston Red Sox in 2017 in exchange for a package of esteemed prospects highlighted by Yoan Moncada, Michael Kopech and Victor Diaz.
The Red Sox pitcher was signed to a five-year, $145 million contract in 2019, with hopes of keeping him in Boston throughout the remainder of his prime. Sale won his first and only World Series in 2018, helping the Red Sox defeat the Los Angeles Dodgers in a five-game series.
"The Condor" pitched five innings in the World Series and struck out 10 batters.
Chris Sale Net Worth
Sale has 10 years of MLB experience under his belt, despite missing the entire 2020 season and most of the 2021 campaign due to his elbow injury. Still, Sale has hauled in a massive fortune throughout his playing career.
According to Celebrity Net Worth, Sale boasts an estimated net worth of $24 million. Sale is only going to make more money throughout his career, which means his family should be set for life.