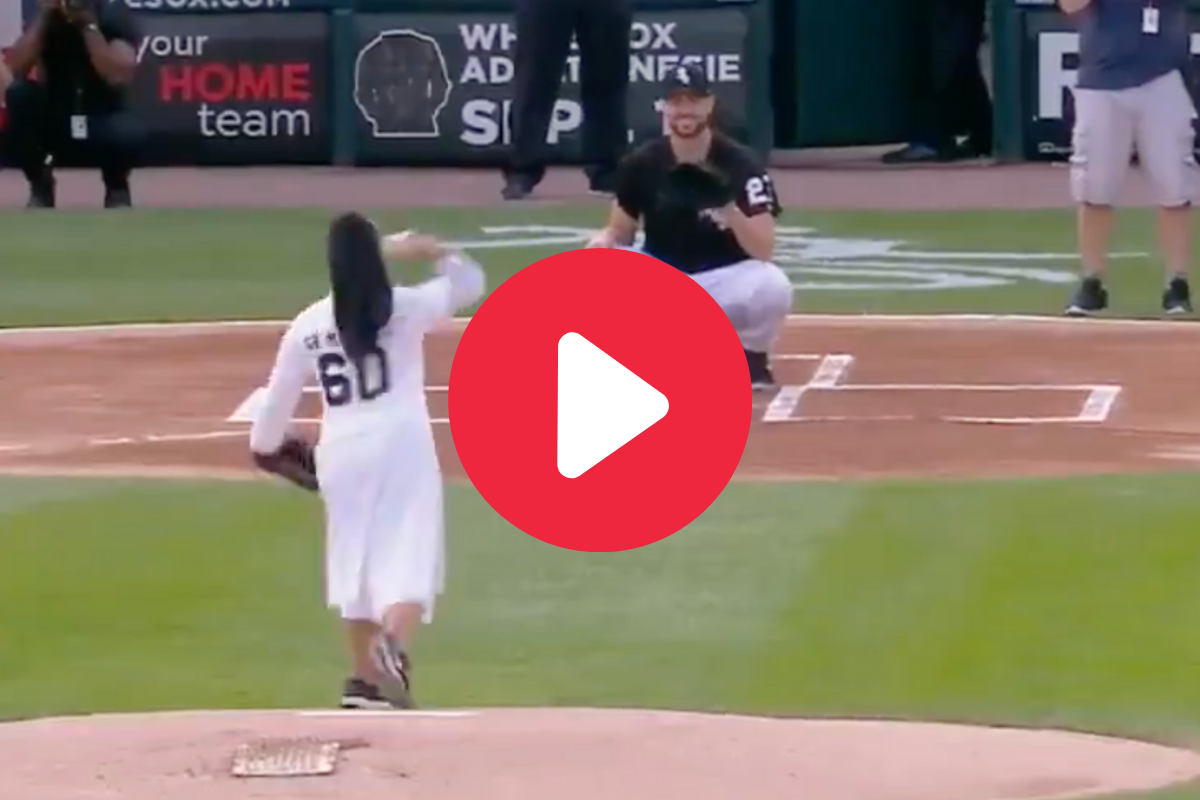 Screenshot from Twitter: MLB
The ceremonial first pitch of an MLB game is not always pretty. Rapper 50 Cent and basketball player John Wall will tell you that from firsthand experience.
But for every bad one, we stumble upon a great one. A pitch that drops your jaw or makes you proud to be a baseball fan. President George W. Bush throwing out the first pitch at Yankee Stadium for Game 3 of the 2001 World Series following the September 11 attacks? Goosebumps. This air-bending Cirque du Soleil performer or a zombie apocalypse breaking out before a Padres game? Amazing.
Girls can kick butt on the mound, too, as we?ve seen from Little League World Series star Mo?ne Davis. Hopefully you didn't forget about another female flamethrower: Sister Mary Jo Sobieck.
Back in August 2018, Sister Mary Jo, who is a member of the Dominican Sisters of Springfield, trotted out to the mound at Guaranteed Rate Field in Chicago, Illinois, prior to the Chicago White Sox game against the Kansas City Royals for Marian Catholic Night at the ballpark.
No one saw coming what followed: This nun throws gas. Accurately.
Nun Throws Incredible First Pitch
RELATED: Woman Beans Cameraman with Worst First Pitch in History
OK, pause. First we have to acknowledge the slo-mo shot of her popping the ball in the air with her bicep. It's easy to say no one saw a perfect strike coming from a nun, but once I saw that nifty trick with her arm I knew she had something up her sleeve.
And that form! Cy Young was probably rolling over in his grave. Not only does she get some solid arm speed, but she fires a strike at the knees on what could possibly be a perfect first pitch curveball.
The Oakland Athletics signed a guy who was throwing 96 at a speed gun competition after he went viral on social media. What's it gonna take for a team to give Sister Mary a shot on the mound? I bet if she developed a wicked knuckleball she could become the next Tim Wakefield.
The player on the receiving end of Sister Mary Jo's holy heater was White Sox starting pitcher Lucas Giolito, who may or may not have a bruised palm from catching that fastball.
Sister Mary Jo never expected the type of support she received.
"Oh my goodness. I wasn?t even going to stay for the whole game. I was just going to go do the pitch, walk around a little bit, talk to the Marian [Catholic High School] folks, and head home because school started [Wednesday] for me," she told Vice.com. "I was going to do some things for the classroom, because I had two days off before classes started. It?s been the craziest weekend of my life."
Sister Mary Jo was on hand for Marian Catholic High School Night at the game, which is the school in Chicago Heights, Illinois where she teaches as one of the Dominican nuns. She even got some warm-up throws in the school's gym prior to her big league appearance.
"She was pretty good, actually," White Sox manager Rick Renteria told MLB.com. "We talked to her a little bit but before we were talking to her, she was talking to someone and she wanted to warm up. She had a mitt and a ball. She gave him the mitt. She stepped back at about 45 feet and threw a bullet.

"I'm like, 'Wait a minute.' He threw it back to her and she fielded it barehanded. I was like, 'OK, she looks like she can play a little bit,' so we started talking to her. I think she said, 'I played center and short.' I said to her, 'Can you play for us?' She said, 'Sure.'"
It turns out Sister Mary Jo used to play volleyball and softball at The College of St. Scholastica in Minnesota after graduating from Cathedral High School in 1987. She also grew up in a family of 10 children that all played sports. No wonder she's got a right arm that could be classified as a lethal weapon and she's out here throwing perfect pitches.
Sister Mary Jo at Busch Stadium
Sister Mary Jo's fame extended beyond that night. She got the chance to throw out another first pitch in April 2019 at one of her beloved St. Louis Cardinals games against the Los Angeles Dodgers.
Of course, she fired a bullet for that one as well.
She even received her own Topps baseball card, which she signed hundreds of copies for fans. Topps paid her $1,000, which went toward her scholarship fund for students from her catholic school. Additionally, she received her own bobblehead and made an appearance at the 2019 ESPY awards.
Sister Mary Jo Sobieck took the mound again before the White Sox took on the Texas Rangers on August 24, 2019.
And she graced everyone with her heater in 2020:
Now all we need is a battle of the nuns. Let's get Sister Mary Jo on the bump against Sister Jean, the 101-year-old nun who goes viral every NCAA Tournament during Loyola-Chicago's postseason runs.