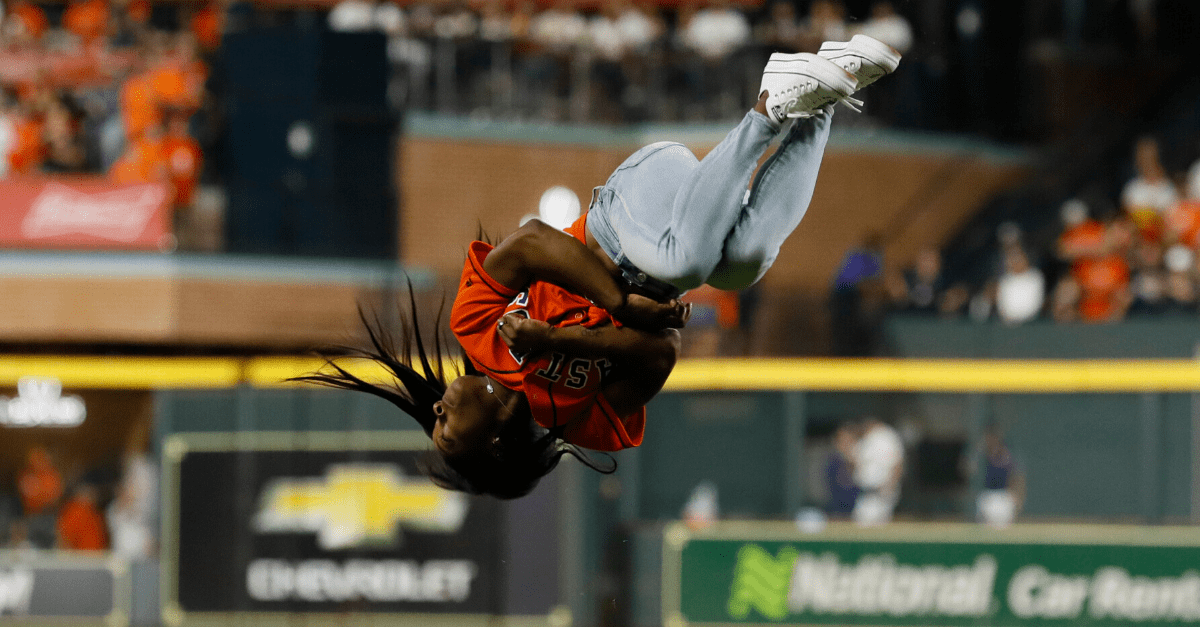 AP Photo/Matt Slocum
If you are a fan of the Houston Astros, the start to the 2019 World Series has been pretty dreadful to say the least. The Washington Nationals waltzed into Minute Maid Park, stole two road wins, and made it look so easy. However, for as impressive as the 2-0 lead is, the star of the show Wednesday night had nothing to do with the MLB game.
By now, everyone knows U.S. gymnast Simone Biles. The Olympic gold medalist is simply the best to ever do it. So when she was asked to throw out the first pitch at the World Series game, it's no surprise she did something magical.
Throughout the years, we've seen some impressive and iconic ceremonial first pitch strikes, but Biles truly left everyone speechless when she did a twisting backflip before firing the baseball to Astros outfielder Jake Marisnick at home plate.
Simone Biles First Pitch
RELATED: Nobody Threw Ceremonial First Pitch Strikes Quite Like President George H.W. Bush
Watching the 22-year-old Olympic champion compete is special. She recently displayed that by dominating the World Championships. But to see her at the Astros game, doing a backflip in jeans in front of the pitcher's mound, and then throwing a strike is something else.
In a world of celebrity fails, Simone Biles' first pitch definitely did not disappoint.
If she can do that in Houston, there's no telling what she might do at the 2020 Olympic Games in Tokyo.
Biles, who grew up in the Houston area of Spring, Texas, is the most decorated gymnast in history. She has 27 gold medals, including four at the 2016 Olympic Games in Rio de Janeiro, Brazil and 19 at the World Championships.
Honestly, it's hard to find something this superstar can't do. She even has a book. This first pitch proves it once again.