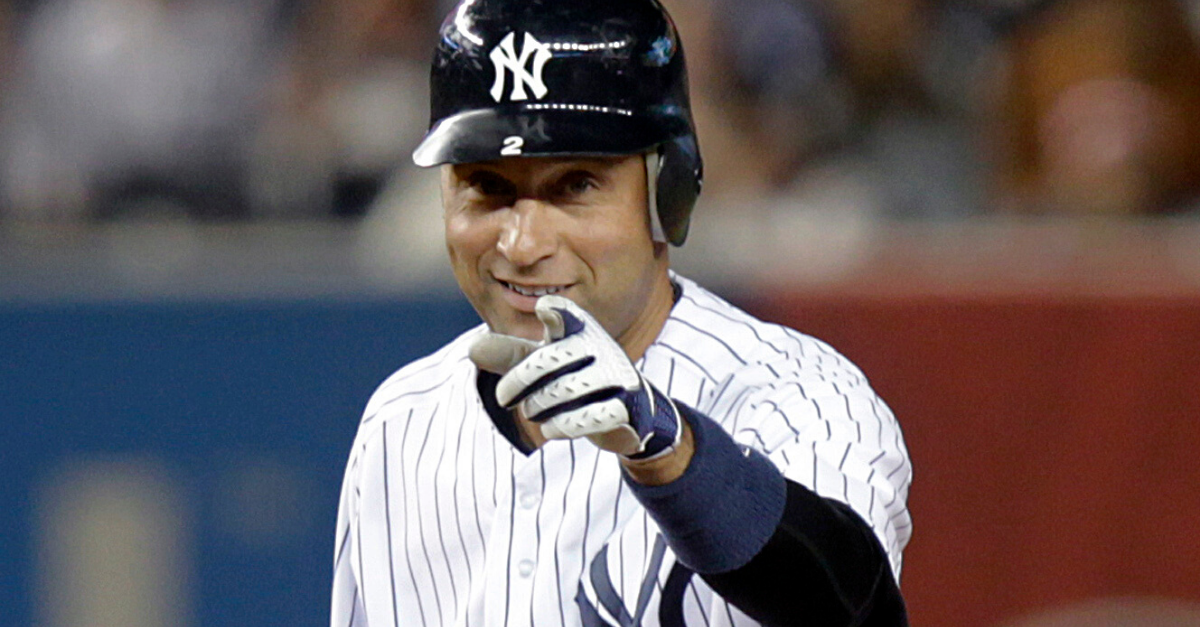 AP Photo/Seth Wenig
Derek Jeter needs little introduction. One of the greatest MLB shortstops of all time, The Captain collected 3,465 hits over his 20-year career with the New York Yankees. The 14-time All-Star and five-time World Series champion is a surefire Hall of Fame candidate and is currently the CEO and part owner of the Miami Marlins.
You probably don't know who former Yankees prospect Garrison Lassiter is. No, scratch that. You definitely don't know that name.
But what if I told you Yankees legend Derek Jeter, a name recognizable worldwide for his baseball achievements, was to blame for the failed baseball career of a player who never played above High-A?
Lassiter sued the Yankees for a dizzying $34 million, blaming Jeter for the downfall of his baseball career. In the lawsuit, which was dismissed by a judge, Lassiter alleged that Jeter not only controlled the Yankees organization but employees "libeled and slandered" him to other teams in the name of protecting the career of Derek Jeter. This, in Lassiter's words, prevented him from reaching the major leagues.
Garrison Lassiter Sues Yankees
From Brendan Kuty of NJ.com:
?I cannot get on the field due to the New York Yankees trying to control my career,? he wrote in all caps to several major league teams, looking for deals that never came. ?I?m the only Baseball Player that will stand up to the New York Yankees,? he added in the final page of the document, which was filed in U.S. District Court for the Middle District of North Carolina.
A little background on Lassiter might help.
The 6-foot-1 shortstop was drafted out of high school in the 27th round (830th overall) by the Yankees in 2008 and signed for a $675,000 bonus.
In five minor league seasons, he posted just a .244 batting average and added just four home runs. His best season came in 2011 at Class A Charleston, where he hit .274 but offered little to no production in the power or speed departments. In his final season for High-A Tampa, he hit a measly .195 and never saw the field again.
Lassiter was released by the Yankees and enrolled at the University of Miami, where he redshirted at quarterback for the Hurricanes in 2013. According to him, he was booted from the program for asking head coach Al Golden to make him the starting quarterback.
Lassiter, who went through his signing bonus and is apparently broke after putting himself through law school, sued the organization for the "lost years" of his pro career. He's even written to other teams, like to Texas Rangers general manager Jon Daniels, to voice his displeasure with the Evil Empire.
So, just how did Lassiter settle upon the $34 million figure? Simple: By comparing himself to the 2016 National League Rookie of the Year, Los Angeles Dodgers shortstop Corey Seager.
Lassiter claimed he was a mix of Seager and Brandon Weeden, the former Yankees pitching prospect turned NFL quarterback. In the failed prospect's eyes, the Yankees owed him $17.468 million (Seager's earnings) and another $11.598 million (Weeden's earnings).
Oh, and Lassiter wanted $5.6 million more for the basketball career he never had. Because a 6-foot-1 guy with average speed would've made millions in the NBA and that is definitely the Yankees' fault for hindering him.
Lassiter also attempted suing former NFL wide receiver Ricky Proehl's Proehlific Park, which is a training facility in North Carolina. He claimed the facility failed to get him an NFL tryout.
Former prospect Garrison Lassiter's bizarre lawsuit is a touch of comedy and a touch of sadness on Lassiter's end. Clearly, he believes he was the next Bo Jackson and future Hall of Fame shortstop Derek Jeter robbed him of that forever.
Mark Newman, formerly the senior vice president of baseball operations, told NJ.com that baseball is a hard sport and Lassiter simply wasn't good enough.
"Professional baseball?s really hard. That was it," he said. ?You look at his performance, and (the statistics website) Baseball Reference answers your questions.?
Guess Lassiter will just have to create-a-character on Madden just like the rest of us. Something tells me he's not letting this go anytime soon, though.