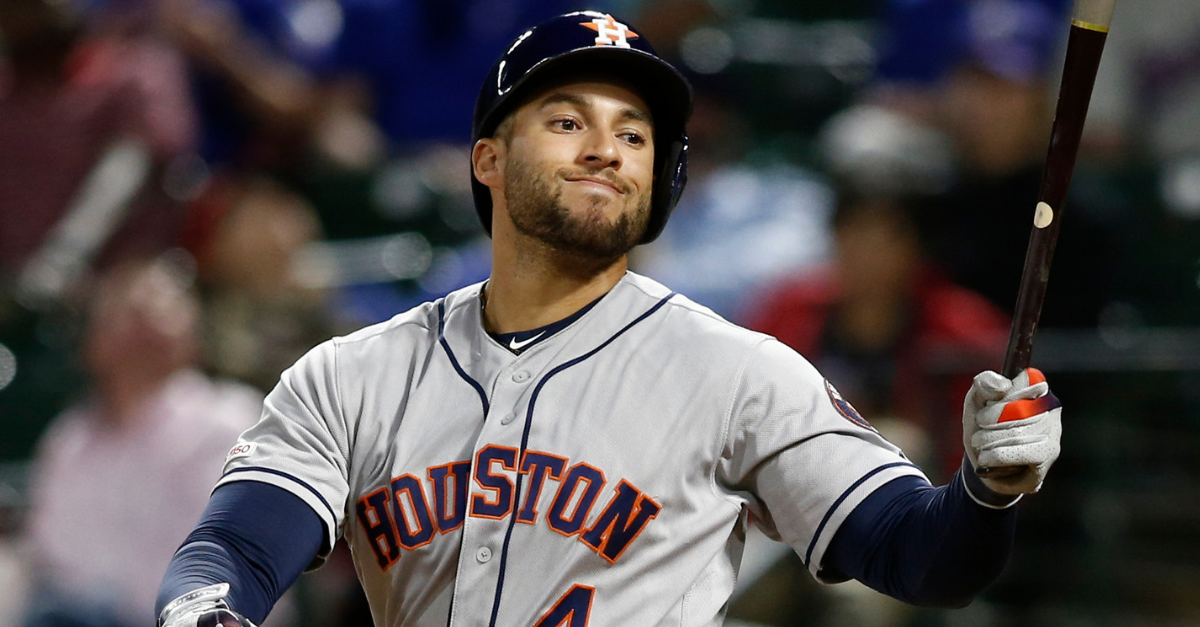 AP Photo/Mike Stone
In the bottom of the eighth, a full count, and runners already at second and third base, Houston Astros outfielder George Springer took the pitch and started to make his move toward first base. There was just one problem: MLB umpire Angel Hernandez called it strike three.
Springer, the two-time MLB All-Star and 2017 World Series MVP, obviously didn?t like the call. Mind you, this was still April baseball, the Astros still held the lead over the Minnesota Twins, and everyone is still a little rusty. But the 29-year-old outfielder decided to make a little bit of a scene inside Minute Maid Park in Houston, Texas.
First, Springer threw his bat and confronted Hernandez, saying, ?Angel! That?s the same pitch you just called a ball.?
RELATED: Experienced Old Men are Actually the Worst Umpires, Study Finds
Look, umpires are human, too. They make plenty of mistakes and Hernandez is one of those umps who always hears it from baseball fans across the country. However, it wasn?t the reaction that got Springer in trouble. It was what he said when he went to the dugout that Tuesday night.
Call it a homophobic slur if you will, but Springer definitely mouthed something to Hernandez that was inappropriate. And thanks to the biggest Astros fan in San Antonio, we know exactly what he said.
Major League Baseball players, or really any professional athlete in the NBA, NFL or NHL, for that matter, knows the camera is always watching. In the heat of the moment, it?s hard to check those emotions, and Springer got caught.
For that, according to Outsports, MLB commissioner Rob Manfred says Springer has been punished for his actions.
?This inappropriate behavior was addressed with Mr. Springer and the Houston Astros and he has been disciplined.?
There?s no telling what the unspecified punishment actually was. It surely wasn?t a suspension. Nevertheless, the situation has been handled.
What?s crazy is the strikeout didn?t even end the inning. What?s even crazier is that Houston second baseman Jose Altuve blasted a 410-foot home run in the very next at-bat to blow the game open. The Astros ended up winning 10-4.
Whether you are in New York, Los Angeles, Chicago, Toronto, or anywhere else in-between, arguments with umpires will happen. This is just a warning to make sure to keep those kinds of comments to yourself because the next punishment might be even worse than Springer?s.